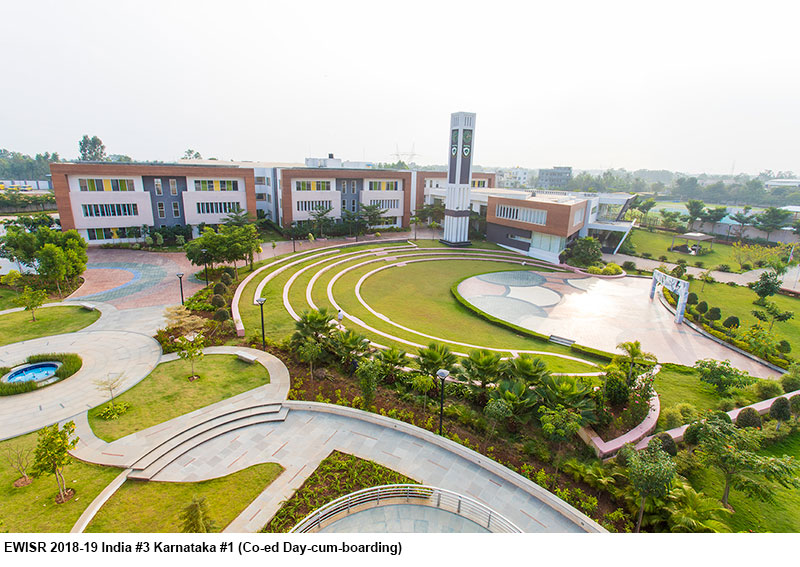 "Our objective is to prepare youth to become active, free-thinking, and socially responsible citizens in a democratic society, by unlocking their intellectual, aesthetic, moral, physical, and emotional potential." – Niru Agarwal, Managing Trustee
Spread over a meticulously landscaped, pollution-free 37-acre campus in the IT city of Bangalore, Greenwood High International School (GWHIS) is a new-genre coeducational K-12 school affiliated with the Council for the Indian School Certificate Examinations (CISCE), Delhi, Cambridge Assessment International Education (CAIE), UK and International Baccalaureate (IB), Geneva examination boards. Founded in 2004, this day-cum-boarding GWHIS provides contemporary K-12 education rooted in Indian traditions to 4,250 students including 120 boarders mentored by 323 teachers. In the latest EducationWorld India School Rankings 2018-19, GWHIS is ranked among India's Top 3 day-cum-boarding schools and #1 in Karnataka.
GWHIS' globally benchmarked, Indian Green Building Council-certified K-12 campus featuring manicured lawns and ergonomically designed buildings provides a stimulating and enabling learning environment for students and teachers. Academic facilities include 120 hi-tech classrooms, five computer and five language laboratories where students study French, Spanish and English, and two multimedia rooms. The school's modern 7,000 sq. ft library houses over 55,000 print volumes, 40 journal subscriptions and electronic resources with wi-fi access and three dedicated e-classrooms for research. Moreover excellent facilities for sports and co-curricular education promote students' holistic development.
Professional development of its 323 highly experienced teachers is a top priority of the management with teachers undergoing continuous in-service training to deliver the IB, IGCSE and CISCE curriculums utilising contemporary information communication technologies. Focus on continuous professional development and holistic education has paid off handsomely with students recording excellent results in school-leaving exams. Of the 54 students who wrote the 2019 ISC (class XII) exam, 30 averaged 90 percent-plus scores with the toppers Prithvi Shenoy and Prathyusha Dondapati averaging 97.75 percent. In the 2019 ICSE (class X) exam, topper Ayush Bhauwala who scored 98.8 percent was ranked third in Karnataka.
University placements of the IB class of 2019 are exceptional with students admitted into top-ranked foreign institutions including Pennsylvania, Cornell, Georgia Tech, Princeton, Chicago, and Carnegie Melon universities (USA), University and King's College, London University of Edinburgh (UK), Toronto, McGill, Waterloo universities (Canada), University of Sydney, New South Wales, Monash (Australia) and Christ, FLAME and Ashoka universities (India).
Further information: www.greenwoodhigh.edu.in