Field researchers of the Delhi-based Centre for Forecasting & Research Pvt. Ltd (C fore) interviewed 582 parents and 65 preschool principals/teachers of this buzzing city to rank 34 pre-primaries in two categories — owned/proprietary and franchised.
Technically within the administrative jurisdiction of the state government of Haryana (pop.25.4 million) but popularly included in Delhi NCR (National Capital Region), the new steel-n-glass city of Gurgaon (pop.877,000) has quickly emerged as one of the country's premier industrial and financial hubs. This newly emergent city hosts offices of 250-plus Fortune 500 companies including Oracle, IBM, and Microsoft and is an automobile manufacturing hotspot (Maruti-Suzuki, Hero Honda, TVS Sundaram).
Simultaneously, because of its proximity and good connectivity with Delhi, Gurgaon has also emerged as a new education hub with several globally benchmarked K-12 schools (GD Goenka, Heritage, Shiv Nadar) and universities (Ashoka, O.P. Jindal) having established sprawling campuses to educate children of the city's large and expanding pool of professionals employed in the IT/ICT, automobiles and BPO among other industries. Inevitably, this satellite city has also experienced a rapid mushrooming of early childhood care and education (ECCE) centres demanded by its young and upwardly mobile workforce.
Field researchers of the Delhi-based Centre for Forecasting & Research Pvt. Ltd (C fore) interviewed 582 parents and 65 preschool principals/teachers of this buzzing city to rank 34 pre-primaries in two categories — owned/proprietary and franchised.
OWNED/PROPRIETARY PRESCHOOLS
The highlight of the EW 2019-20 league table of Gurgaon's proprietary preschools is that the six-year uninterrupted reign of Pallavan, Sohna Road/DLF Phase I is over. This year's 647 sample respondents have decisively voted Anand Preschool, DLF Phase I, which debuted in the 2018-19 league table at #3, and Amiown, Amity's Caring Preschool, Sector 27 — ranked #1 in 2018-19 and #2 in 2017-18 — Gurgaon's jointly ranked #1 proprietary pre-primaries. Moreover this year, Pallavan is obliged to share the #2 rank with iDiscoveri Preschool, Sector 46 which was #2 last year.
The high end of the Top 10 table comprises Safari Kids, DLF Phase IV ranked #3 (#6 in 2018-19), Shalom Hills Nursery School, Sushant Lok and Little Pearls, Cyber City jointly ranked #4 and Early Learning Village, Sushant Lok, Phase I and The Shri Ram Early Years, Sector 48 tied at #5 (8 & 5).
Unsurprisingly, Devicka Arora, principal of Anand Preschool, DLF Phase 1 (APDLFP1, estb.2007) is delighted with the swift ascent of this 12-year-old pre-primary unranked until 2016-17 and #3 last year which has vaulted to the very top of Gurgaon's 25-strong proprietary league table with high scores under the parameters of teacher welfare and development, individual attention to students, parental involvement, and special needs education.
"This is a proud moment for us. We are happy to have lived up to the expectations of our parents' community and thank them for actively supporting our initiatives. We are also thankful to our dedicated teachers for innovating new teaching-learning practices and sparing no effort to provide joyful early years education to our children. Rising awareness in Gurgaon of our best practices are behind our quick promotion to #1," says Arora, a sociology alumna of Delhi University who served earlier with Pallavan and Tiny Tots, New Delhi.
Likewise Priya Saxena, co-founder and principal of Early Learning Village, Sushant Lok, Phase I (ELV, estb.2016), promoted from #8 in 2018-19 to the Top 5 with high scores under the parameters of innovative teaching, infrastructure and safety and hygiene, is elated that the "sincere efforts put in by our teachers" have paid off. "We are grateful to your survey respondents for this promotion in the EW league table. In ELV, we implement the well-researched International Early Years Curriculum of the UK which integrates global best ECCE practices to nurture the personal, social and emotional development of youngest children. Moreover, we have invested heavily in providing child-friendly play facilities because children learn best when they are playing and exploring," says Saxena, a humanities and education alumna of MS University of Baroda, Gujarat and SNDT (Mumbai) with 17 years of teaching experience in international schools in Japan, Turkey, Israel who promoted ELV four years ago with a first batch of five children. Currently, ELV has an enrolment of 150 students and 25 teachers.
Further down the 25-strong league table of Gurgaon's proprietary pre-primaries, the pecking order has changed with several substantially improving upon their 2018-19 rankings. For instance, The Sixth Element, South City-1 has climbed two notches to #8 (10) and Salwan Montessori School, Sector 5 to #9 (13). This year's sample respondents have allotted the other top table seats to Pathways Early Years, Sector 49, ranked #6 (7), Medhaam Preschool, South City-1 #7 (8), Pathways Early Years, Sector 55 #9 and Pumpkin House, Sushant Lok #10 (11).
Moreover, four previously unranked, presumably newly promoted. preschools have debuted in the 2019-20 league table of Gurgaon's most admired proprietary preschools. They include Productive Minds — The Montessori Preschool, Sector 47 at #11, Beansprouts Preschool, Sector 50 (promoted by the well-reputed Blue Bells Group of Schools) #12, Klay Prep School and Day Care, Sector 22 #14 and The Early Years, Sector 54 #15.
FRANCHISED PRESCHOOLS
Only nine franchised pre-primaries in Gurgaon are sufficiently well-known to be included in the EW Gurgaon franchised preschool rankings 2019-20 (under the ranking methodology of C fore, low-profile pre-primaries assessed by less than 30 respondents are not included in the league tables). Of them The Shri Ram Wonder Years, Sector 54 (TSWY,estb.2016), is ranked #1 for the third consecutive year with top score on all ten parameters of ECCE excellence.
While there's no change at the very top, further down this year's league table there's been quite a rejig. Little Millennium, Sector 14 has inched up from #3 in 2018-19 to #2 and the previously unranked EuroKids, Sushant Lok has made an impressive debut at #3. Mother's Pride, DLF has retained its #4 rank even as Kidzee, DLF 1, ranked #5 (2) has ceded ground. Two EuroKids franchise schools (Palam Vihar and Sector 45) are ranked #6 and #7, followed by Mother's Pride, Sector 9A at #8 (9) and Richmond Preschool & Day Care, Sector 24, which has debuted at #9
Deepali Karnwal, chief executive of TSWY, Sector 54 — a franchisee of the Delhi-based Shriram Educare Pvt. Ltd and affiliated with the top-ranked The Shri Ram schools in Vasant Vihar/Gurgaon — is delighted this three-year-old pre-primary is ranked #1 on all ten parameters of ECCE excellence.
"We are deeply honoured and grateful to EducationWorld and the survey respondents. TSWY's top score on all ten parameters of excellence is a ringing endorsement of the holistic ECCE philosophy of our franchisor Shriram Educare. Among all ten parameters, I value our #1 ranking for teacher competence and teacher welfare and development the most because a school is only as good as its teachers. We accord highest importance to continuous training and development of our teachers to enable them to deliver Shriram Educare's deeply researched curriculum and pedagogies," says Karnwal, an English alumna of Chandigarh University with certification in school management and leadership from Harvard University (USA) who served with Sai Grace Academy, Dehradun before being appointed chief executive of TSWY in 2016.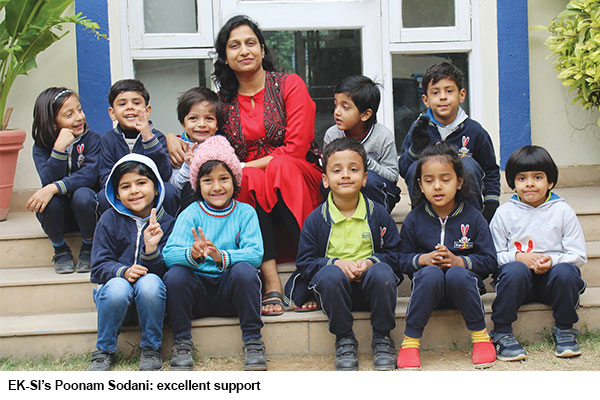 Similarly Poonam Sodani, a commerce, management and education alumna of Jiwaji (Gwalior) and Dehradun universities who worked with Delhi Public School, Gurgaon before promoting EuroKids, Sushant Lok (EK-SL) in 2017 — a franchisee of the Mumbai-based EuroKids International which has an estimated 1,900-plus franchised preschools countrywide — is thrilled with EK-SL's debut at #3. "It's an honour to be ranked #3 in Gurgaon in our third year of operations. We are thankful to EducationWorld for this recognition and also thank our committed teachers and parents and our franchisor EuroKids International, Mumbai for their excellent curriculum and teacher training support. However, its noteworthy that EK-SL is one of few preschools in Delhi NCR to be certified by Bureau Veritas — the world leader in testing, inspection and certification — as a safe school based on over 200 parameters of safety and hygiene. Therefore, we deserve a higher score under this parameter," says Sodani.