Founded in 1572 under a royal charter from Queen Elizabeth I by Sir John Lyon, a wealthy English landowner, Harrow School steadily evolved into one of the leading schools in the UK, attracting pupils from around the world. Harrow was established with the mission to "prepare young people from diverse backgrounds and interests for a life of public service, learning, leadership and personal fulfillment."
With a centuries-long legacy of educational excellence, Harrow has been the alma mater of numerous prime ministers, Nobel prizewinners, prominent literary figures and royals. From the 19th century greats, including British prime minister Sir Robert Peel, the architect of modern policing, and the celebrated romantic poet Lord Byron, to the 21st century achievements of actor Benedict Cumberbatch and musician James Blunt, Harrovians of today can look back at very many 'Giants of Old'.
With 12 campuses spread across the globe presently, Harrow has launched its first campus in India in the northern suburb of the country's IT capital, Bengaluru, just 20 minutes drive from the Kempegowda International Airport. Sprawled over 60 acres, the Cambridge International (CAIE, UK) and International Baccalaureate (IB, Geneva) affiliated Harrow International School, Bengaluru is set to commence operations with its inaugural batch of 150 students in August 2023.
"Harrow Bengaluru shares a great history with its parent school in London. It is our intention that this should allow the International Harrovians of Harrow Bengaluru to achieve outstanding academic success, whilst developing a strong sense of belonging to something bigger than themselves and an awareness of their responsibility to the communities in which they live and work," says Andrew Leale, Head Master, Harrow International School, Bengaluru.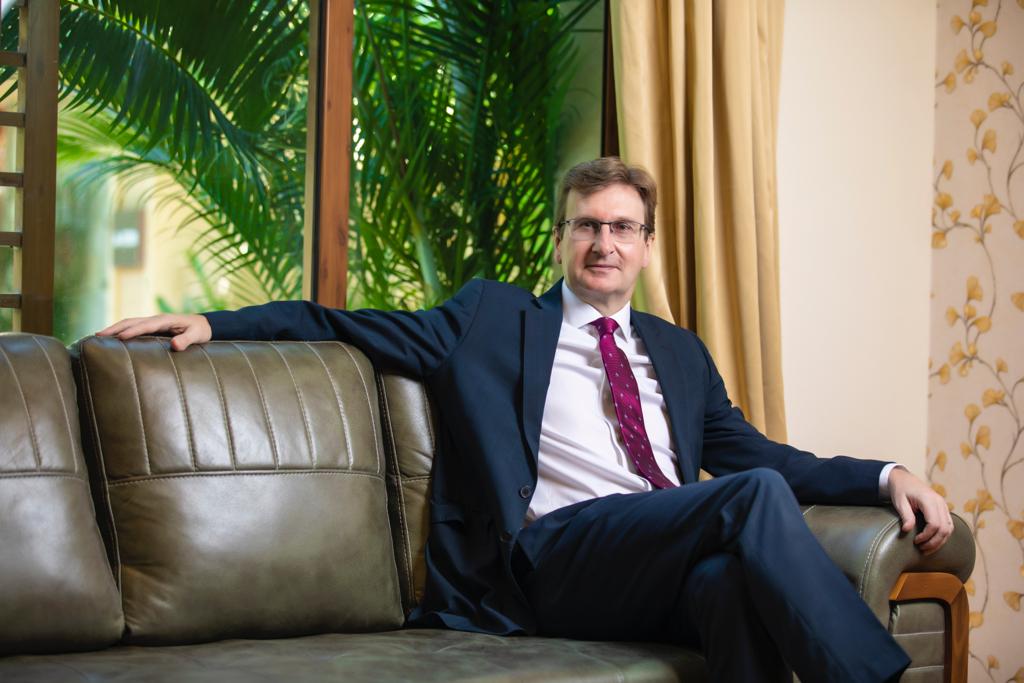 Andrew Leale graduated in Politics, Philosophy and Economics from Balliol College (University of Oxford) prior to pursuing a postgraduate diploma at Keble College (University of Oxford) and a master's degree in Educational Leadership at the University of Buckingham. Following a long career at Tonbridge School, one of the leading independent boarding schools in the UK, where he was a key member of the senior leadership team, he took up his first role as a principal in a leading private school in Beijing, before signing up with Harrow International, Bengaluru as founding Head Master in August 2022.
Globally comparable infrastructure to enable world-class education
The meticulously manicured 60-acre campus of Harrow International School, Bengaluru hosts contemporary infrastructure for academics. Brand new science labs equipped with the latest technology sit alongside IT and robotics suites in the STEM centre. The school's 29 spacious, air-conditioned classrooms – all wi-fi enabled and equipped with interactive whiteboards – are interspersed with Harkness rooms and break-out spaces, which encourage students to communicate and collaborate even outside the formal classroom environment.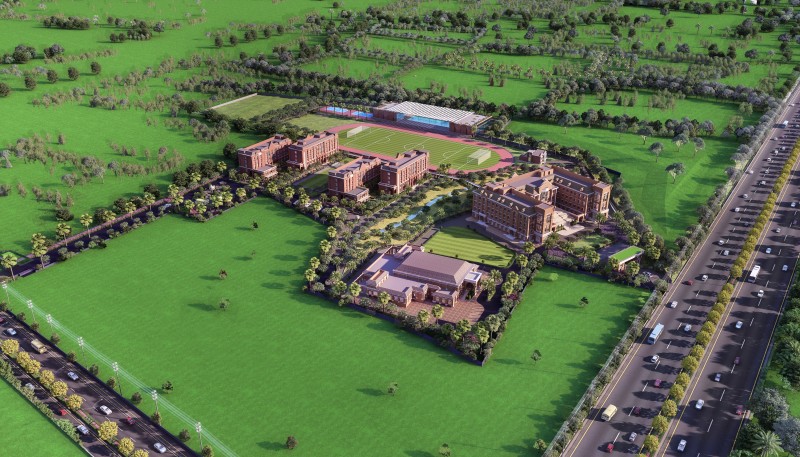 The creative and performing arts centre features a drama black box, a dance studio, a kiln room, a photography dark room, an extensive fine arts studio, a music tech room, recording studio, multiple music rehearsal spaces, and a music ensemble hall. The academic block also houses a large and modern library, designed to foster a love of reading among students while also providing an environment for both quiet and collaborative study.
Adjacent to the academic block is a 600-seater auditorium where assemblies, and school drama, music and dance productions take place. Also, within a stone's throw are 4 superbly resourced boarding houses, each of which accommodates 70 students. The boarding houses have their own dining room, library and multiple common rooms as well as single en-suite rooms for the senior students and spacious twin rooms for those in the middle school.
The school's contemporary academic infrastructure is complemented by an impressive sports village with a full size 5G football pitch, 400m running track, 50m Olympic sized pool, squash courts, tennis courts, climbing wall, fitness suite, yoga studio, basketball and volleyball courts, cricket facilities and sports hall for badminton and other indoor sports.
International curriculum enabled by contemporary pedagogical practices
Harrow Bengaluru offers a rigorous academic programme designed around the international curriculums of Cambridge International (CAIE, UK) and IB Diploma (IBDP). In the tradition of the best K-12 institutions worldwide, the school boasts a team of highly competent teachers recruited from across the globe and with rich experience in delivering an international curriculum, an international student body and internationally benchmarked pedagogies that encourage students to be active, collaborative learners. Excellent pastoral care and a comprehensive sports & co-curricular education programme supplement the outstanding academic provision.
Drawn from across the globe, Harrow International School's teachers hold educational qualifications from some of the best universities worldwide and have taught in some of the world's most renowned international schools. Five teachers hold University of Oxford/Cambridge University degrees while others have taught at Harrow Bangkok, Dulwich Shanghai, Dulwich Beijing, The Doon School, Welham Boys' School, United World College, Brighton College (UK School of the Decade) and St Dunstan's College (UK Independent School of the Year 2022), among other internationally reputed schools.
"Behind every great academic success lies an education which has been founded on an enjoyment of learning and being part of a happy and supportive community. That's why strong pastoral care, based around an inclusive house system, is fundamental to a Harrow education and why our students and staff are encouraged to embrace an invigorating and extensive co-curricular programme, which allows them to run with their passions and learn from the success and disappointments met during their hugely varied school lives," says Andrew Leale.
Learning beyond the classroom
Sports & co-curricular education is an integral component of education at Harrow International School, Bengaluru and every student is expected to engage in co-curricular pursuits. Opportunities abound in drama, music, art and dance and sporting disciplines such as football, cricket, basketball, badminton, golf, tennis, swimming, and squash, among others. Besides, a busy schedule of school and house plays, musicals, concerts, art displays and dance shows allow the students to extend themselves and excel wherever their talents and interests lie.
A dedicated time slot is set aside for sports and co-curricular activities every weekday afternoon to enable maximum student participation. The boarders engage in sports and co-curricular activities on weekends too. Harrow's co-curricular education programme extends beyond the 'extra-curricular' to the 'super-curricular'. International Harrovians at Harrow Bengaluru benefit from extension opportunities across the academic spectrum – from attending lectures hosted by experts, to exploring their interests in a myriad of student-run clubs, or participating in national and international competitions such as Maths and Science Olympiads, Oxbridge Essay competitions, Robotics contests, debating events and language challenges.
"The pandemic presented many challenges, but most beneficially it taught us that with modern technology we do not need to be in the same room to collaborate and learn from each other. That's had wonderful implications for a school like Harrow Bengaluru with its global network of excellence. As well as having the chance to physically visit Harrow School in London, our students will be collaborating on a weekly basis with students and teachers at Harrow schools around the world through online forums and inter-school clubs, societies and publications. At the same time, our teachers can benefit from the expertise of staff in the UK and spread their own best practice," says Andrew Leale.
Harrow International Laurels
Harrow School in the UK boasts an illustrious alumni roll-call – seven British prime ministers, including Sir Robert Peel and Sir Winston Churchill; Jawaharlal Nehru, the first prime minister of India; King Hussain of Jordan; celebrated poet Lord Byron; novelist Anthony Trollope; playwright Sir Terence Rattigan; Willian Fox Talbot, pioneer of photography; Nobel Prize winning physicist John Strutt; astronaut Nicholas Patrick; England cricketer Nick Compton; musician James Blunt and actor, Benedict Cumberbatch, to name a few.
In 2022, students from the Harrow network of schools were welcomed into the University of Oxford, University of Cambridge, Imperial College, University College London and the London School of Economics in the UK and every one of the Ivy League Schools in the US. 17 students of Harrow School London won places at Oxford and Cambridge, while over 100 students from Harrow schools are presently studying in the G5 and Ivy League institutions.
Campus
,
News