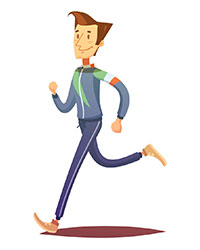 Hello Children!
When was the last time you were laid up in bed with an illness just when you were looking forward to a special event in school?
Illness is literally a pain. Worse it forces you to miss out a lot of fun and enjoyment. Therefore maintaining good health and fitness is important. But good health and well-being has to be earned.
You could start with a few lifestyle changes which will keep you fit and energetic and you'll soon discover the connection between good health and well-being. Energy translates into enthusiasm, and that's what you need to make your dreams come true.
Getting enough physical activity is one side of the coin, and eating healthy food is the other. But the two aren't mutually contradictory. In this issue we suggest ways to conjure up healthy food that's enjoyable and keep children fit to get the best out of their childhood years.
Idea box
Quiz Time
Anu D
Organise a Health Quiz in your neighbourhood with your friends.
Persuade parents and children to participate. It will be exciting to make parents and kids teams compete.
Make it an event to which everyone looks forward. Plan a time, place and theme. The theme could be nutrition, exercise or any other health-related issue. You might even be able to find a local health spa or fitness centre to sponsor prizes or offer their premises as the venue. If you are able to persuade them to sponsor the event, print and distribute leaflets in the neighbourhood.
Make a list of topics linked to your theme. For example, if your theme is nutrition, you could list topics like the food pyramid, vitamins, food supplements, carbohydrates, etc.
Prepare a number of questions under three categories — easy, medium and difficult. Decide on the number of teams and the number of members in each team. Give the teams names linked to your theme like 'Energy' and 'Superfoods'.
Read health books, magazines and textbooks to prepare your questions. Ensure that the quizmaster who'll ask the questions is thorough with the answers. He/she should also know enough about the topics to field queries about why a certain answer is wrong.
In each set, you can have questions of different styles — multiple choice, true or false or just question and answers.
Make sure that if one question a round is difficult, the other questions in the next round (posed to the other teams) are also difficult.
A person is needed to keep score, while another needs to watch closely to see that the right team answers correctly. This person needs to spot any kind of cheating to avoid argument.
The chances are everyone will enjoy the challenge and have fun. The end result is they will acquire a much better knowledge of health and nutrition.