Hello Children!
Do you love balloons? Cartoons? Flowers? All of them conjure up images of colour.
Can you imagine a black-and-white comic book? A clown dressed in grey? A world without colour? We enjoy colours around us every day but rarely stop to think about them. This issue of Kidzone is dedicated to colour. You'll find some colourful ideas to try out. So put on a cheerful grin to match and read on.
Idea box
Brighten up your space!
Cynthia John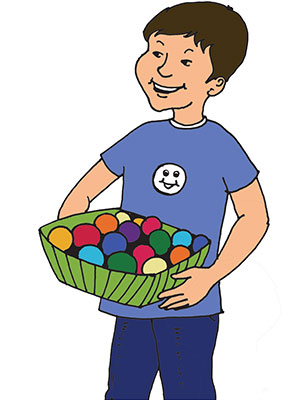 Are you aware of vacant spaces that need a dash of colour? It could be your room, a balcony or a classroom. Here are some quick and easy ideas to add colour to your life!
Buy a pack of colourful rubber balls. Take a big sheet of transparent plastic (preferably the type florists use) and wrap a number of balls. Tie both ends with satin ribbon to make a large sweet-shaped decoration. Or make it long and narrow to resemble a Christmas cracker. Or just tie it up like a bag. Place this decoration in a prominent spot.
Buy large sheets of brightly-coloured paper. Draw a shape on the back of one. It could be a large elephant or a flower. Place many sheets together and cut it out so that you have the same cut-out in many colours.
Now arrange them one behind the other, with a little of each colour peeping out, and fix it on your door or wall.
Paint details on the cut-out that is placed first.
If you cut out geometric shapes like triangles or hearts, you can arrange them like a fan before gluing them on.
Add colourful borders along your walls, or stickers to match your theme.