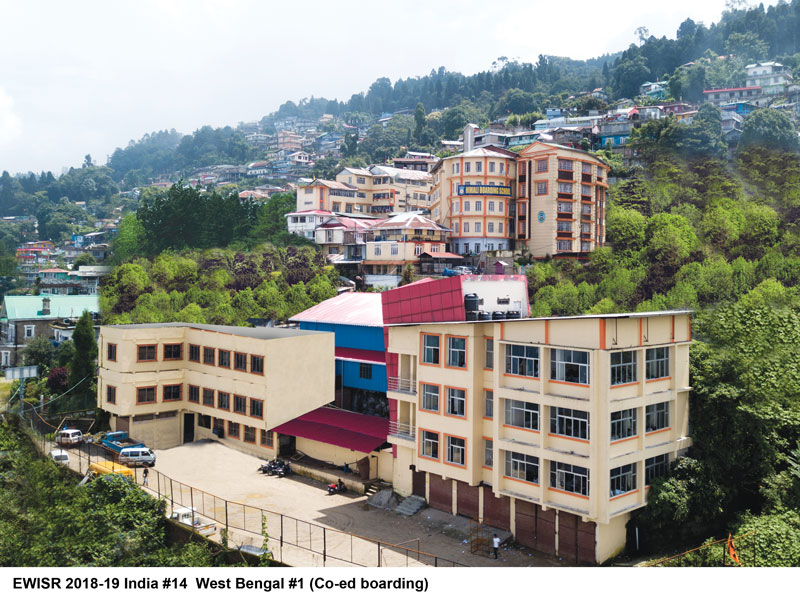 "Our goal is to create a community of motivated students and teachers deeply engaged in active learning through shared experiences, values and best use of modern technology. We are committed to nurturing lifelong learners and confident and responsible global citizens." – Robindra Subba, Director Himali Boarding School
Promoted 40 years ago by World War II veteran Major T.B. Subba and his wife together with Mr. and Mrs. J.B. Careeck of Sussex, England with the objective of providing high-quality English medium education to children residing in the hill district of Kurseong in West Bengal, Himali Boarding School (HBS) admitted its first batch of 30 boarders and 15 day scholars in a modest house in the Naya Bazar area of Kurseong, 30 km from the popular hill station of Darjeeling, in 1978. Four years later, the school moved to a four-acre picturesque campus in Doomaram overlooking the Balasan River. Currently, the CISCE, Delhi-affiliated HBS hosts 1,200 students including 506 girl children instructed by 75 teachers.
Over the past four decades, this co-ed predominantly boarding school — has established a nationwide reputation for its student-centric curriculum and excellent pastoral care. In 2005, HBS became north-east India's first Cambridge Education centre and currently boasts affiliation with the UK-based Cambridge Assessment International Education and Edexcel boards. In the latest EducationWorld India School Rankings 2018-19, HBS is ranked among India's Top 15 co-ed boarding schools and #1 in West Bengal. Among the numerous awards conferred upon the school is the President of India Award for Education in the Hills (2013) and the White Swan 'India's most influential education brand' awards (2015-2016).
HBS' aesthetically designed campus hosts modern academic infrastructure including 25 Smart classrooms, well-equipped science labs, a library featuring 10,000 titles and 25 journal subscriptions and two wifi-enabled computer labs equipped with 65 terminals. The school's equally impressive sports facilities include a football field, well-maintained courts for basketball, badminton, volleyball, and rooms for several indoor games. Excellent pastoral care is provided to the school's 350 boarders housed in 15 spacious and well-equipped residence halls with four modern dining halls serving nutritious meals.
HBS' well-balanced learner-centric curriculum enables excellent student learning outcomes. The school has recorded 100 percent pass results in the CISCE's class X and XII board exams year on year. The class average in the 2019 ICSE (class X) board exam was 80 percent while in the ISC class XII exam, the average was 90 percent.
HBS school-leavers have been welcomed into top-ranked universities in India and abroad including Oxford and Cambridge universities (UK) and Jawaharlal Nehru University, Delhi. Prominent alumni include Tsheten Norden Cargyll, the under secretary, ministry of external affairs; Himadri Shekhar Dhar, professor at Imperial College, London; Bijaya Anam, professor at Bangladesh University and Shirsendu Basu, project manager of Cogizant Technology Solutions.

Further information: www.himalischool.org