At the first-ever celebration of budget private schools (BPS) staged in Mumbai on February 26, 400 promoters, trustees and principals of India's most admired BPS congregated to celebrate the Top 300 rated and ranked in the EW India Budget Private School Rankings 2020 published last month – Summiya Yasmeen
Promoters and principals of India's most admired Budget Private Schools (BPS) — low-cost affordably priced primary-secondaries which provide the country's aspirational lower middle and working classes alternatives to dysfunctional government schools — were awarded and felicitated at the inaugural EducationWorld India Budget Private School Rankings Awards 2020.
At this first-ever celebration of BPS — routinely demonised by government, academia and media for allegedly 'exploiting' gullible, aspirational parents — staged at the upscale Hotel Sahara Star, Mumbai, on February 26 — 400 BPS promoters, trustees and principals of India's top-ranked budget private schools congregated to celebrate the Top 300 BPS rated on 11 parameters of affordable education and ranked in the EW India Budget Private School Rankings 2020 published last month (February). This rankings survey was conducted by the Delhi-based market research and opinion polls company Centre for Forecasting and Research (C fore) Pvt. Ltd which interviewed 2,548 parents with children in BPS, principals and teachers countrywide.
Welcoming delegates from 80 cities/towns across India, Dilip Thakore, publisher/editor of EducationWorld, described the awards event as "historic and the first felicitation of BPS which provide the world's most competitively priced private school education to children of low-income households". "However, because they offer educationally under-served sections of society an alternative to dysfunctional government schools, BPS suffer official discrimination and harassment. For instance, under s.19 of the RTE Act, 2009, BPS, which fail to comply with stringent infrastructure norms — government schools are exempt — can be forcibly shut down. But in EducationWorld, we believe that the best among the country's 400,000 BPS which have a massive aggregate enrolment of 60 million children, are serving an important nation-building purpose by providing relatively good quality — including English language — education to low-income households across the country. Therefore, they need to be awarded and rewarded," said Thakore.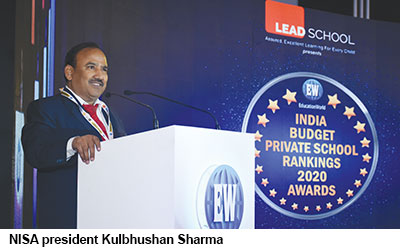 Likewise, Dr. Kulbhushan Sharma, president of the National Independent Schools Alliance (NISA), which has a membership of 60,000 BPS countrywide, lauded budget private schools for persisting with providing good quality education to bottom-of-pyramid households notwithstanding official harrassment. "Despite a rising number of parents exercising their choice in favour of BPS, Central and state governments have forcibly shut down over 20,000 BPS across the country. However, we are determined to exercise our fundamental right to engage in the vocation of education which has been upheld by the Supreme Court of India. Under the NISA banner we will continue to demand due recognition to BPS as legitimate education providers and architects of the country's future. We thank EducationWorld and event sponsor LEAD School for hosting this historic first-ever awards event to celebrate India's budget private schools," said Sharma.
The welcome addresses were followed by enlightening lectures delivered by nationally reputed K-12 leaders. Sumeet Mehta, co-founder & CEO, LEAD School, spoke on 'Education 2040: Schools & learning in light of global megatrends'; Amit Chandra, policy fellow at the Centre for Civil Society, Delhi, described 'How the RTE Act is destroying Indian school education'; Steve Hardgrave, co-founder and CEO of NBFC Varthana, commented on the 'Challenges and opportunities for budget schools in India'; Siddhartha Srivastava, chief product & technology officer, LEAD School, discussed 'How technology will empower schools and learning'; Dipti Shankar, founder-director, Safe Campus, delivered a lecture on ways and means to 'Confront and resolve the child safety and hygiene challenges in budget private schools' and Smita Deorah, co-founder & CLO of LEAD School, presented a talk on the subject 'Excellent learning for every child: evidence-based interventions'. (To view the lectures visit www.educationworld.in)
Moreover, on the occasion of EW India Budget Private School Rankings 2020 Awards, Subhash Chandra Kedia, honorary secretary, Unaided Schools Forum, Mumbai; Indraman Sahadeo Singh, chairman of Priyadarshini Group of schools, Pune, and Bernadette Pimenta, founder of Mumbai-based NGO Sevadham, were presented the EW Lifetime Achievement in Education Leadership Award 2020. In addition Dr. Kulbhushan Sharma, president of NISA, Delhi and Neelam Malik, founder-principal of St. Mary's High School, Kalyan, Mumbai were conferred the EW Extraordinary Education Leadership Award 2020 with specially written citations.
The packed agenda also included felicitation of 61 low-profile progressive budget private schools under the EW Special Merit Awards 2020.