In a positive step towards inclusivity, Barbie's manufacturer Mattel has unveiled new dolls designed to promote diversity and inclusivity, featuring dolls with no hair, the skin condition vitiligo and prosthetics. According to the makers, this step will create "a multi-dimensional view of beauty" and "represent global diversity and inclusivity."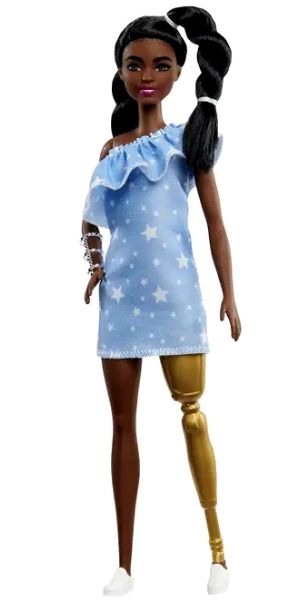 The range includes dolls with no hair, vitiligo, prosthetic limb, a curvy doll with curly hairstyle, and one sitting on a wheelchair. The dolls are part of the Barbie Fashionistas line, which was first introduced in 2015 that comprised of Barbies with a variety of skin tones, eye colours, hair colours, textures, and body types. The reason behind creating the collection was that the brand's young customers could "find a doll that speaks to them."
The latest addition to the collection has Barbie dolls featuring five body types, 22 skin tones, 76 hairstyles, 94 hair colours, and 13 eye colours. A range of Ken dolls have also been made that are available in four body types, 18 sculpts, 13 skin tones, 9 eye colours and 22 hair colours. Another new range featuring an Asian prototype has also been created.
Mattel aims to "redefine what it means to be a Barbie or look like Barbie". In order to design the vitiligo doll, the manufacturer worked with a dermatologist to ensure it was accurately represented. Mattel also collaborated with 12-year-old Jordan Reeves, a child with disability, to create the doll with a prosthetic limb.
View this post on Instagram
View this post on Instagram
According to the brand, the new range of dolls have become quite popular with almost half of all dolls sold worldwide. The Fashionistas dolls retail for £11.99 each.
Source: The Independent
International
,
News