The seven-year reign of Campion School, Mumbai in the all-boys category has ended. This year the 11,368 sample respondents have voted St. John's High School, Chandigarh #1 by a three points margin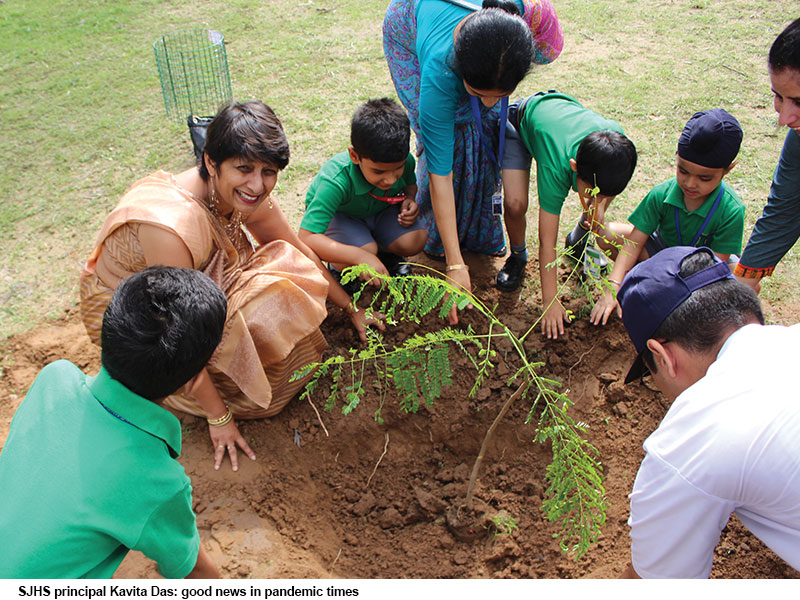 One of the few success stories of post-independence India is gender egalitarianism — at least within the 200 million-strong great Indian middle class. Although gender parity is not yet normative in Indian society, except perhaps in the top 5 percent of upper middle class homes, there's rising awareness within the population of the need to provide equal pre-primary and K-12 education to girl children.
Therefore, gender segregated — all-boys and all-girls – primary-secondaries are a dying species, especially single sex day schools. Consequently, the number of sufficiently well-reputed gender segregated schools (schools unknown to less than 25 sample respondents are not ranked) is diminishing with every passing year. It's a sign of an increasingly progressive mindset that new greenfield schools of all categories tend to be co-educational institutions which promote gender egalitarianism and respect.
Against this backdrop, the seven-year reign of Campion School, Mumbai (estb.1943) in the category of all-boys day schools has ended. This year, the 11,368 sample respondents comprising parents, teachers, principals and senior students of the EducationWorld India School Rankings 2020-21, have voted St. John's High School, Chandigarh (SJHS, estb.1959) #1 by a three points margin. It's pertinent to note that Campion's dislodgement from its normative top of table coincides with the retirement of its long-serving (2013-19) and high-profile principal Paul Machado.
Promoted in 1959 by the Congregation of Christian Brothers on a 30-acre campus in the heart of Chandigarh, SJHS is #1 this year with top scores on the parameters of faculty competence, infrastructure provision, leadership/management quality and value for money (tuition fee: Rs.3,000-4,000 per month). "We are thrilled by this good news during these sad pandemic times. For several years, our dedicated teachers have been working hard to improve under all EWISR parameters of school education excellence. As indicated by our top score under the parameter of teacher welfare and development, we value our teachers very highly. Though we have suffered loss of revenue due to the pandemic induced closure of all schools, we have continued to pay full salaries to all our teachers besides providing them continuous professional training to become familiar with new online learning technologies. Therefore, we are happy that SJHS has been awarded excellent scores under the parameters of faculty competence, co-curricular education and value for money," says Kavita Das, an alumna of Delhi University with over 20 years of teaching experience (St. Columba's, Delhi) who was appointed principal of St. John's High in 2007. Currently, the school has an aggregate enrolment of 2,000 boys mentored by 100 teachers.
In this year's league table of India's Top 5 boys day schools, Campion School at #2 is followed by The Bishop's School, Pune which has risen high in public esteem to #3 (#6 in 2019-20). It is jointly ranked #3 with St. Mary's School, Mazgaon, Mumbai (4) which has traded places with St. Xavier's Collegiate School, Kolkata at #4 (5). La Martiniere for Boys, Kolkata at #5 (6) has also been promoted. Yet the biggest winner in the boys day category is the vintage St. Joseph's Boys High School, Bengaluru (estb.1858) which has leapfrogged from #11 in 2019-20 to #5 this year besting its traditional rival Bishop Cotton Boys, Bengaluru which is #6, after a long time.
"I am very happy with St. Mary's, Mazgaon's promotion to #3 in India, and #2 in Mumbai this year. Although we are rooted in traditional values, over the years, we have evolved into a progressive 21st century all-boys school. I am especially pleased that our high scores are on the parameters of academic reputation, co-curricular and sports education — indicative of our philosophy of ensuring well-rounded education. Our boys excel in the ICSE board exam, ASSET test and Olympiads and routinely win state and even national sports tournaments — St. Mary's football and cricket teams are among the best in Mumbai — and inter-school cultural festivals. Our higher rank this year shows that we are on the right path of providing integrated education to our students even in the pandemic era," says Fr. (Dr.) Francis Swamy, an alumnus of Mumbai University and former principal of Holy Family High School & Junior College, Mumbai who was appointed principal of St. Mary's, Mazgaon in 2015.
Unsurprisingly, Fr. Sunil Cletus Fernandes, principal of St. Joseph's Boys' High School, Bengaluru (SJBHS, estb.1858), ranked a modest #11 in 2019-20, is delighted by this vintage CISCE-affiliated K-12 school's promotion to the national Top 5 table and #1 rank in Bengaluru. "This year's #1 ranking in Bengaluru is highly motivational and enhances our excellent reputation for providing holistic education. Our philosophy is not only to value and respect our heritage and traditions, but add to them. Our teachers are encouraged to attend professional development programmes and workshops. This has enabled them to continuously raise academic and co-curricular standards. Moreover, the pandemic has been a big learning experience for our faculty. The disruption has been transformed into new ICT-enabled best practices," says Fr. Fernandes.
Beyond the Top 5, two Kolkata schools — Birla High School for Boys, Moira Street (#20 in 2019-20) and Calcutta Boys School (16) — have risen in public recognition and are ranked in the national Top 10 for the first time. Ditto DAV Boys Senior Secondary School, Mogappair, Chennai, which has been promoted from #15 in 2019-20 to #9 this year. The Top 10 table is completed by NASR Boys, Hyderabad at #10 (10) jointly with Don Bosco High School, Matunga, Mumbai (12).
"We are jubilant to receive this news in these depressing pandemic times. Credit for this huge promotion should accrue to the hard work, dedication and commitment of our teachers and staff in these very trying times. From the time we sensed that a lockdown was coming, we got our act together and switched smoothly to meet the challenges of online teaching. It was a difficult path to tread but we were determined to ensure learning continuity for all our children. I'm especially pleased that your respondents have rated the school #2 for academic reputation as our students have consistently excelled in class X and XII board exams," says Loveleen Saigal, principal of Birla High School for Boys (estb.1941) which has 2,365 students mentored by 195 teachers.
Beyond the Top 10 league table of India's 53 sufficiently well-known all-boys schools, several institutions have improved their ranking in 2020-21. Among them St. James School, Kolkata, ranked #15 (32), Baldwin Boys, Bengaluru #17 (26), M.C. Kejriwal Vidyapeeth, Howrah at #19 (45), Don Bosco School, Siliguri #23 (40) and St. Francis' College, Lucknow #26 (42).
With the great majority of latter-day schools promoted as co-ed institutions, the EW Boys Day Schools Rankings 2020-21 is dominated by vintage missionary institutions promoted in an earlier era. They include La Martiniere Boys College, Lucknow at #11 (estb.1869), St. Vincent's School, Pune (1867) #21, St. Edmund's School, Shillong (1916) #25, and St. Lawrence High School, Kolkata (1937) #29.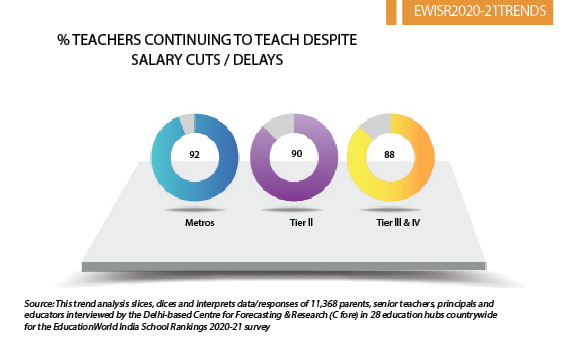 Also read: India's top-ranked girls day schools 2020-21