The country's steadily multiplying older day-cum-boarding schools are being given stiff competition by newly promoted capital intensive globally benchmarked institutions which offer children in the country's fast growing cities day and boarding options at attractive price points.
When day schools acquire good reputation for providing excellent education or boarding schools in fast-growth tier-II and tier-III towns experience strong pressure from the local population for admission, they transform into day-cum-boarding schools. This genre of primary-secondary schools provides access to children from remote, under-served parts of every state to high quality school education. Conversely as tier-II and tier-III cities and towns grew and expanded into populous administrative capitals of state governments, boarding schools experienced heavy pressure to admit day scholars and transform into day-cum-boarding schools.
The Delhi Public School, R.K. Puram, Delhi, is a prime example of an essentially day school transformed into a day-cum-boarding school, and Bishop Cotton Boys School (BCBS), Bengaluru, of a quintessential boarding school (estb.1865) gradually transforming into a day-cum-boarding institution and subsequently into an overwhelmingly day school. Although BCBS continues to admit boarders, their number is disproportionately small and for the past decade, this school is ranked in the category of boys day schools in the annual EducationWorld India School Rankings (EWISR).
Another feature of the country's steadily multiplying day-cum-boarding schools is that older, established schools in this category are being given stiff competition by newly-promoted, capital-intensive, globally-benchmarked institutions with excellent infrastructure, contemporary ICT (information communication technologies)-enabled pedagogies and state-of-the-art co-curricular and sports facilities. Thus they offer children of the rising middle class in the country's fast-growing cities the best of both worlds — day and boarding options — at attractive price points.
Against this backdrop, with latter-day day-cum-boarding schools continuously innovating and upgrading, and also offering daily and weekly boarding options, it's unsurprising this is one of the most competitive categories of the annual EW India School Rankings survey. Therefore this year, there is a major rearrangement in the seating order at the Top 10 table.
The consistently high ranked DPS, R.K. Puram, Delhi (DPS-RKP) which was unseated from its prime #1 position of 2016-17 and 2017-18 position by Modern School, Barakhamba (Delhi) last year, is back at #1 with the latter ranked #3 by this year's sample respondents. However this year, DPS-RKP (estb.1972) is obliged to share its #1 ranking with a surprising outlier — the new genre
SAI International, Bhubaneswar
(SAII, estb.2008).
Although the CBSE-affiliated SAII is by all metrics a comprehensively contemporary, capital-intensive school, its location in non-metro Bhubaneswar weighs against it. Quite obviously, this hardly two-decades-old school has won an excellent reputation in eastern India where sample respondents have awarded it top score under the parameter of academic reputation, and high scores for co-curricular and ports education, leadership and parental involvement, enabling it to become the first non-metro school to top the annual EWISR (estb.2007) in this category.
"The top rank awarded to SAII in EWISR 2019-20 is a dream-come-true and proof of our dedication to continuous innovation in K-12 education. National top rank is particularly satisfying because prior to promoting SAI International, I invested a decade — 1996-2006 — intensively studying best schools and best practices in school education around the world. After that for the past 12 years, we have been applying our learning and research to provide high quality 360 degree education to our students. Therefore, this year's #1 national rank in the prestigious EWISR is the fulfilment of a long-cherished dream. It is the outcome of sustained hard work and determination of our 500-plus faculty and equal number of support staff, as also the unstinted support of our parents community to place Odisha on the education map of India and to build a better India," says Dr. Bijaya K. Sahoo, an alum of Utkal University and highly-qualified cost and chartered accountant who threw up a successful accountancy practice in favour of fulfilling his mission to place educationally under-served Odisha (pop. 44 million) on the nation's education map.
In this connection, it's pertinent to note that apart from the top-ranked SAII, Sahoo has also promoted the state-of-the-art SAI International Residential School, Cuttack (estb.2018), SAI Angan, billed as the largest pre-primary in India (estb.2015) and the SAI International College of Commerce & Economics (estb.2015), all in Odisha.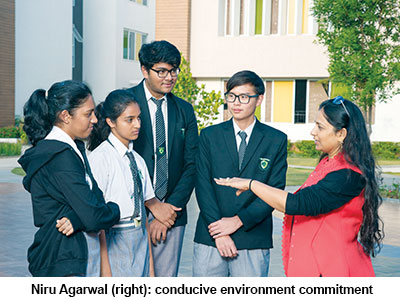 Niru Agarwal, an alumna of Tinsukia University and managing trustee of the Greenwood High School, Bengaluru (GHS) promoted from #3 in the previous two years to #2 in 2019-20, is also pleased that GHS (estb. 2004) has been promoted to #2 in India and #1 in Karnataka and Bangalore in the competitive day-cum-boarding school league tables. "We accept the evaluation of our school by your informed sample respondents with humility and pride. The annual EWISR survey is an inspiration for us to continuously strive to reach higher in the pursuit of excellence in school education," says Agarwal, who takes special pride in the "grit and determination" with which the school's 220 teachers switched to digital online teaching following the outbreak of the Covid-19 pandemic that forced the closure of schools countrywide since mid-March.
In the circumstances, Agarwal is especially pleased with the high score awarded to GHS under the parameter of curriculum and pedagogy (digital readiness) which has been given higher weightage (150) this year in light of the pandemic. "With the high quality academic facilitators (teachers) we have at GHS, it was easy for us to shift to a highly effective digital teaching-learning platform that is the envy of schools in this high-tech city. Right from the start we resolved to spare no expense in providing our students magnificent, enabling infrastructure. This is indicative of the intense commitment of the GHS management to provide the best and most conducive teaching-learning environment to our students," adds Agarwal. Currently, the CISCE-affiliated GHS has an aggregate enrolment of 3,300 boys and girls mentored by 220 teachers. Moreover, together with her husband, real estate tycoon Bijay, Niru has promoted two other schools — Greenwood International and Greenwood High which have 2,300 children and 240 teachers on their muster rolls. Collectively, the Greenwood schools have significantly contributed to the transformation of preschool to higher secondary environments in India's Silicon Valley city.
This year's Top 5 day-cum-boarding schools' league table also includes the superbly equipped Emerald Heights International School, Indore, which has retained its #2 ranking of 2018-19 and 2017-18; the vintage Hyderabad Public School, Begumpet, which has steadily moved up the league table from #9 in 2016-17 to #3 this year; Modern School, Barakhambha Rd, Delhi top-ranked in 2018-19 but #3 this year; the low-profile Pallikoodam School, Kottayam at #4 (#9 in 2018-19); Sanskaar Valley School, Bhopal co-ranked #4 (4) and DPS, Vasant Kunj, Delhi and DPS, Noida jointly ranked #5, an improvement over their 2018-19 rankings.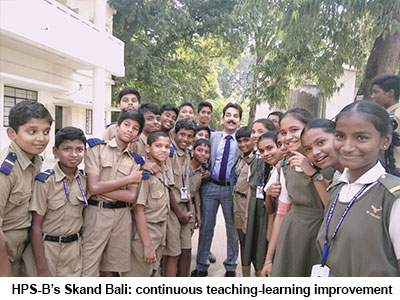 The steady rise in public esteem of the Hyderabad Public School, Begumpet (HPS-B) under the leadership of its charismatic principal Skand Bali, who has brought 20 years of teaching and administrative experience in the Army Public School, Dagshai, Doon School, Dehradun, G.D. Goenka World School, Gurgaon, is especially noteworthy. HPS-B was ranked #9 in 2016-17, #6 and #5 in the following two years and #3 nationally, this year.
"All of us in HPS-B are thrilled to learn that our school has been ranked India's #3 day-cum-boarding school by your knowledgeable sample respondents. This is well-deserved recognition for our team which has worked tirelessly to continuously improve teaching-learning standards, especially in the pandemic era. I am particularly pleased that HPS-B has been awarded the highest score under the parameter of special needs education. This is a subject that doesn't get much attention in most schools. However in HPS-B, we strongly believe in inclusive education and equal opportunity for all," says Bali, an alumnus of Panjab University who was appointed principal of HPS-B in August 2017. Currently, this vintage school promoted by the erstwhile Nizam of Hyderabad in 1923 on a 132-acre campus, has 3,500 boys and girls mentored by 165 teachers on its muster rolls. Prominent alumni include Satya Nadella, the US-based CEO of Microsoft.
The next three seats at the Top 10 table are awarded to three DPS schools, evidently highly-regarded by the sample respondents. But it's a moot point whether the high ranks awarded to them are due to the excellence of the schools themselves or whether sample respondents are heavily influenced by the reputation of the parent DPS brand which has been around for over 70 years. It is often contended that the good reputation of DPS schools in middle class India is heavily dependent upon the tried and tested brand of the Delhi-based DPS Society (estb.1949).
Be that as it may, the Top 10 table is completed by the Yadavindra Public School, Mohali (YPS-M) and the Neerja Modi School, Jaipur which have leaped forward from #14 and #15 in 2018-19 to be jointly ranked #8 this year.
"We are delighted to learn that YPS-M is ranked India's #8 day-cum-boarding school and #1 in Punjab. I believe this is recognition of continuous striving for all-round education excellence by our teachers and the entire YPS-M fraternity. We pride ourselves on our commitment to excellence in all spheres — academics, co-curricular and sports education — which has won us a good reputation for teamwork and leadership with dedication and discipline," says Major Gen. T.P.S. Waraich, VSM & Bar (Retd), director of the CISCE-affiliated YPS-Mohali (estb.1979) which has 1,800 students mentored by 110 teachers on its muster rolls.
This sense of achievement and overdue recognition is also being experienced by Indu Dubey, a geography and English postgrad of Benares Hindu University, and incumbent principal of the Neerja Modi School, Jaipur (NMS, estb.2001) co-ranked #8 in India and the top-ranked day-cum-boarding school in Rajasthan (pop.68 million).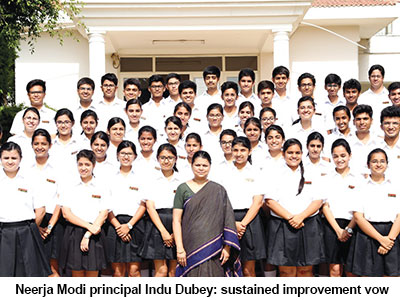 "The entire NMS community is elated that we are ranked among India's Top 10 day-cum-boarding schools and #1 in Rajasthan. But this recognition also brings with it the responsibility of sustained improvement. Going forward, we will continue to work with rigour and commitment to deliver world-class education to our students to transform them into change makers and empathetic citizens of the future," vows Dubey, who attributes the great leap forward of NMS in EWISR 2020-21 to its "student-centric philosophy and willingness to adopt and implement best teaching practices that brings out the best in every student". Currently, NMS has 5,382 children mentored by 349 teachers learning from home with "sensitivity, efficiency and effectiveness" on a "robust online platform installed on a war- footing," adds Dubey.
Beyond the Top 10 table completed by the Ebenezer International School, Bengaluru which has risen four ranks to #10 this year and DPS Nacharam, Hyderabad which has moved impressively from #31 last year to #10 in 2020-21, several other primary-secondaries have risen in the esteem of the informed public. Among them: DPS, Bhilai to #11 (cf. #21 in 2019-20); Apeejay, Noida #12 (19); Royal Global, Guwahati #13 (15), DPS, Siliguri #13 (16); Sanjay Ghodawat International, Kolhapur # 14 (17) and Sunbeam School, Bhagwanpur, Varanasi #16 (18). And it's pertinent to note that Sanjay Ghodawat, Kolhapur and Sunbeam, Varanasi are the top-ranked day-cum-boarding schools in Maharashtra (pop.115 million) and Uttar Pradesh (pop.215 million) respectively. Certainly not a trifling achievement.
Indeed in this connection, it's important to bear in mind that day-cum-boarding schools tend to be predominantly day schools with a minority of out-of-town boarders. Therefore, although high national rank confers bragging rights, their city and state rankings are of greater relevance for rooted parents intent on choosing the most suitable school for their children.
As noted above in passing, a substantial number of India's Top 10 schools are numero uno in their states and cities. Thus Royal Global, Guwahati ranked #13 nationally is Assam's #1 day-cum-boarding school and Geekay World School, Vellore national #21 is the best day-cum-boarding school in the highly industrialised state of Tamil Nadu (pop. 67 million). Ditto DPS, Vijayawada ranked #22 nationally, is #1 in this category in Andhra Pradesh (pop. 50million).
Therefore especially when evaluating day schools, parents should carefully study the ratings given by knowledgeable sample respondents under each parameter in city league tables which are given separate pride of place in EWISR 2020-21. School managements should also compare the ratings given by the knowledgeable sample respondents under each parameter to serve as a guide to continuously advance under all parameters and improve institutional reputation which if intelligently marketed can attract best teachers, corporate linkages and philanthropic donors and enable school managements to build endowment corpuses for institutional development and grant of scholarships to enrich student body diversity. This is a blindspot of Indian education, especially the K-12 sector.
Moreover, school managements and stakeholders should also bear in mind that although the annual EWISR is the world's largest and most detailed primary-secondary schools ranking survey, it rates and ranks only 2,500 of the country's 1.5 million schools including 450,000 privately-promoted primary-secondaries. Therefore, mere inclusion in the annual EWISR league tables, is commendation and certificate of distinction.