Although middle class and SEC 'A' households tend to dismiss government schools as poor relations of private schools, in EW we believe that government schools need to be encouraged to upgrade their infrastructure and improve learning outcomes to Top 1,000 private school levels. Here are India's best government day & boarding schools 2018-19
Government schools are widely dismissed as poor relations of India's 320,000 private schools by the middle class. Indeed, it's very rare for middle class households to enroll their precious progeny in government schools. Although this prejudice is shared by your editors, we believe that government schools need to be encouraged to upgrade their infrastructure and improve learning outcomes to Top 1,000 private school levels. Therefore despite all media publications totally ignoring them, since 2014 the country's Top 20 government schools have been rated and ranked by EducationWorld in a separate league table according to responses of a separate survey of 1,121 SEC 'B', 'C' and 'D' households.
In the 2018-19 league table of India's Top 10 government day and boarding schools for the first time since 2014, a Kendriya Vidyalaya is not ranked #1. Promoted and funded by the Central government through generous budgetary allocations (Rs.4,425 crore in the Union Budget 2018-19) for education of children of transferable Central government employees, the country's 1,125 CBSE-affiliated KVs are widely acknowledged as the crown jewels of public K-12 education. However this year, the 1,121 specially constituted sample respondents comprising principals, teachers and SEC 'B', 'C' and 'D' parents interviewed by C fore field personnel have voted the Delhi state government-promoted Rajkiya Pratibha Vikas Vidyalaya, Dwarka, Delhi, ranked #5 in 2017, India's #1 government day school followed by KV, IIT-Madras at #2, and the Government Vocational Higher Secondary School for Girls, Nadakkavu, Kozhikode at #3. KV-Pattom top-ranked for three years, has lost considerable ground and is ranked #4 this year.
It's pertinent to note that two other Rajkiya Pratibha Vikas Vidyalayas (RPVVs) — class VI-XII CBSE schools managed by the Delhi directorate of education — sited in Lajpat Nagar and Sector XI, Rohini in the national capital, are also ranked #6 and #12 respectively.
Well-informed monitors of the education scene in Delhi attribute the high ranks awarded to RPVVs and in particular RPVV, Dwarka to the public schools revitalisation drive of the Aam Aadmi Party (AAP)-led state government. Since it won the legislative assembly election of 2015 with a huge majority, the AAP government, led by social activist-turned-politician Arvind Kejriwal, has placed education on the top of its development agenda. In 2015, it became the first state government nationwide to allocate over 20 percent of its budget — Rs.9,836 crore — for education. In the recent 2018-19 budget, it raised the education allocation to Rs.13,997 crore i.e, 26 percent of the total budget.
Dr. Tej Pal Singh, an alumnus of Meerut and Delhi universities and principal of RPVV, Dwarka, since 2007, acknowledges the enabling financial and administrative support of the AAP government. "We have benefited immensely from the AAP government's focus on upgrading public schools which has been widely publicised and reported in the media. Now, we have a full- time estate manager and six sanitary workers, enabling our teachers to focus on academics. The government has also empowered us to hire retired bureaucrats as consultants, and our teachers and principals are given opportunities to travel abroad for training. Our #1 rank is proof that it's possible for a government school — other than a KV — to be top-ranked provided it receives full support of government. I am happy your informed sample respondents have recognised and rewarded the culture of excellence we have developed in academics and co-curricular education aided by a generous and enabling government. In particular it's very satisfying that they have ranked us #1 on academic reputation and co-curricular education," says Singh.
Nevertheless although the seating order at the Top 5 table of government schools has been rearranged, the league table of India's best government day schools continues to be dominated by KVs. Seven KVs are ranked in the 12-strong league table (see p.306) with some losing rank and others gaining ground.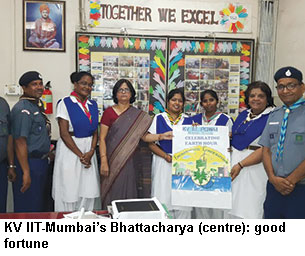 For instance KV-IIT, Mumbai which has an enrolment of 2,300 students mentored by 75 teachers, has slipped from #4 last year to #5 in 2018-19. Mamata Bhattacharya, an alum of Patna University and currently principal of KV-IIT, Mumbai, attributes this to the school being in the midst of a re-construction drive. "Unfortunately, our rank has gradually slipped from #2 in 2015 to #5 this year because of insufficient infrastructure. Half our school buildings which were over 60 years old have been demolished to build new infrastructure. By next year, the construction will be complete and we hope to regain our top ranking. Our school is primarily for children of IIT-Mumbai employees and we are fortunate to receive continuous support from the IIT management with parent-professors often volunteering to teach in the school."
Government Boarding Schools
In the same manner as the league table of India's government day schools is dominated by KVs, the league table of India's Top 10 government boarding schools is dominated by the Jawahar Navodaya Vidyalayas (JNVs). Conceptualised in 1984 by the late prime minister Rajiv Gandhi (1944-91) as free co-education boarding schools modelled on India's public (i.e, exclusive, private) schools for the brightest and best students of rural India, the country's 596 JNVs have built an enviable reputation for offering free-of-charge high-quality education to rural India's best students selected on merit. According to an evaluation study on the parent Navodaya Vidyalaya Samiti (March 2015) published by the Delhi-based NITI Aayog, "Navodaya's average pass percentage is higher than the national average of other schools affiliated to CBSE," and equivalent to the Kendriya Vidyalayas.
Therefore unsurprisingly, except for Oak Grove School, Mussoorie of the Indian Railways, ranked #2 and Simultala Awasiya Vidyalaya, Jamui (Bihar) at #3, the specially constituted 1,121 sample respondents have included eight JNVs in the Top 10 league table of government boarding schools.
India's #1 government boarding school in 2018-19 is JNV, Alappuzha (Kerala), which has vaulted from #4 in 2017-18 to #1 this year. Affiliated with the Delhi-based CBSE, JNV, Alappuzha offers class VI-XII fully residential education to 480 students.
"Last year when we were ranked #4, we were very disappointed. I am happy that this year's sample respondents have seen the light and acknowledged the excellent work done by our students and teachers. Even though our students come from humble backgrounds, they are ambitious and self-motivated, willing to work hard for a bright future. The #1 rank awarded to us on the parameter of academic reputation is a reflection of the collective effort put in by our students and teachers. Recently with the help of NITI Aayog, we were awarded an Atal Tinkering Laboratory to boost STEM education in our school," says P. Vickraman Nair, principal of JNV, Alappuzha.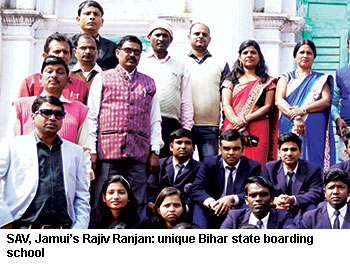 Dr. Rajiv Ranjan, principal of Simultala Awasiya Vidyalaya, Jamui (SAV), promoted in 2010 by the Nitish Kumar-led JD (S) government of Bihar as a "model English-medium government residential school," is not dissatisfied with the school's #3 rank this year. "Even though we are happy to be ranked among the Top 3 government boarding schools of 2018-19, we need to introspect as to why our ranking has dropped from #2 last year. We are a unique state government promoted boarding school which enjoys full autonomy to conduct its own entrance test, prepare the academic curriculum and recruit teachers from across the country. The usual government guidelines and regulations don't apply to us. Also, unlike other state government schools we are an English-medium institution and use NCERT textbooks. But we are a young institution — only eight years old — and still in the midst of building modern facilities for sports and extra-curricular education. I'm sure our ranking will improve next year," says Ranjan, an alumnus of Tilka Manjhi Bhagalpur University who taught for 14 years in Bhutan before taking charge as the principal of SAV in 2011. Currently, this co-ed boarding school has an enrolment of 630 students mentored by 30 teachers.
Also read: India's best government day & boarding schools 2019-20