Led by a new generation of highly-qualified and professionally accomplished women leaders and champions of gender rights and equality, girls boarding schools are flourishing
With the emancipation of women and gradual — perhaps too gradual — rise in the social phenomenon of gender egalitarianism, sexually segregated (aka single sex) all-boys and all-girls schools are fading out of fashion. Nevertheless, given that India is a large and diverse democracy which hosts citizens of over a dozen major religious persuasions, distinctive cultures and mores and in which patriarchy is far from dead, strong and sustained demand for sexually segregated schools, and even higher education, persists.
Usually sited in salubrious environments including India's unique hill stations which offer increasingly rare clean air and water, and led by a new generation of highly qualified and professionally accomplished women leaders and champions of gender rights and equality, the country's vintage girls boarding schools are flourishing, even if the general preference is for co-ed boarding schools.
Ever since the annual EducationWorld India School Rankings league tables were introduced over a decade ago, the pecking order at the very top of the girls boarding schools league tables has changed continuously. Initially, the contenders for top spots were Mayo College Girls School, Ajmer (estb. 1988) and the Welham Girls School (WGS), Dehradun (1957). But of late, the all-girls Scindia Kanya Vidyalaya, Gwalior (1956) which prides itself on its rooted nationalistic culture, has not only transformed the duopoly at the apex of the girls boarding schools league table into a three-horses race, but was ranked #1 last year.
This year, Welham Girls has regained its 2014-15 #1 rank with Mayo College and Scindia Kanya jointly ranked #2. The 2018-19 Top 5 table of girls legacy boarding schools is completed by the glitzy new Unison World School, Dehradun (estb.2007) jointly ranked #3 with the Mussoorie International School (1984), the Mody School, Lakshmangarh, Rajasthan (1989) which has been steadily rising in the esteem of the informed public at #4, and Ecole Globale International, Dehradun promoted to #5 this year.
Padmini Sambasivam, a zoology, medical sciences, genetics and education alumna of Madras University, former founder principal of the Arshya Vidya Mandir School, Chennai and former academic director of the Peevees Group in Saudi Arabia, who was appointed principal of WGS in 2016, affirms her belief in the annual EWISR survey. "When a credible external agency such as C fore conducts a nationwide survey and confers the #1 rank on us based on the work we do, it's a great impetus and inspiration, and enables us to relentlessly strive for higher ratings on the 14 parameters of education excellence. On the other hand, by highlighting the areas where we haven't done well, the EWISR survey provides a guide to improvement in those areas," says Sambasivam, who has comfortably slipped into the large boots of the formidable Jyotsna Brar who during her long term as principal (2000-2015) piloted this all-girls boarding school to the very top of all media ranking league tables.
While at best, there's been a minor change of the seating order on Top table, further down in the small 20-strong league table of the country's sufficiently well-known girls boarding schools, there's been a real churn. The new-genre Vantage Hall Girls Residential School, Dehradun (estb. 2014) ranked #10 last year has consolidated its position within the Top 10 and is ranked #8 in 2018-19. Moreover, Heritage Girls, Udaipur (estb. 2014) ranked #11 in 2017-18 and M.C.M Kothari International, Valsad ranked #15 last year have been promoted to the Top 10 table.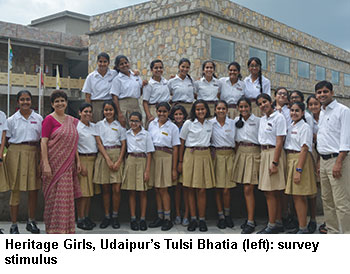 "Although the annual EWISR survey of India's Top 1,000 schools has high credibility and we are thankful to EducationWorld and your sample respondents for ranking Heritage among India's Top 10 girls boarding schools, we are not satisfied with our #4 ranking in Rajasthan. Our entry into the Top 10 within five years of admitting our first batch is proof that our hard work and huge effort to 'make every girl a leader' is being appreciated by the informed public and educationists. However, we intend to study the EducationWorld survey of 2018-19 very carefully and draw up a plan to improve our performance and ranking under all parameters," says Tulsi Bhatia, an English and education postgraduate of Patna University who served as an English teacher, headmistress and founder-dean of the finishing school of the blue-chip Good Shepherd International School, Ooty (2003-11) and as vice principal of Ecole Globale International Girls School, Dehradun before being appointed the founder-principal of Heritage Girls, Udaipur in 2014.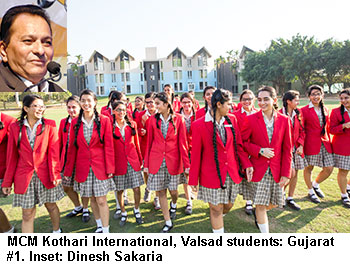 Dinesh Sakaria, trustee of the MCM Kothari International Girls School, Valsad (MCMKI estb.2004), ranked #15 in 2017-18 and promoted to the Top 10 table this year, is especially pleased by this all-girls boarding school's #1 rank in Gujarat (pop. 63 million) where well-equipped, globally benchmarked English-medium residential schools are a relatively new phenomenon. "The comprehensive annual EWISR survey is highly respected in Gujarat and I am proud that our relatively new school is the #1 girls boarding school in this state. The EWISR league tables are very useful for parents looking for the best schools for their children. Apart from students from across India, MCMKI has attracted students from Indian families settled in the US, UK and Africa, and they will be very reassured by the steady upward progress of our school in your highly credible rankings," says Sakaria. Currently, this CBSE-affiliated class I-XII all-girls boarding school, set on a green 20-acre campus in the coastal town of Valsad (formerly Bulsar, pop.180,000), has an aggregate enrolment of 480 girl children mentored by 42 teachers.
Further down the league table of sufficiently well-reputed girls boarding schools, the previously unranked Pine Mount School, Shillong — the #1 girls boarding school in the scenic north-eastern state of Meghalaya (pop. 2.6 million) — is ranked a creditable # 11, and the previously unranked Chaman Vatika Gurukul, Ambala #16.