Since 2013, within the shrinking minority of all-boys day schools, Campion School, Mumbai has enjoyed an undisputed leadership position. This year too, the EWISR 2019-20 sample respondents have voted Campion #1.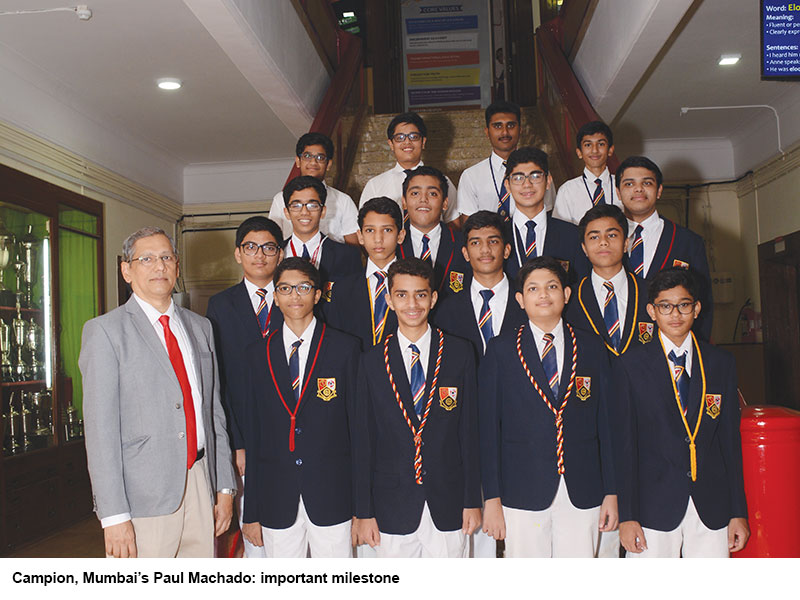 Within India's shrinking minority of all-boys day schools, the CISCE-affiliated Campion School, Mumbai (estb.1943) enjoys an undisputed leadership position. Since 2013, when the composite day schools category of the annual EducationWorld India School Rankings (EWISR) was subdivided into co-ed day, day-cum-boarding, boys day and girls day sub-categories, Campion has been voted the country's #1 all-boys day school.
This year again, the EWISR 2019-20 sample respondents have acknowledged Campion School, promoted by Fr. Joseph Savall of the Jesuit Order in 1943, #1 by a huge margin and top-ranked it on ten of 14 parameters of K-12 education excellence including academic reputation, faculty competence, co-curricular education, leadership, internationalism, individual attention to students, life skills education, sports, parental involvement and value for money.
"We are delighted that Campion is ranked #1 for the seventh consecutive year. It's public endorsement that we are doing the big and small things right and this is an important milestone in the school's history. Our top ranking on ten of the EW survey's 14 parameters of education excellence is the outcome of the excellent systems we have designed to audit the school — both internally and via impartial, external agencies. This has helped us continuously improve pedagogies and adopt best admin practices. But we don't believe in resting on our laurels and will continue to work hard to add value to the lives of our students and teachers," vows Paul Machado, a political science and education alum of Bangalore University who acquired valuable teaching experience at St. Mary's, Mt. Abu and St. Mary's, Mazgaon (Mumbai) — all-boys schools —before taking charge as principal of Campion in 2003. Currently, this K-X school has 840 students mentored by 48 teachers on its muster rolls.
Ranked #2 for the third year in succession is the CBSE-affiliated St. John's High, Chandigarh, followed by St. Xavier's Collegiate School, Kolkata, at #3 (#4 in 2018) and St. Mary's School, Mazgaon, Mumbai, at #4 (3). Beyond the high end there's rejig of the seating order at the Top 10 table.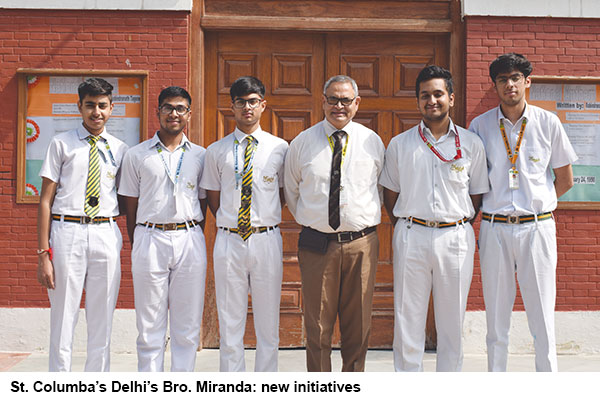 DAV Boys Senior Secondary School, Gopalapuram, Chennai has moved up to #5 (#6 in 2018), The Bishop's School, Pune is ranked #6 (5) jointly with La Martiniere for Boys, Kolkata (6), while Bishop Cotton Boys, Bangalore and St. Stanislaus High School, Mumbai have retained their #7 and #8 national rankings. St. Columba's School, Delhi has inched up to #9 as has St. Xavier's High, Fort, Mumbai to #10 (11), on a par with NASR Boys, Hyderabad (7) which has ceded ground.Bro. E.L. Miranda, principal of the CBSE-affiliated St. Columba's, Delhi (estb.1941), which for several decades before the advent of new-age co-ed day schools of the new millennium was widely regarded as one of Delhi's premier schools with a distinguished alumni roll call featuring international wellness guru Deepak Chopra, actor Shah Rukh Khan, lawyer Abhishek Singhvi and Nitin Nohria, dean of the Harvard Business School, believes the school should be ranked "much higher" in the national table.
"It's small consolation that our ranking in EWISR 2019-20 has improved marginally. Since celebration of the school's platinum jubilee in 2016, our management has made special efforts to restructure and upgrade the school, calling in professional organisations. We have introduced new teacher training programmes, adopted contemporary pedagogies and actively involved alumni in the development of the school's infrastructure. Moreover, we have planned several new initiatives such as upgrading classroom facilities and introduction of computer coding programmes next year. I am surprised your sample respondents haven't ranked us higher," says Bro. Miranda, an alumnus of Mumbai and Goa universities who served as principal of St. Edmund's College, Shillong and Goethals Memorial School, Kurseong, prior to his appointment as principal of St. Columba's in 2016.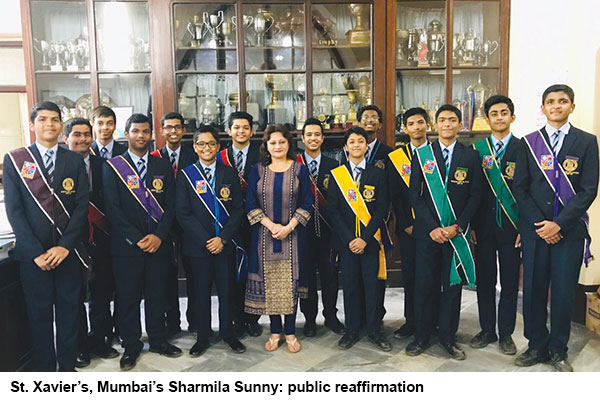 On the other hand, Sharmila Sunny, principal of the St. Xavier's High School, Fort, Mumbai (estb.1869), is elated that the EWISR 2019-20 sample respondents have promoted this Maharashtra SSC board-affiliated school to the Top 10 boys' schools table. She is especially pleased this 160-year-old school, which boasts test cricket star Sunil Gavaskar and national table tennis champ Farookh Khodaiji among its alumni, is ranked highly (Top 3) for sports education.
"It's great that a state board school is ranked among the Top 10 schools of India. This is public reaffirmation of our excellent systems, and a great motivation for our teachers and students who are constantly working hard to innovate and improve learning outcomes. St. Xavier's has a legacy of producing some of the best sportsmen who have won the country many laurels, and is the only school in South Mumbai with a large playground and basketball court. The management, teachers, students and parents are committed to restoring St. Xavier's to its old glory, and we are fortunate to receive the aid and advice of our ever-supportive alumni including industrialists Adi Godrej and Deepak Parekh who have conferred endowments upon the school," says Sunny, an alumna of Mumbai University who signed up as a teacher at St. Xavier's in 1985, was promoted to vice-principal in 2012, and appointed principal in 2018.
Beyond the Top 10, there's been a major makeover with several schools losing rank (see national league table p.244). A highlight of the 53-strong EW India Boys Day School Rankings 2019-20 is the debut of four previously unranked institutions — Christus Rex Higher Secondary School, Ooty at #29, SGVP International School, Ahmedabad at #30, St. Joseph's College, Prayagraj (Uttar Pradesh) at #31 and Central Hindu Boys School Varanasi at #32.It's also noteworthy that with co-ed schools becoming normative in 21st century India and sexually segregated schools slowly fading away, the league table of India's best boys day schools is dominated by Christian missionary institutions, some promoted over a century ago. Among them: St. Joseph's Boys, Bangalore (estb.1858) ranked #11, La Martiniere Boys College, Lucknow (1845) #13, Calcutta Boys School (1877, #16), Sacred Heart Boys, Mumbai (1942, #28), St. Vincent's School, Pune (1867, #23).
Also read: India's Best Boys Day Schools 2018-19