For the first time since independence a substantial number of the country's 10 million higher secondary school-leavers annually have the option to access high-quality, globally comparable undergrad education in well-funded, well-administered private universities.
Apart from doubling the rate of annual GDP growth which lifted an estimated 300 million citizens above the poverty line, one of the most socially beneficial outcomes of liberalisation and deregulation of the dirigiste Indian economy from pervasive licence-permit-quota raj in 1991 — a cause for which your editor raised the banner of revolt four decades ago as founding editor of Business India and Businessworld — is the sprouting of a large number of private universities countrywide. Evidently enthused by the 7 percent-plus annual rates of economic growth and rising business and industry confidence, a new genre of education entrepreneurs, aka edupreneurs, mobilised men, money and materials to promote several dozen globally benchmarked private universities modelled on America's best Ivy league universities.
Since then India's new age private universities, especially liberal arts and humanities institutions — because private science, medical and engineering (Indian Institute of Science, Bangalore, BITS-Pilani, Manipal Academy of Higher Education) had been reluctantly permitted several decades ago — have transformed India's higher education landscape. For the first time since independence, a substantial number of the country's 10 million higher secondary school-leavers annually have the option to access high quality, globally comparable liberal arts and humanities undergrad education, supplemented with professional elective study programmes in well-funded, well-administered private varsities such as Ashoka, Amity, Jindal Global, Bennett and Krea, at a fraction of the price of studying abroad.
This revolution in higher education is not restricted to liberal arts and humanities. High potential, globally benchmarked privately promoted and managed universities such as BML Munjal, Shiv Nadar and VIT universities, and Plaksha, Mohali, which will admit its first batch this year, are poised to rejuvenate engineering and technology education.
Regular readers of this publication are no doubt aware that your editors are enthused by private initiatives in preschool to Ph D education. We believe that academically, administratively and financially autonomous institutions managed by academics and organisation management professionals are better equipped to deliver meaningful learning connected with industry and business requirements, than unaccountable generalist bureaucrats in the Central and state education ministries. Over the past seven decades the latter have reduced learning outcomes in government schools and higher ed institutions to rock bottom levels. We believe that the emergence of India's new genre of well-funded and professionally managed universities not only offers the estimated 600,000 school and college leavers who fly to study abroad every year academically comparable choices at more affordable prices. They also set new standards and benchmarks for Central and state higher education institutions (HEIs) to emulate. In effect India's new age private universities have generated a tide that lifts all boats.
Against this backdrop of the rising popularity of private higher education institutions within the established and aspirational middle class, we commissioned Centre for Forecasting & Research Pvt. Ltd (C fore, estb. 2000), the well-reputed Delhi-based market research and opinion polls company to conduct a nationwide survey to assess and rank the country's most reputed 157 private universities.
C fore constituted a national sample respondents database of individuals with deep knowledge of the academy — 2,122 university faculty, 1,136 final year college/university students and 883 industry leaders. These respondents were persuaded to rate the country's most well-known private universities on ten parameters of higher education excellence, including competence of faculty, faculty welfare and development, research and innovation, infrastructure, industry interface, placements and leadership/ governance, among others. The perceptual scores awarded by the respondents under each parameter were totalled to rank the country's best private universities inter se.
"The EW private and government university rankings league tables are based on a mix of objective criteria and perceptions of sample respondents. Objective data, i.e, research publications of faculty in refereed journals and number of citations were obtained from secondary sources such as Scopus. The perceptual data was collected — using digital media — through a structured questionnaire with respondents requested to rate the universities they are familiar with on a ten-point scale under ten parameters," says Premchand Palety, founder-CEO of C fore explaining the robust institutional ratings and ranking methodology devised by the company for the EW 2021-22 private and government university rankings.
With the past academic year severely disrupted by the still raging Covid-19 pandemic, and even the most admired higher education institutions having little to report except smooth switch to online classes and lectures, it's unsurprising that the 2021-22 sample respondents have not significantly reshuffled top table seating arrangements.
The Top 5 table headed by the low-profile Manipal Academy of Higher Education ranked #1 for the sixth year in succession, has only one new entrant, viz, the Thapar Institute of Engineering & Technology, Patiala promoted to #4 from #7 in 2020-21. BITS-Pilani retains its #2 ranking jointly with Amity University (#3 last year); O.P. Jindal Global University, Sonipat (Haryana) is ranked a notch higher at #3 (4) with the Dhirubhai Ambani Institute of ICT, Gandhinagar (Gujarat) promoted to #4 (5) and Ashoka University, Sonipat, which has lost some sheen because of the Pratap Bhanu Mehta resignation contretemps, at #5 (3) completing the Top 5.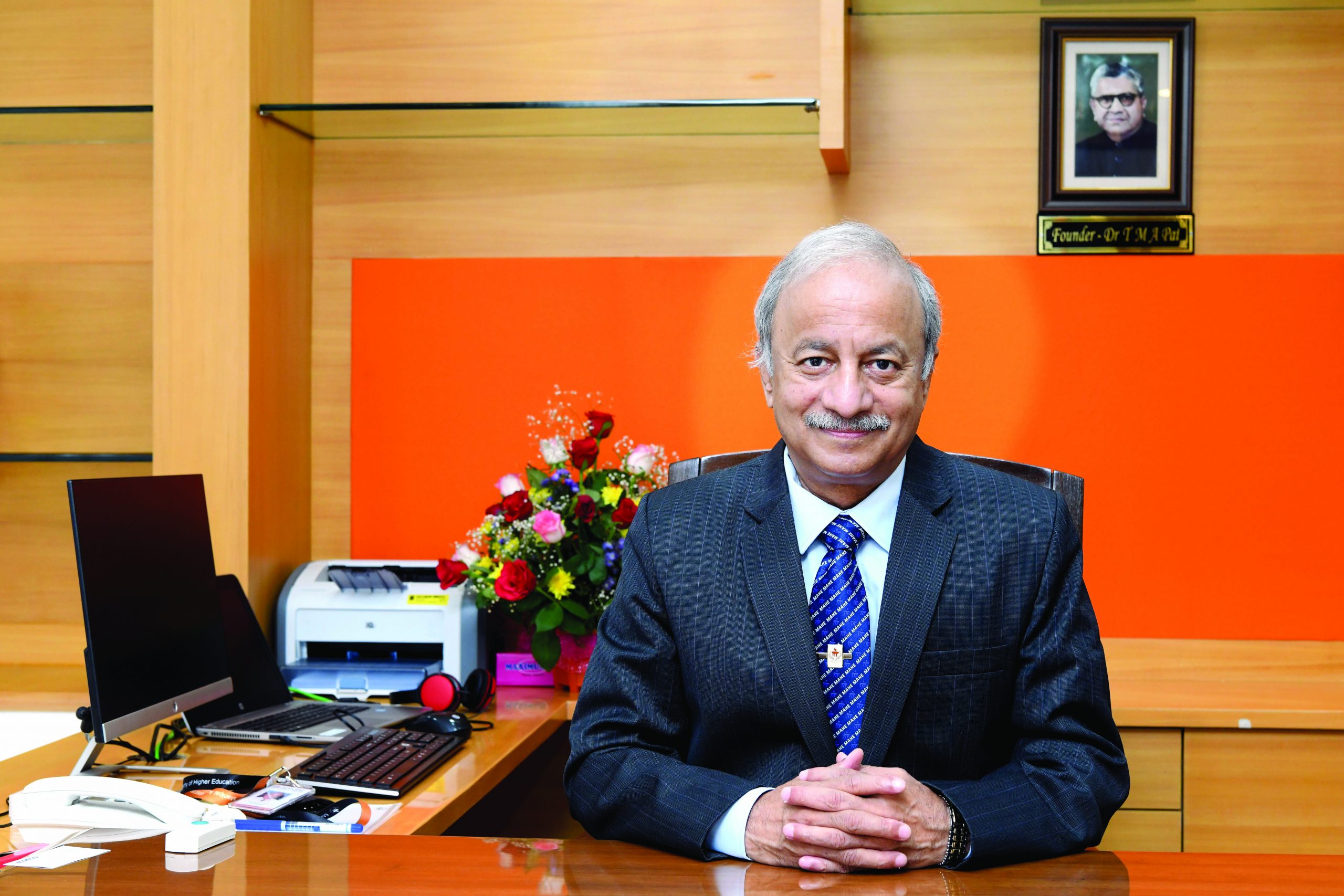 Although the Manipal Academy of Higher Education (MAHE, estb. 1953 and awarded private deemed university status in 1993) is sited off the beaten track and maintains a modest media profile, Lt. Gen. (Retd.) M.D. Venkatesh, the recently (July 2020) appointed vice chancellor, is unsurprised by MAHE being consistently voted India's premier private university.
"In the academic world, it's well-known that MAHE's institutional growth and development strategy is driven by detailed action plans, timelines and milestones for academic excellence, conducting innovative cutting-edge research, expanding internationalisation supported by effective management and continuous engagement with alumni around the world. This awareness within the academy of excellent institutional management and planning is perhaps the factor behind our consistent high ranking in all media and official surveys," says Dr. Venkatesh, an alumnus of Mumbai University who served a distinguished 38-years career in the medical corps of the Indian Army.
With top scores under the parameters of infrastructure and range and diversity of study programmes, despite every discouragement by successive Congress governments committed to socialism, over the past almost seven decades since it was promoted by the legendary Dr. T.M.A. Pai (1898-1979) in 1953, MAHE has steadily built itself a formidable domestic reputation as a fearless litigator for private education providers, and an international reputation for medical education excellence (an estimated 25 percent of all medical practitioners in Malaysia are reportedly alumni of MAHE's Kasturba Medical College, Manipal). Without much fanfare and publicity, MAHE has established five additional campuses in Mangaluru, Bengaluru, Jaipur, Jamshedpur and offshore campuses in Malaysia and Dubai with a massive enrolment of 29,930 students mentored by 3,069 highly-qualified faculty engaged in over 375 study programmes across 31 disciplines, including medicine, engineering, dentistry, nursing, allied health sciences, architecture, business management, communication, and the humanities.
"Over the years MAHE has completely transformed into a multidisciplinary university engaged in innovative research," says Gen. Venkatesh. Meanwhile, the MAHE management has finalised a detailed plan to ensure this below-the-radar private university is ranked among the QS and THE Top global 200 in the next 15 years.
In a minor reshuffle at top table of the EW private universities 2021-22 rankings, this year's sample respondents have promoted the high-profile O.P. Jindal Global University, (JGU estb.2009), Sonipat in Delhi NCR to #3 from #4 last year. Although there isn't much euphoria within this fast-expanding private university about this promotion given that the London-based Quacquarelli Symonds (QS) has ranked it India's #1 private university 2021, there is quiet satisfaction that it has overtaken its neighbouring Ashoka University for the first time in the annual EW rankings league table.
"We respect the EW-C fore survey which is the outcome of engagement with a diverse group of knowledgeable respondents from across 25 cities of India. We derive considerable satisfaction that JGU is ranked #3 in India and #1 in Delhi NCR. This is in addition to the internationally reputed QS ranking JGU the #1 private university of India," says Dr. C. Raj Kumar, the hard-driving polymath alum of Delhi, Oxford and Harvard universities who was appointed founding vice-chancellor of JGU ab initio in 2009 and has since developed it into a globally benchmarked multi-disciplinary institution with ten schools and enrolment of 6,600 students mentored by 830 highly-qualified faculty of whom 77 are expats. Not surprisingly, JGU has been awarded the highest score under the parameter of competence of faculty in this year's private universities league table.
Certainly in the past decade, since it was endowed by steel tycoon Naveen Jindal with a Rs.520 crore corpus, JGU has crossed many milestones and won enviable encomiums. Among them: ranked India's #1 private varsity and among global Top 700 private universities, #1 in India for social sciences, arts and humanities, and #1 and #76 worldwide for its law school by QS. Moreover, the Union government has included JGU in its exclusive list of 20 universities awarded the Institutes of Eminence tag. Currently, this fast-track university comprises ten schools (law, business, banking and finance, government and public policy, international affairs, journalism and communication, art and architecture, liberal arts and humanities, psychology and counselling, environment and sustainability) and prides itself on its swift and smooth switch to comprehensive online lectures lectures and classes during the year-long Coronavirus pandemic.
Further down the Top 10 table, there's been a minor rearrangement of the seating order. The Coimbatore-based Amrita Vishwa Vidyapeetham (Deemed University) has been awarded a substantial promotion to #6 (from #8 in 2020-21) – and #1 in Tamil Nadu — and Shiv Nadar University, Noida is promoted to #8 (9). VIT University, Vellore at #9 (7) has yielded rank as has Narsee Monjee Institute of Management Studies, Mumbai co-ranked #9 (8). ICFAI University, Hyderabad #9 (9) and Symbiosis International, Pune #10 (10) complete the Top 10 table.
Beyond the Top 10, this year's sample respondents have effected considerable churn. Despite its self-imposed low media profile, the Sri City (Andhra Pradesh)-based Krea University has risen in the esteem of the informed public and is ranked #11 (16). Ditto BML Munjal University, Gurgaon at #14 (17) with SASTRA University, Thanjavur ceding considerable ground at #14 (6).
Yet perhaps the most spectacular advancement in the EW 2021-22 league table of private universities is of the Times of India Group's Bennett University (BU, estb. 2016), Greater Noida, Delhi NCR which has pole vaulted to #16 (59).
Dr. Prabhu Aggarwal, vice-chancellor of this greenfield varsity which has vaulted into the national Top 20 — and Top 3 in Uttar Pradesh (pop. 2015 million) — in a mere five years since it admitted its first batch, attributes this achievement to this young varsity's highly qualified faculty. "Ninety per cent of our 154 faculty have PhD qualifications with over 500 publications in internationally respected refereed academic journals. This has resulted in our very first batches of graduates receiving excellent industry placement offers, and entrepreneurship opportunities," says Aggarwal, an alumnus of IIT-Kanpur with postgrad and doctorate qualifications from the University of Washington, Seattle and valuable teaching experience at the reputed Mason School of Business, USA (1992-2011) after which he returned to India to serve as the founding vice-chancellor of O.P. Jindal University, Raigarh (2014-18). This was followed by a brief stint as president of NIIT University, prior to being appointed as VC of Bennett U early this year.
Looking ahead, Aggarwal is highly optimistic about BU continuing its bull run up the EW and other domestic and international university ranking charts. "A great advantage we have is the unstinted support of the 180-year-old Times of India Group which has attained leadership position in all its publications and in every segment of the media industry. This legacy rules out all mediocrity in thought or action. We are confident that our faculty and students will continue to make us proud year after year," says Aggarwal.
Further down the Top 20 table several private universities have improved their ranking this year. Among them: the low-profile NTTE University, Mangaluru with a long jump forward to #19 (37), Shoolini University, Bajhol, Himachal Pradesh to #20 (22) and #1 in HP, and Chitkara University, Chandigarh to #20 (33).
Among the Top 30, star performer varsities include NIIT, Neemrana #22 (57), Amity, Gurgaon #23 (52), the previously unranked Jamia Millia Islamia debuting at #24, Amity, Lucknow #24 (50), Amity, Jaipur #26 (58), Manav Rachna International, Faridabad #26 (36) and Sir Padampat Singhania, Udaipur #28 (55).
Other stellar performers of 2021- 22: Jagran Lakecity, Bhopal #30 (35), Presidency, Bangalore #32 (35), Dr. D.Y. Patil Vidyapeeth, Pune #34 (46), VIT, Bhopal #35 (69), Marwadi, Rajkot #36 (88) and the well-advertised Sharada University, Noida #37 (61). Moreover, it's important to note that universities that are modestly ranked in the national league tables may well be higher education heavyweights in their host states, most of which are more populous than many countries around the world.
Thus the Narsee Monjee Institute of Management Studies, Mumbai ranked India #9 is the top-ranked private university in Maharashtra (pop. 112 million), India's most industrialised state and #1 in Mumbai, the country's business and finance capital. Similarly Amity University, Rajarhat ranked #27 nationally is #1 in West Bengal (pop.91 million); Shoolini University ranked #20 nationally is #1 in Himachal Pradesh (pop. 7.5 million); and Royal Global, Gauhati India #59 is #1 in Assam (pop. 36 million).
The field survey methodology adopted by C fore which conducts all EW annual rankings (preschools, schools, colleges and universities) is that institutions rated by less than 25 respondents are not ranked at all. Thus obscure, low-profile education institutions are eliminated from our ranking league tables. Currently, India hosts 375 private universities. Therefore being listed among the Top 125 is an achievement in itself. Our laborious endeavour of providing readers national, state and parameter rankings of India's best private universities is to enable school leaving students opting to choose private autonomous universities to select institutions in sync with their aptitudes and career aspirations.
Also read: India's top-ranked private autonomous colleges 2021-22