Category: Furniture
Goa-based Infiniti Modules Pvt. Ltd (estb.1998) provides ergonomically designed world-class furniture to K-12 schools, higher education institutions, corporates and hotels. Infiniti has executed 7,500-plus school projects across India and abroad in UK, Italy, Canada, Africa and the GCC countries. This triple ISO certified company, with two state-of-the-art manufacturing units in Goa supported by a full-fledged R&D facility, is the pioneer in India in manufacturing innovative, child-friendly education furniture designed to suit 5 different age and height groups.
Infiniti Modules Leaders
Sanjeev & Sonali Trivedi
Co-founders
Sanjeev Trivedi, a physics graduate with over a decade's corporate experience, and wife Sonali, a commerce graduate with 12 years of rich experience in the furniture industry, are co-founders of Infiniti Modules Pvt. Ltd.
Parameters
Product Quality
Infiniti's operations are ISO 9001 | 14001 | 45001 certified and fully compliant with global standards in process, design, quality, safety and environment management. Hi-tech automated production using robotics, laser and CNC (computer numerical control) machinery ensures product quality and consistency.
Customer support
Customer support and after-sales service offered across India, even beyond warranty period.
Up to 2 years+ warranty against manufacturing defects.
Easy availability of spares.
Short lead time for supply.
Design
Design customisation to match specific need, function, size, space constraints and newer teaching methods.
Infiniti products comply with highest safety standards – no sharp corners, smooth finishing, protection glides, sturdy construction and ergonomic comfort.
Environmentally sustainable Infiniti products incorporate recyclable material and sustainable wood substitutes.
Infiniti assists clients with an end-of-life recycling plan.
Value for money
Long life-cycle – Infiniti products provide many years of usage as testified by 22-year-old installations under active usage.
Product flexibility features allow easy adaptation to new-age learning environments and technology.
Customer satisfaction
"We are very happy and satisfied with Infiniti's product and service quality. The products are attractively and ergonomically designed and have contributed to creating a joyful learning environment." — Sujay Jairaj, Trustee of Jamnabai Narsee International School, Mumbai.
"We surveyed the Indian market and chose Infiniti Modules as the most suitable vendor. While their products might not be the cheapest among competitors, we vouch for their intelligent design that is durable and value for money." — John Sperandio, Director of Stonehill Education Foundation, Bangalore.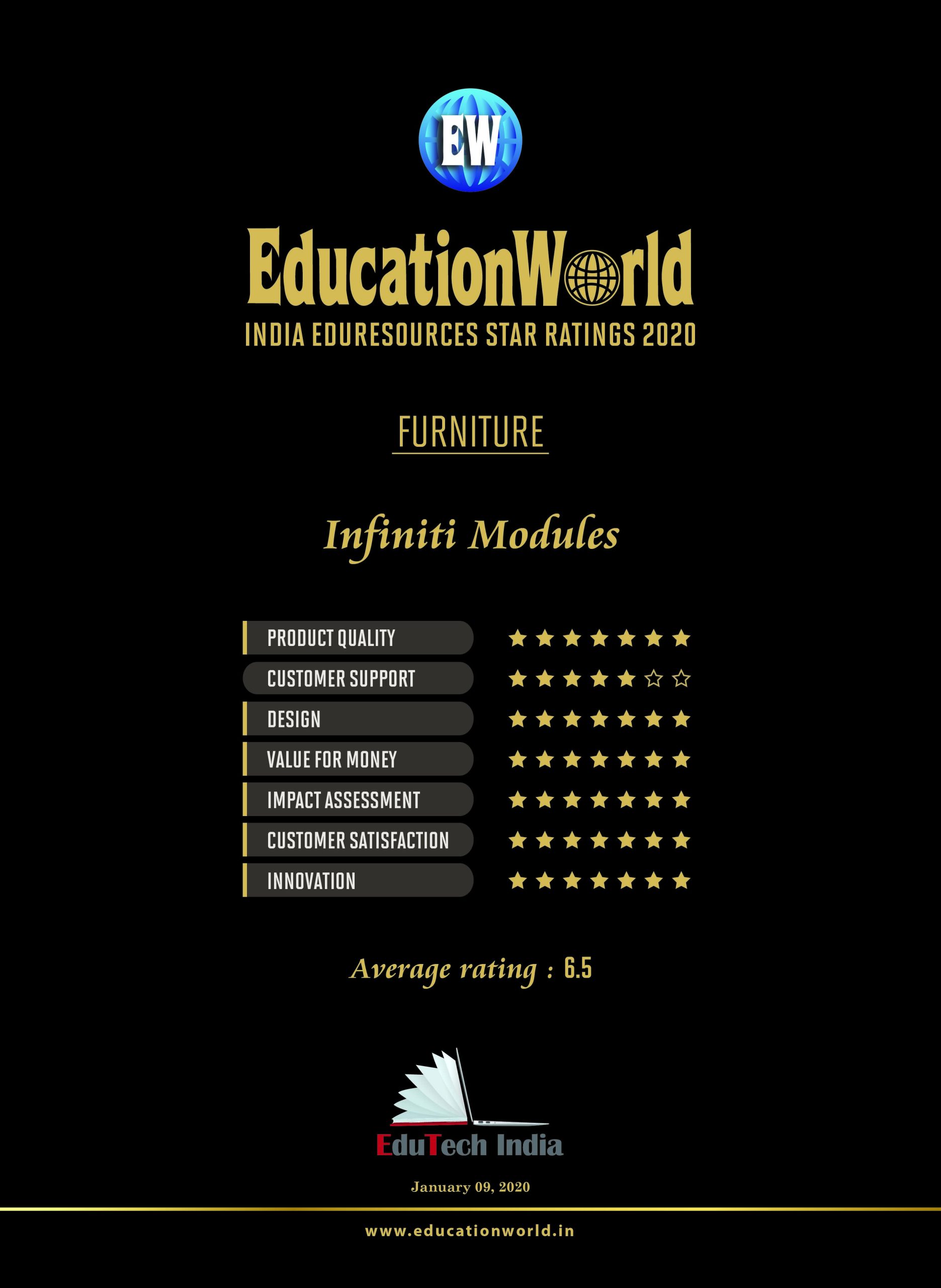 Impact assessment
One-stop solution for furniture needs of K-12 to higher education institutions.
Colourful and cheerful products infuse joy into learning environments, which boost student learning outcomes.
Innovative product designs facilitate multi-functional space usage.
Innovation
Infiniti's latest space-saving innovations include classroom desks and chairs, school rocking chairs, student hygiene screens, modular labs, library racks, lockers, multi-surface writing boards, hostel bunk beds as well as tables and chairs with mobility, folding and stacking features.
Contact details
www.imod.in
[email protected]
+91 832 6653333