Saras-3D Inc. (estb. 2016) founded by a team of USA-based Indian technocrats has developed interactive stereoscopic 3D learning solutions for NCERT-approved STEM subjects for grades IX-XII. Aiming to bring international learning, and best practices to India, the company's Indian subsidiary 3D EdTech Pvt. Ltd. (estb. 2017) set up its first India-based office in Ahmedabad. Speaking to Dipta Joshi of EducationWorld, Kashyap Mankad, consulting technical director, 3D EdTech explains the difference between Saras-3D's product, the Genius 3D system, and other virtual reality products.
Tell us about Saras-3D and its decision to enter the edtech market?
SARAS-3D was founded by a team of USA-based technocrats. The team led by Bipin Dama (Founder, CEO, and currently CTO) has had two very successful technology start-up ventures earlier in the USA. The idea of entering the Ed Tech field occurred basically from the inner urge to give back to society in general and to India in particular. India is on an ascending path now. The country will need thinkers and problem solvers to continue to progress at the same or increased rate. Hence, a new method of teaching and learning was required to be developed. SARAS-3D has developed that technology.
What is the Saras-3D concept and for how long has this technology been used in education in India and abroad?
SARAS-3D has designed its flagship product, the Genius 3D system with a deep conviction that complex concepts and structures are best understood by the students if they are presented in an interactive stereoscopic format. This is essential if we are to create future thinkers and problem solvers for India. A couple of companies in India and abroad have come out with 3D educational products in the past. But Genius 3D is the only structured 3D system available in the national and international market, which is 100 percent aligned with the NCERT curriculum. Its modular structure allows quick reconfiguration to most STEM curriculums across the world.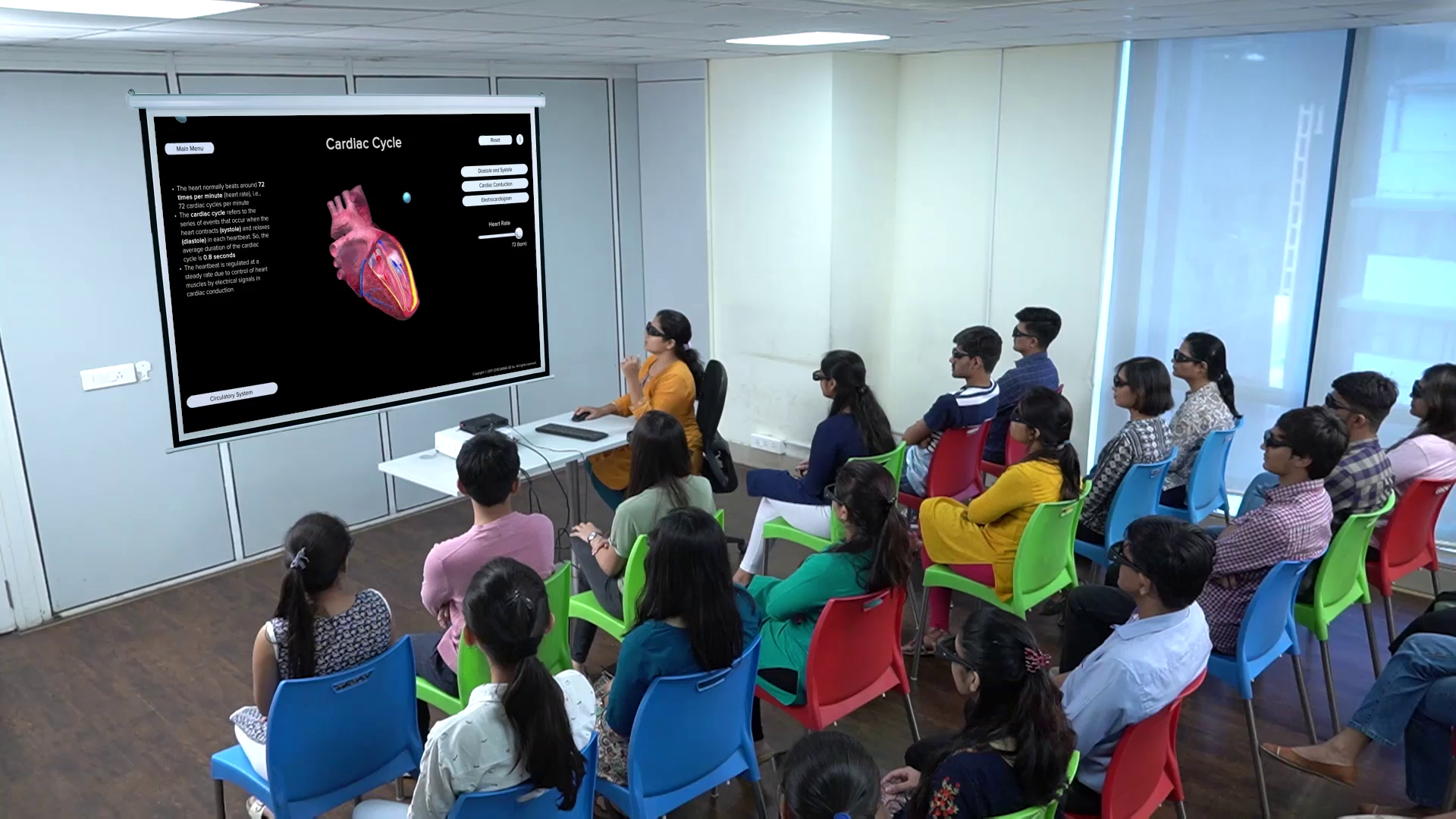 What is the difference between using virtual reality products and Saras-3D's products?
The Virtual Reality (VR) headsets port you to a virtual world, as the name suggests, blocking the real view. A student using a VR headset cannot attend classroom-styled learning in a normal way as the student is totally cut-off from reality. The student cannot take notes and cannot mingle or interact with fellow students and the teacher. It is very addictive and is reported to create eye strains. SARAS-3D works on the concept of 'mixed reality' wherein the glasses are near normal to the usual dark glasses. This allows full interaction with the actual world, including interactions with the 3D objects, 2D content, teachers, and fellow students.
Does Saras-3D provide edtech solutions to maths and science only? Why not the other subjects?
Yes, currently, SARAS-3D provides edtech solutions for the STEM subjects (Physics, Chemistry, Biology, and Mathematics) only for the NCERT grades IX- XII with enough material for competitive exams like JEE Mains and NEET. These four subjects are the most fundamental subjects which lead a student to higher science, engineering, medicine, and allied fields. Hence it is of utmost importance that the concepts get absolutely clear.
How many schools in India are you servicing currently?
SARAS-3D entered the market this year under the brand name 'Genius 3D' after six years of extensive development work. The Genius 3D product has two variations: classroom teaching and personal learning.The classroom teaching has an optional 'Smart Board' mode also. Currently, we have around 25 systems for classroom usage and 100 plus systems for student use installed across Gujarat and Maharashtra.
SARAS-3D educational content is developed in a modular way such that it readily fits various curriculums (of State Educational Boards) in India and possibly, internationally also.
What are your future plans for Saras-3D's products?
In the first phase of expansion, we are deploying the Saras Genius-3D systems in Gujarat, Maharashtra, Rajasthan, Madhya Pradesh, and the Delhi NCR region. We plan to have around 10,000 end users by the end of this year.
We are continuously updating our product in terms of content, UX/UI, and facilities like giving a teacher an experience of a 'Smart Board', which does much more than a conventional Smart Board, in Stereoscopic 3D. Thus we are really excited about the future.
Also Read: EdTech startups leading India's entrepreneurial ecosystem
Edtech: Plans to usher in a new era in India
Corporate
,
News