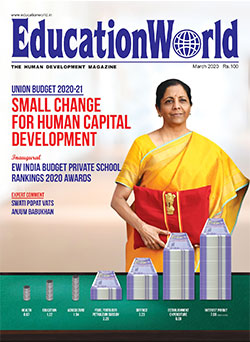 The cover story 'Union Budget 2020-21: Small change for human capital development' (EW March) highlights the step-motherly treatment of Union finance minister Nirmala Sitharaman to education. While defence, corporate and middle-class subsidies enjoy undeserved priority, human resource development is an unwanted orphan.
The Draft National Education Policy (NEP) 2019 provides a visionary blueprint that sets out the template for liberal education and holistic development of youth with "21st century skill-sets". In all likelihood, NEP will be implemented by private schools and universities, rather than moribund and lackadaisical public education institutions.
While we may praise the draft National Education Policy of the Kasturirangan Committee, there are government strategies hidden between the lines. The concessions given to private sector education, for example, degree-granting powers to all colleges by 2030, and the promise of light statutory oversight, are calculated to attract greater private investment into education. This skew towards the private sector brings imbalance with the public sector, and betrays the surreptitious policy to continue underfunding education in the Centre's budgetary allocations. The same mind-set applies to sops for the private health sector, but that is a story for another day.
Your 'Resource mobilisation for Indian education' table is an inventive and realistic calculus to canalise greater funding into human development in our cash-strapped economy.
Glenn Christo
Shillong
Shocking profligacy
Congratulations to EducationWorld for presenting a wellresearched analysis of the Union budget, and especially for demonstrating how to raise resources for public education (EW March). The Union budget is a true reflection of the Central government's spending priorities and unfortunately education — accorded highest priority by
governments of developed countries — is at the bottom of the agenda for the government of a nation hosting
the world's largest child and youth population.
Special thanks to you for exposing that establishment expenditure of the government at a massive Rs.6.09
lakh crore is almost 20 percent of the budgeted revenue of the Union government. Your exposé of this
government profligacy is shocking and scandalous especially when compared with your revelation that the
ratio of establishment expenditure to revenue of Reliance Industries Ltd is a mere 1.82 percent.
Sameer Desai
Ahmedabad
Background checks please
Most schools in the national capital — accorded top ranking in your K-12 education rankings surveys — demand donations from parents at the time of admission. Collecting donations from parents is nothing but corruption. In my opinion, corruption breeds more corruption.
My request to the EW team is to conduct thorough background checks of all top-ranked schools from the national capital region before including them in your EW league tables.
Pronoy Kumar Ghose
New Delhi
Heartwarming initiative
Your inaugural EducationWorld India Budget Private School (BPS) Rankings 2020 Awards report (EW March) celebrating India's most admired BPS was heartwarming and overdue. Kudos to EducationWorld for conducting the first independent survey to rank India's Top 300 budget private (i.e, affordable) schools in 143 cities and towns across the country, and convening BPS leaders on a common platform to deliberate ways and means to make high-quality affordable schooling a reality for India's educationally under-served children.
Vrinda De
Gurgaon
Vain hope
Thank you FOR presenting a comprehensive report of the Union Budget 2020-21 and highlighting the continuous neglect of human capital development in India (EW March). It exposes the short-sighted vision and consistent failure of successive governments at the Centre to revive the country's systemically flawed education ecosystem. With national (Central plus state governments) spending on education hovering around 3 percent of GDP, the least we can expect from the government is to encourage private investment in education. But judging by highhanded government regulation of private schools and colleges across the country, this is a vain hope.
Sanjay Hegde
Udupi