Within a short span of four years, this young institution of higher education – JIS University, Kolkata, has earned a good reputation for providing industry-connected curriculums that combine academic theory, hands-on learning, research and internships – Baishali Mukherjee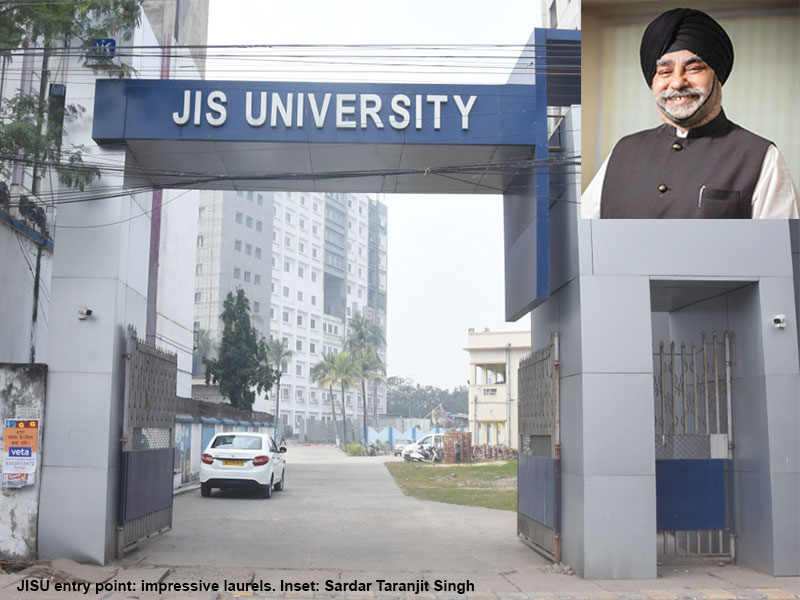 Sited on a green environment-friendly 10-acre campus in the leafy Agarpara suburb of Kolkata (pop.15 million), the private JIS University (JISU, estb.2015) has quickly blossomed into a full-fledged professional education varsity with seven faculties offering 49 study programmes to 3,200 students, including 60 from abroad mentored by 150 full-time and 30 visiting faculty. Established by a special JIS University Act 2014 of the West Bengal legislative assembly and inaugurated with pomp and fanfare by chief minister Mamata Banerjee in 2015, JISU is the latest and most ambitious venture of the JIS Group of Educational Initiatives (JISGEI, estb.1998), the education division of the JIS Group (1979), named after its late founder-chairman Jodh Ishwar Singh (1920-2018). Currently, JISGEI comprises 27 education institutions in West Bengal, one in Bihar and three in Jharkhand, offering 126 study programmes to 36,000 students.
"JISU's prime objective is to provide West Bengal's students community high-quality professional education in disciplines such as engineering and technology, pharmacy, management, law, social sciences and education. It's a matter of satisfaction that within a short span of four years, this young institution of higher education has earned a good reputation for delivering industry-connected curriculums that combine academic theory, project-based and hands-on learning, research and internships. Our first batch of industry-ready graduates has been enthusiastically welcomed by higher education institutions and corporates in India and abroad," says Sardar Taranjit Singh, a commerce alumnus of Calcutta University, chancellor of JISU and incumbent managing director of JISGEI.
Currently, JISU's seven faculties — sciences, engineering, biotechnology, juridical sciences, pharmaceutical technology, commerce and management studies, education and hotel and hospitality administration — offer 19 undergraduate, 20 postgrad and ten Ph D study programmes including two dual/integrated degrees (BBA-MBA and BBA-LLB). Study programmes in yoga and naturopathy, languages (French and English) are also available to students.
Despite its young age, JISU has already won impressive laurels. They include: the India-Africa ICT Award of Excellence 2017 at India-Africa Summit held in New Delhi, Best University in East India 2018 title of the Centre for Education Growth and Research, Delhi and the Best Upcoming University of Eastern India for 'recruiting international students' at the Global India Education Forum 2018, held in Switzerland.
Committed to constructing a globally benchmarked university, the JISGEI management has invested heavily in JISU's infrastructure development. Its 10-acre wi-fi enabled campus boasts a futuristic lake-facing air-conditioned eight-storeyed academic building (built-up area of 170,000 sq. ft) housing 74 ICT-enabled classrooms, 11 seminar halls with 1,800-seats capacity, well-equipped computer science, pharmacy, physics, chemistry, geology, microbiology, biotechnology, remote sensing, data science and bioformatics labs, three state-of-the-art libraries and two reading rooms furbished with 12,000 volumes, 40 print and 40 e-journals, a 200-seat auditorium, spacious cafeteria and separate hostels for 300 men and 200 women students.
Moreover, unlike the majority of the country's 40,000 colleges and 993 universities which tend to neglect co-curricular and sports education, the JISU management provides facilities for drama, debate, quiz, photography, industrial tours, and entrepreneurship clubs. Sports facilities include a well-equipped gymnasium, two football grounds and a basketball court.
Modern infrastructure and facilities apart, a distinguishing feature of JISU is its emphasis on international exposure for students and faculty. This four-year-old university has signed up faculty and student exchange programmes with 64 foreign universities including St. John's University, New York (USA), ECAM, Lyon (France), Richmond University (UK), AIT, Khlong Luang (Thailand), Russian New University, Moscow (Russia)and UCASAL, Salta (Argentina). JISU is also an invited member of the United Nations Academic Impact (UNAI), a group of 1,000 colleges and universities in 120 countries working with the United Nations to promote peace, human rights and sustainable development.
Encouraged by the enthusiastic public response to JISU, the JISGEI management has drawn up ambitious future plans for this fast-track private varsity. "We have made an investment of Rs.1,000 crore in a new campus and by the end of next year, JISU will move to a 30-acre campus in Kolkata's satellite township of New Town, Rajarhat. This new campus will be equipped with a state-of-the-art sports complex with provision for specialised training in athletics, cricket, football and other sports to talented students in JISU and JISGEI institutions. We also intend to expand our menu of study programmes to include new age technology courses such as Internet of Things, artificial intelligence, machine learning etc. Towards this end, we have recently appointed Padmashree and former director of IIEST, Shibpur, Prof. Ajoy Kumar Ray as head of the JIS Institute of Advanced Studies and Research," says Taranjit Singh.
ADMISSION & FEES
JIS University's seven schools — sciences, engineering, biotechnology, juridical sciences, pharmaceutical technology, commerce and management studies, education and hotel and hospitality administration — offer B.Tech, M.Tech, M.Sc, LLB, LLM and doctoral programmes.
For admission into undergrad programmes other than engineering, class XII school-leavers (science) must write the JIS University Online Entrance Test. Candidates applying for admission into the engineering programme are assessed on the basis of their ranks in the all-India IIT and West Bengal joint entrance examinations.
Tuition fees (per year). Undergrad: Rs.67,000-1.19 lakh, Postgrad: Rs.82,000-2 lakh; Board & lodging (per month): Rs.5,500-14,000
For further details contact Ph: 9073322509; email: [email protected]