Promoted in 2006 by Late Shri Govind Hari Singhania, vice-chairman of JK Organization (estb.1888) — one of the oldest business conglomerates in the country – JK Business School (JKBS), Gurgaon has established a national reputation as a premier private B-school that nurtures and develops industry-ready, socially and environmentally conscious graduates.
Taking forward the pioneer spirit of the JK Organisation, JK Business School has several firsts to its credit — first 'green' B-school in India planned under the expert guidance of the Centre for Environment Education (CEE), Pune; first in the country to conduct online classes using Google Suite software; first in north India to offer IIMBx certification to its PGDM students; first in Gurgaon to set up an AIMA Business simulation lab 'AIMA Bizlab' on campus. JKBS presently offers its flagship AICTE (All India Council for Technical Education) approved postgraduate diploma in management (PGDM) programme and the Gurugram University approved Bachelor's in Business Administration (BBA) programme to 312 students mentored by 45 full-time and visiting faculty.
"Backed by 125 years of rich business legacy and experience of the pioneer JK Group, JK Business School is an industry anchored business school that focuses on innovation and global orientation while moulding students into socially and environmentally conscious citizens. Keeping with our founder's vision, education is JKBS is geared towards developing the latent potential in every student at four levels – intellectual, physical, emotional and spiritual. Our flagship PGDM course is delivered as a rigorous practical training programme. The curriculum is carefully designed with inputs from industry veterans thus enabling us to churn out industry-ready graduates who are readily recruited by some of the leading MNCs in the country," says Dr. Sanjiv Marwah, Director, JK Business School.
An MBA alum of Kurukshetra University (Haryana) with a PhD in customer relationship management, Dr. Marwah is an accomplished academic with core expertise in Strategic Management and Customer Retention domains.
He has authored several research papers and articles and is the founder-chief editor of the refereed MM University Journal of Management Practices.
During his three-decade academic and corporate leadership experience, Dr. Marwah has been conferred several awards and encomiums. Among them: Rashtriya Gaurav Sammaan 2015 of Centre for Education Growth & Research, Academic Leader of the Year 2016 and Leader in Asia with Global Vision & Outlook 2019 of Asia Pacific Education and Technology Awards (APETA) [Jointly By ASSOCHAM & Education Post].

State-of-the-art Infrastructure
Sited Off-Sohna Expressway in India's new steel-and-glass city of Gurgaon, JKBS' aesthetically landscaped 10.2 acre 'green' campus features energy-efficient buildings built with eco-friendly building material and an excellent water harvesting system. To enable practical hands-on learning and cutting-edge research, JKBS' WiFi enabled JKBS hosts contemporary academic facilities including ICT enabled classrooms, Google Suite for education, Moodle LMS, a well-catalogued knowledge resource centre stocked with over 12,000 print volumes and an exhaustive collection of e-learning resources such as Opac, EBSCO, DELNET, Library Genesis etc., a hi-tech computer resource centre along with a communication lab and high speed Internet leased line. The campus also hosts a state-of-the-art gym, a trendy cafeteria, secure in-campus residential facility, among others.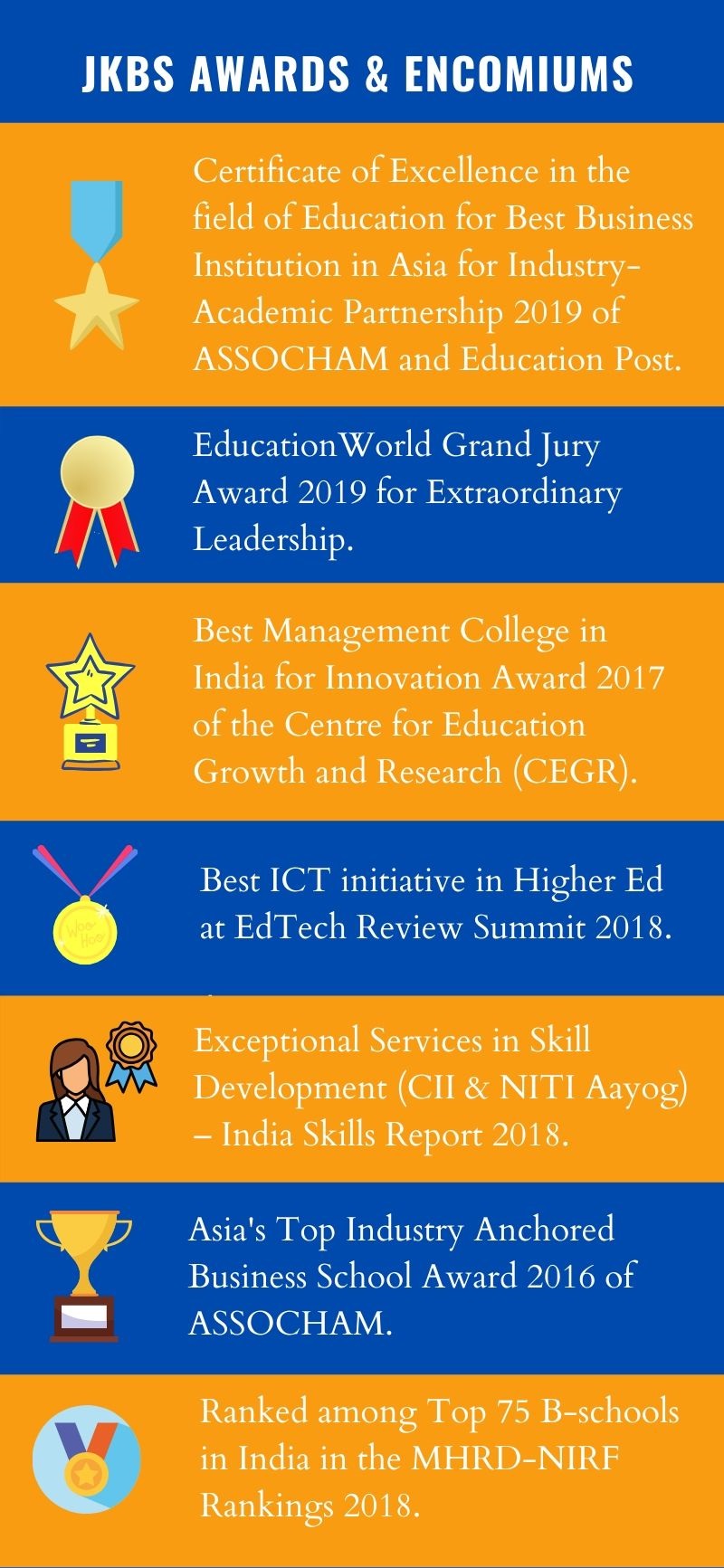 JK-GHS Incubation Centre
JKBS' entrepreneurship cell 'Trigun' houses a 12,000 sq. ft. JK-GHS Incubation Centre to nurture and develop entrepreneurial talent and to promote innovative and high-impact social, educational and commercial ventures. The distinguishing features of the JK-GHS Incubation Centre is its pool of strong business/technology mentors, industry experience of over 130 years, faculty guides and office support services. Mentees in the incubation centre are guided by industry and academic experts from leading organisations and top-ranked institutions including IIM Ahmedabad and Columbia Business School.
JKBS has also conducted 20 entrepreneurship awareness/training programmes over the last three years.
Specialisations in Futuristic Disciplines
JKBS offers futuristic courses and disciplines such as Supply Chain and Logistics, Business Analytics and Digital Marketing to prepare students for the rapidly evolving and increasingly volatile workplace of the 21st century. It is one of the first B-schools in the country to offer a Business Analytics specialisation across diverse verticals.
Moreover, as a part of the international exchange programme, JKBS students have completed their credit courses in emerging disciplines such as supply chain, logistics, business analytics, international marketing and global economics from reputed foreign universities including the Wroclaw University (Poland), University of British Columbia (Canada) and California State University (USA).
Industry-Academia Connect
Believing that a management education is incomplete and ineffective without exposure to the industry trends, JKBS has launched several initiatives to bridge the industry-academia gap including annual HR conclaves and the weekly 'Govind Hari Singhania Global Leadership Talk' series that has been highly effective in helping students connect with industry experts.
Research Focus
JKBS students are engaged in pioneering research in the areas of business analytics, supply chain and logistics, service innovation and brand management. Besides, JKBS faculty and students regularly publish research papers in journals of national and international repute. Regular workshops are conducted to train students in ethical and academic writing.
Training & Placement
JKBS boasts a consistent track record of excellent placements with 13 batches of its PGDM graduates working at senior management positions in blue-chip companies across the globe such as E&Y, Quatrro, Future Group, Byjus, Decathlon, Safe Express, Bajaj Capital, NIIT, HDFC Bank, Britannia, Force, Bry Air, AIS, Amex, among others.
One of the key focus areas of JKBS' Training & Placement department also known as the Department of Corporate Resource Centre is grooming students' presentation and communication skills. PGDM students also go through Program Objective Assessment Board's evaluation to prepare themselves for mock interviews, GDPI, resume writing and public speaking during their two years at JKBS.

Virtual Learning in the Covid-19 Era
A frontrunner in adopting blended learning in the classroom, JKBS was well prepared to shift its teaching-learning and assessment processes online in the wake of the Covid-19 pandemic outbreak. In particular, the institution's existing Google Suite platform that makes life easier for work and study from home, has been the preferred mode for virtual learning during the lockdown. JKBS has also been using the Zoom videoconferencing platform to conduct expert hosted webinars for various functional areas such as Management, Technology, Medicine such as Telemedicine, Research and Writing, Ikigai, Zoom training, Turnitin, among others.
The institution has also been conducting a series of e-talks and online guest lectures by reputed industry experts during the lockdown. Regular faculty meetings for all departments are conducted on a daily basis. A new session 'Fit-Bit' was launched amid the lockdown to encourage the faculty and staff to stay healthy.
Students are being encouraged to enrol in MOOC courses offered by leading academics worldwide that also helps them earn credits for their current trimester.
"Despite strict social distancing and shutting down the campus, learning has never stopped at JKBS. Moreover, we have also shifted our admission process for the 2020-2022 PGDM batch online and facilitated online fee payment options for parents in easy and affordable instalments. Our Corporate Resource Centre has also been working in the virtual mode during the lockdown. Placement and summer internship interviews are being conducted successfully with company representatives and students interacting through video calls," says Dr. Marwah.
Online Community Outreach
JKBS' HEAL Club students launched an online campaign to mobilise funds from their friends, relatives, seniors, faculty members, etc. for donation to Bandhwari (an NGO associated with JKBS, ESF). The organisation — which was in a great financial crisis during the lockdown — was highly appreciative of the support from JKBS.
Future Outlook
Optimistic about the future of business education in the post-Covid era, Dr. Marwah believes that blended learning is here to stay well beyond these disruptive times. "Covid-19 has accelerated the digital initiatives of JK Business School and brought it to the forefront of leadership roles in business education. Our model is widely emulated in other business schools. The blended learning model is undeniably the way forward and we expect extended reality and teleporting to further improve the learning experience."
Campus
,
News