Once the seat of the famous Vijayanagar kingdom, this state offers a balance of natural attractions (forests and wildlife) and architectural splendour
The southern state of Karnataka (pop.64 million), once the seat of the famous Vijayanagar kingdom, is a composite tourism destination which offers temples, wildlife, trekking, health spas and unspoilt beaches — an excellent, even if under-promoted balance of natural attractions (forest and wildlife) and architectural splendour. A narrow coastal state sheltered to the east by the monsoon-drenched Western Ghats enclosing a drier, cooler interior plateau, Karnataka is a major producer of coffee, spices and betel nut, and supplies 60 percent of the country's silk. The capital, Bengaluru (pop. 11 million), is the centre of India's software and technology industries and one of Asia's fastest growing metros.
Heir to a rich legacy of stone temples, imposing mosques and natural wildlife habitats, Karnataka's history has been coloured by the religious and cultural practices of several dynasties including the Mauryas, Chalukyas, Cholas and the Gangas. But it was during the reign of the Hoysala dynasty (10-14th century) that many of the architectural marvels including the intricately carved temples at Somnathpur, Halebid and Belur were built.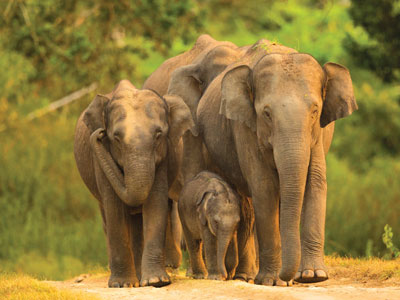 In the 14th century for a brief period Karnataka was under Muslim rule when Mohammed Bin Tughlaq defeated the Hoysalas. But it was annexed again; this time by the Telugu princes Harihara and Bukka of the Vijayanagar dynasty. With Hampi as their capital the Vijayanagar kings ruled Karnataka until 1565, when it was plundered by the united forces of the Deccan sultanates. With the fall of the Vijayanagar empire, the Wodeyars (who were in the service of the Vijayanagar rulers until then) established their rule over a large part of southern India with Srirangapatna as their capital until 1761 when Hyder Ali, one of their generals deposed them. But the Wodeyars were enthroned again in 1799 after the British defeated Tipu Sultan, Hyder Ali's famous son.
The major attractions of this peninsular state are the Mysore palace built by the Wodeyars, the plantation hills of Kodagu (Coorg), the exquisitely sculpted temples at Belur and Halebid, the 55 ft. high statue of a Jain saint in Shravanabelagola, Gokarna beach, the breathtaking ruins of the Vijayanagar kingdom at Hampi and the ancient caves and temples of Badami, set in a stunning red cliffside. Karnataka also boasts some of the largest jungle tracts south of the Vindhyas and the majestic river Cauvery that has its source in Kodagu (Coorg).
Comments Vasanthi Panchakshari, a self-employed software engineer in the garden city and a regular traveller within the state: "The best thing about Karnataka is its contrasting cultures. At one end is the ultra-modern IT city of Bangalore, on the other the less-known natural habitats and agricultural belts. And of course there are the awesome ruins of Hampi on the banks of River Tungabhadra. The biggest surprise to travellers is the presence of Israeli and French restaurants in Hampi, one of the world's most ancient archaeological sites, especially since they don't exist in Bangalore/Bengaluru."
Although the state has an overwhelming number of tourist attractions there are fewer travellers to Karnataka (15 million domestic tourists and 1 million foreign tourists every year) compared to Kerala and Goa. Quite obviously some radical measures — including the upgradation of tourism infrastructure — need to be implemented by the state government to woo larger numbers of foreign and domestic tourists.
Mysore
The admin capital of the once-imperious Vijayanagar empire (1509-1529), Mysore (pop. 921,000) gets its name from the mythical site of Mahisuru, where goddess Chamundi slew the demon Mahishasura. Mysore is a perennial favourite with travellers because of its equable climate (20°-36° C), small population and rich cultural and historical heritage.
A three-hour drive from the garden city of Bengaluru, Mysore is famous for the walled Indo-Saracenic palace of the Wodeyars, Chamundeshwari temple, Brindavan gardens and one of India's better-maintained zoos. The city is also famous for its silk industry and is a thriving business centre for the sandalwood and incense industries.
The Mysore Palace, once the seat of the maharajahs of Mysore (from 1565 until independence the Wodeyar dynasty ruled Mysore, except for a brief period in the 18th century when Hyder Ali and Tipu Sultan usurped the throne), was designed by British architect Henry Irwin in 1912 at a cost of Rs.41 lakh to replace an earlier palace which was burnt down in 1897.
The first fortnight of October, when the ten-day Dussehra festival is celebrated, is the ideal time to visit Mysore. A pageant of light and colour, the palace is illuminated with 18,000 light bulbs until the last day, when the former maharaja leads one of India's most colourful processions comprising richly decked elephants, liveried retainers, cavalry and flower-bedecked images of deities.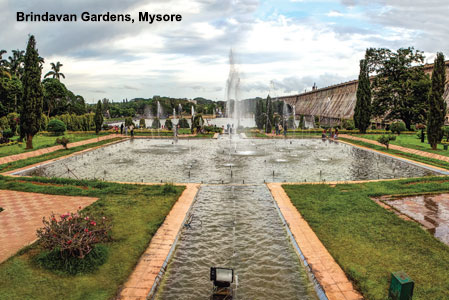 Accommodation. Top-end: Radisson Blu Plaza Hotel Mysore (Rs.3,229-17,100 per night); Lalitha Mahal Palace Hotel (Rs.2,650-12,950); Grand Mercure Mysore (Rs.5,918-17,918). Mid-range: Hotel Samudra Mysore (Rs.2,950- 4,500); Country Inn & Suites by Radisson, Mysore (Rs.2,326-4,289); Hotel Viceroy (Rs.1,568-2,016). Budget: Parklane Hotel (Rs.1,511-2,464); Hotel Dasaprakash Paradise (Rs.1,100-5,500); Hotel Maurya (Rs.200-1,650).
Restaurants. There are many restaurants serving reasonably good Indian and continental fare. They include Shilpashri, Ritz, Pavilion, Parklane and RRR.
Excursions. There are several day excursions visitors can take from Mysore. Among them the Keshava temple at Somnathpur (35 km); Talakkad (48 km), the 164 ft drop of the river Cauvery at Sivasamudram (30 km from Talakkad); Srirangapatnam (18 km), Ranganathittu bird sanctuary (4 km from Srirangapatnam); the tranquil, sprawling Brindavan gardens below the immense Krishnaraja Sagar dam; Bandipur national park (72 km) and the Nagarhole national park (90 km).
Shravanabelagola
One of the oldest and most revered Jain pilgrimage centres in India, Shravanabelagola, meaning 'monk of the white pond', is famous for the 55 ft. high statue of Gomateshwara (Bahubali), the world's tallest monolith. Overlooking the sedate country town of Shravanabelagola from the Vindhyagiri hill, Gomateshwara rivals the complex sculptural work of the Belur and Halebid temples in its simplicity and serenity.
Accommodation. Nearly all of Shravanabelagola's accommodation (21 guesthouses) is run and managed by the local Jain organisation SDJMI. Prices start from Rs.150.
Kodagu (Coorg)

Kodagu (Coorg) district, the birthplace of the sacred River Cauvery and a flourishing agricultural centre, forms a portion of the Western Ghats, among the world's 14 richest areas in biodiversity. The grassy hilltops, valleys of dense mixed jungles with teak, coffee, rice, pepper and cardamom plantations and natural wildlife habitats make Kodagu a delightful holiday option for nature lovers.
Set amidst gentle hills covered with neat colonial-style plantations, Kodagu accounts for almost half of the coffee production of India's largest coffee producing state.
Although facilities for trekking are limited, there are several people in Madikeri who arrange trekking tours. Most treks last two to three days but longer ones of up to ten days are also possible. The trekking season is from September to March.
Accommodation. Most of the hotels and restaurants, which are mediocre, are located in a compact area in the centre of Madikeri. However several guesthouses and resorts have recently sprung up in the Kadavu hills. The village of Siddapur, 32 km from Madikeri is home
to the highly rated Orange County Resort. Sited on a 120-hectare plantation, Orange Country offers accommodation in mock Tudor cottages (Rs.20,900-38,475 per night). Top-end: Woodstock Villas (Rs.6,500-8,999); Serene Woods (Rs.6,000). Mid-range: Hotel Rajdarshan (Rs.1,576-4,078); Four Leaf Clover Stay (Rs.1,134-1,513); Hotel Mayura Valley View (Rs.2,599- 3,400); Capitol Village Resort (Rs.2,851-3,125). Budget: Hotel Cauvery Inn (Rs.1,182-1,725); Thelma's Coorg Chalet (Rs.903-1,568).
Restaurants. There are a handful of restaurants offering reasonable fare, including the local specialities, in Madikeri. Restaurants in hotels such as Cauvery, Rajdarshan Mayura Valley View and Chitra Lodge are some of the better ones.
Excursions. Those in search of trekking and bird watching opportunities can take daytime excursions to Abbey (Iruppu) Falls (8 km from Madikeri), Kakkabe (31 km from Madikeri), Yavakapudi, Bittangala (37 km), Ammathi (31 km) and Siddapur (28 km). Wildlife enthusiasts can explore the Talacauvery, Pushpagiri and Brahmagiri sanctuaries and the nearby Dubare forest. The famous Nagarhole national park, a protected site of the Nilgiri Biosphere Reserve, is also situated in Kodagu. The most popular trekking destinations are the 5,500 ft high peak of Tadiyendamol, Pushpagiri and Kote Betta.
Belur and Halebid
The Hoysala (11-13th century) temples at Belur and Halebid represent one of the most artistically exuberant periods of Hindu cultural development and rival the sculptural aesthetics of the Khajuraho (Madhya Pradesh) and Konark (Orissa) temples.
The most outstanding example of Hoysala art is located at Halebid, 16 km from Belur. Every centimetre of the Hoysaleswara temple is adorned with Hindu gods. sages, animals, birds and friezes. Although construction began in 1121, the temple was never fully completed. There is also a smaller Kedareshwara temple and some Jain bastis (temples) with fine carvings.
Accommodation. Belur: Hotel Mayura Velapuri (Rs.1,128-1,261); Hotel Samanvi International (Rs.1,695-1,798): Jaya Mourya Lodge (Rs.1,220-1,387). Halebid: KSTDC Mayura Shantala (Rs.1,400-2,099). Most hotels at Belur and Halebid have attached restaurants which serve passable fare.
Hampi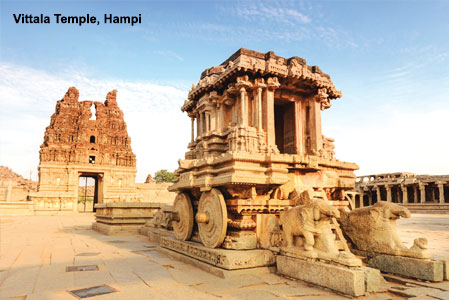 Set in a scenic boulder-strewn landscape on the banks of River Tungabhadra, Hampi (Vijaynagar), once the capital of one of the largest Hindu empires in Indian history, offers the fascinating ruins of the Vijayanagar kingdom. Founded by the Telugu princes Harihara and Bukka in 1336, the Vijayanagar empire reached its zenith under Krishnadevaraya (1509-1529). The empire came to an abrupt end in 1565 after the disastrous battle of Talikota when Hampi was ransacked by a confederacy of Deccan sultanates (Bidar, Bijapur, Golconda, Ahmednagar and Berar).
Accommodation. There are dozens of basic but comfortable lodges in Hampi. Rates shoot up by 50 percent or more during the busiest fortnight around New Year. Top-end: Gopi's Banana Plantation (Rs.2,240 per night). Mid-range: Roshini Home Stay (Rs.2,016); Lee Homestay (Rs.1,290-(Rs.999). Budget: GLN Hotel Rooms (Rs.500); Chillout Guest House (Rs.600); Chill HangOut (Rs.400).
Restaurants. There are a few modest restaurants in the Hampi bazaar area — Sri Venkateshwara, Goan Corner, The Mango Tree, Hotel Mayura Bhuvaneshwari and Sree Vilas Hotel — that offer standard Indian fare and western standbys.
Kabini River Lodge
Rated as one of the top five wildlife resorts in the world by Tatlers Travel Guide, a prestigious British travel magazine, Kabini River Lodge managed by the Bangalore-based state government-owned Jungle Lodges and Resorts Ltd is 80 km from Mysore and 220 km from Bengaluru by road. It's located on the southern fringe of the Nagarhole wildlife national park, about 65 km from the sanctuary's centre, and is accessible by road or rail from Mysore.
Once a hunting lodge of the maharajahs of Mysore, KRL is scenically situated on the banks of River Kabini, a tributary of the Cauvery. Located amidst 56 acres of grass and wilderness and comprising 14 rooms, six cottages and five tented cottages with clean and modern facilities to accommodate 50 guests, KRL's interesting mix of ecology and wildlife tour attracts hundreds of visitors.
Accommodation. Visitors have a choice between colonial style twin bedrooms, riverside cottages, and tented cottages. The cost of one-day package starts from Rs.3,040.
For further information, visit www.karnatakatourism.org.
Also read: High potential charm of coastal Karnataka