In the latest EducationWorld India School Rankings 2018-19, KC High (estb. 1999) is ranked among the Top 10 international co-ed day schools of India and #1 in Tamil Nadu – Hemalatha Raghupathi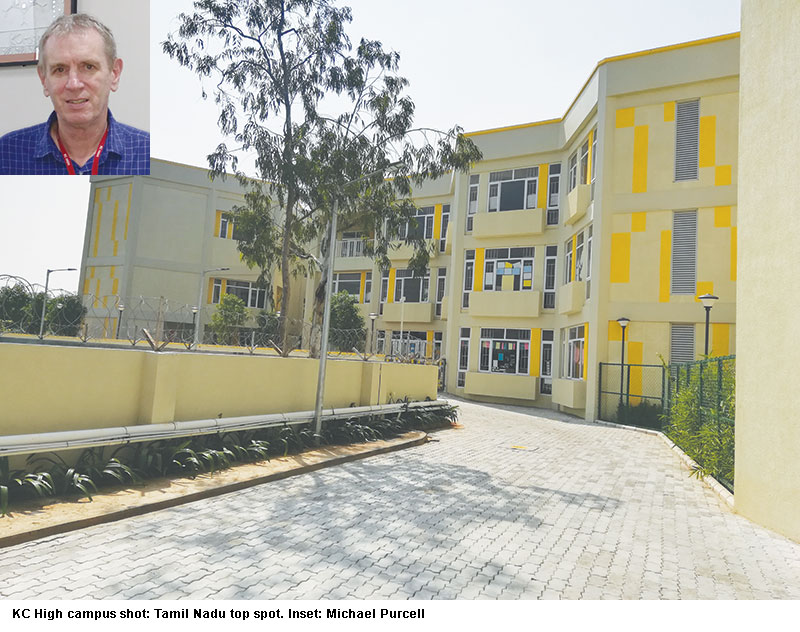 Sited within an upscale housing community (Olympia Panache) in Navalur on the bustling Old Mahabalipuram Road (OMR), the K.C. High International School, Chennai (estb.1999) has quickly earned a reputation in the port city for providing well-balanced 21st century education delivered by highly-qualified teachers. In the latest EducationWorld India School Rankings 2018-19, KC High is ranked among the Top 10 international co-ed day schools of India and #1 in the southern seaboard state of Tamil Nadu (pop. 72 million).
Initially conceptualised as a modest after-school activity centre promoted by Valli Subbiah, the highly qualified (Tufts and Harvard universities) daughter of industry tycoon M.V. Subbiah, former chairman of the Chennai-based Murugappa Group (annual revenue: Rs.33,000 crore), the centre evolved into the Kids Central Preschool, Kotturpuram, Chennai and progressively expanded into a pre-KG to class X school affiliated with the UK-based Cambridge Assessment International Education (CAIE).
In July last year, KC High shifted to an owned 3.6-acre campus in Navalur adjacent to the Olympia Panache residential estate developed by real estate magnate Ajit Kumar Chordia. Currently, the Kids Central Preschool in Kotturpuram has an enrolment of 170 students instructed by 27 teachers and KC High, 285 students mentored by 105 teachers, on its muster rolls. Last year, the co-educational KC High also introduced the International Baccalaureate Diploma Programme (IBDP) for classes XI-XII.
"Our prime objective is to provide a safe, joyful and challenging learning environment to enable children to succeed academically and socially. Our teachers are trained to cherish and respect students and encourage them to learn through exploration. Moreover, we use experiential learning pedagogies to develop communication, critical thinking, collaboration and creative intelligences which are of critical relevance in the newly emerging global economy. At the heart of all academic and co-curricular activities at KC High is a determination to develop our students' sense of responsibility towards the community and environment," says Michael Purcell, an alumnus of West Virginia Wesleyan University and the University of Texas, Austin who served with the Huston Tillotsan University, Austin; Mahindra United World College, Pune; New International School of Thailand, Bangkok and as school head of Edubridge International School, Mumbai before signing up with KC High as head of school in 2017.
The institutional focus on equipping students with future-ready skills through experiential learning pedagogies has prompted the management to introduce several new tech-enabled initiatives during the past two years. They include robotics education; a Makerspace lab for students to design, experiment and innovate products and services; and courses in computer software programming languages. Integrating experiential pedagogies and new technologies into the curriculum has paid rich dividends. All KC High's first batch of six class X students who wrote the Cambridge International board's IGCSE examination in March were awarded A or A* grades in at least five subjects.
"A major reason behind the excellent showing of our first batch is high importance given by the management to professional development of our teachers. We regularly conduct in-house teacher training workshops and routinely sign up teachers for Cambridge International and IB teacher development programmes as also for the training programmes of TAISI (The Association of International Schools of India)," says Purcell, a member of the governing board of TAISI.
An excellent, stimulating curriculum and well-trained teachers are supported by state-of-the-art infrastructure. The aesthetically landscaped, wi-fi enabled KC High campus features a huge circular outdoor amphitheatre; 33 circular model classrooms specially designed to facilitate collaborative learning with every classroom from class III onwards equipped with a computer, projector and internet connectivity. Other academic facilities include a computer lab; four well-equipped science labs; a well-stocked library with 7,000 books, ten journal, 12 magazine subscriptions; reading nooks and a cafeteria.
Moreover, sports education is integral to the curriculum and facilities include basketball and badminton courts, football field and a playground with age-appropriate equipment for kindergarten children. These facilities are complemented by a wide palette of co-curricular activities including art, world music, drama, yoga, karate, gymnastics and chess.
The school's curriculum also accords high importance to community service and environment education. Under a unique student-led community service project titled 'Power of Collective', students engage with local government schools. Over the past year, KC High students have helped their peers in the Kotturpuram Corporation High School to grow a vegetable garden; donated a mobile science lab kit to the Nungambakkam Corporation School and initiated waste segregation and beach cleaning projects in the neighbourhood.
Although well established as a top-ranked, progressive school in less than a decade, the KC High management is in no mood to rest its oars. "We plan to expand capacity to 600 students over two years, build new classrooms and commission an artificial turf soccer field. We also want to invest more resources in our teacher development programmes to enable and empower our teachers to achieve our objective of shaping KC High students into responsible global citizens," says Purcell.
ADMISSION & FEES
KC High International School, Chennai is a pre-KG-class XI school affiliated with the UK-based Cambridge Assessment International Education and International Baccalaureate, Geneva examination boards. Admission application forms are available online and accepted through the academic year (July-May).
Tuition fees (per year): (Undisclosed)
For further information contact Malini Kejriwal @ 91 94452-90115 or email [email protected]