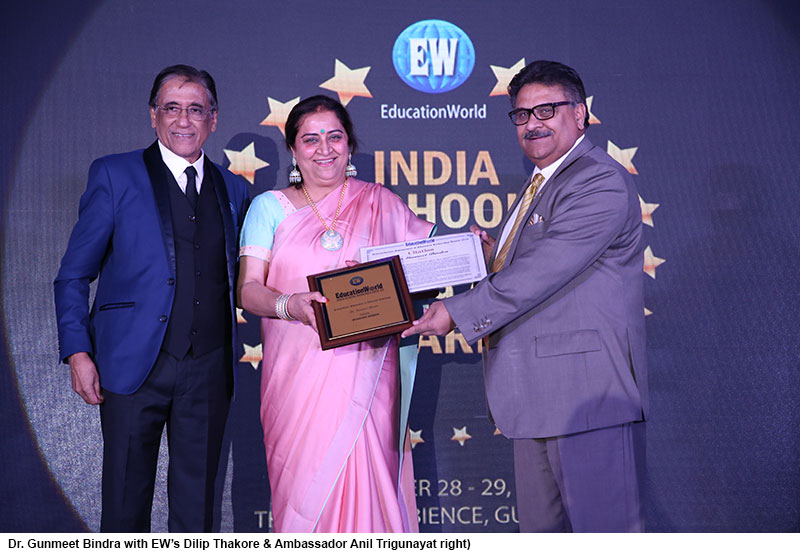 Citation
One of India's most respected K-12 educationists, women's empowerment champion and exemplary role model, Dr. Gunmeet Bindra is the first woman principal of a routinely top-ranked all-boys legacy boarding school — Welham Boys, Dehradun (estb.1937).
A commerce and education postgrad of the Delhi School of Economics and Calcutta University, Bindra was conferred an honorary doctorate by the Ecole Superieure Robert de Sorbon, France, in 2017. Swimming champion and captain of her school and college hockey teams who played national-level hockey and is an avid nature trails trekker, Dr. Bindra was appointed principal of Welham Boys in 2011. Since then, this vintage boys school has been ranked #1 on the parameter of leadership across all categories of legacy boarding schools (co-ed, boys, girls) in the annual EW India School Rankings for four consecutive years (2016-19).
Bindra started her career as a senior commerce teacher at Sheiling House, Kanpur (1987-92) and served a short stint at the top-ranked DPS, R.K. Puram, Delhi, before she was appointed headmistress of the Wendy High School, Kanpur for a five-year term in 1993. Subsequently, in a career of over three decades in primary-secondary education she has served as headmistress/principal of several high-profile schools including DPS, Kalyanpur (1998-1999), Apeejay School, Faridabad (1999-2001), founder-principal of DPS, Jalandhar (2002-2005), founder-principal of the Mayor World School, Jalandhar (2005-2007) and principal of the Vidya Devi Jindal School, Hisar (2007-2011).
"During my 30-years plus career in Indian education, my prime objective has been to develop and nurture schools which provide contemporary holistic education rooted in India's traditions and values. Looking back, it is gratifying that all the schools I nurtured and the Welham Boys' School that I continue to nurture, have produced excellent university graduates who are not only contributing to India's economic development and progress, but also to social change" says Bindra.
In her long and distinguished career as a nationally respected education leader who has raised teaching-learning in several day and boarding schools to global standards, Dr. Bindra has been conferred numerous awards and encomiums. Among them: the President's National Award for Teachers (2014), the National Award for Instructional Leadership at the NDTV-Educomp Education Awards (2016), British Council School Ambassador and vice president (South Asia) of the International Boys School Coalition, USA.
In recognition of her extraordinary contribution to the stewardship, growth and development of several highly reputed day and boarding schools in India and in particular for her outstanding institutional leadership skills, the Board of Directors and Editors of EducationWorld are proud to present Dr. Gunmeet Bindra the EW Extraordinary Achievement in Education Leadership Award 2019 and induct her into the EW Hall of Fame of Indian Education.