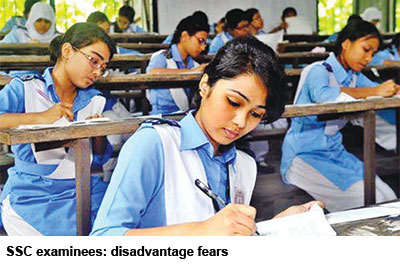 A 2018 decision of the Maharashtra State Board of Higher Secondary Education (MSBHSE) to scrap internal school-based exams for language and social science subjects will impact 1.7 million students who wrote its secondary school certificate (SSC) class X board exams in March. Until last year, oral communication capability and project assignments with weightage of 20 percent were assessed by their teachers. This year following abolition of internal exams, SSC students were made to write a 100 marks subjective social science subject paper plus three language papers (in the medium of instruction of their school, English and a language of choice).
With SSC class X board exam results slated for public release on June 10, students apprehend they will end up with lower averages compared to students of schools affiliated with the Central Board of Secondary Education (CBSE) and Council for the Indian School Certificate Examinations (CISCE) who continue to enjoy the benefit of internal exams (20 marks). Internal exams are a benefit because teachers tend to be liberal in awarding students they know personally.
This apprehension is not unwarranted. In mid-May, the CBSE and CISCE boards announced their class X and XII exams results signalling runaway grades inflation. In the CBSE class X board exam, 20 students in the state scored 495-497/500 with three students averaging 99.4 percent. In CISCE's class X exam as well, 13 Maharashtra students were ranked among India's top three.
Although the number of students averaging above 90 percent in the SSC class X exam has also been rising in recent years — 63,331 students averaged above 90 percent and 125 students maxed the exam at 100 percent in 2018 — the liberal marking of CBSE and CISCE examiners has aroused fears that children writing the SSC exam will be at a disadvantage for admission into junior colleges.
Under a vintage UGC directive, all junior and undergraduate colleges are obliged to give parity to school boards and admit students on the basis of their class X and XII scores. With the number of high scorers rising each year, top-ranked colleges in the state particularly in Mumbai and Pune, have been raising their admission cut-offs by three to five percent per year. Last year, the cut-off for the arts faculty in St. Xavier's rose to 94.2 percent and the commerce stream to 93.2 percent in Narsee Monjee College.
Moreover, with the state government having introduced new reserved quotas such as 16 percent for Maratha students under the Socially and Economically Backward Classes Act, 2018 and another 10 percent for 'economically weaker section' students in addition to 22.5 percent for scheduled castes and tribes for non-minority promoted colleges, the quota for meritorious high-scoring students is shrinking. Hence the constantly rising cut-offs.
In the circumstances, principals of MSBHSE-affiliated schools as also parents and students are agitated that even high-scoring SSC students will be shut out of the state's top-ranked colleges, come July. Consequently, several parent and school associations have written to the education ministry to re-introduce internal assessments to even the playing field.
"Answering a full 100 marks paper over three hours is far more difficult than passing internal oral communication and project assignment tests. The earlier system of 20 marks set aside for school administered exams — which continues in CBSE and CISCE schools — is more student friendly. The state government should re-introduce internal exams in the interest of parity with other exam boards. It should also reserve a quota in the state's junior colleges for students writing the SSC exam," says Anna Correa, principal of St. Stanislaus School, Mumbai.
However, education ministry officials believe that the fears of SSC exam toppers are exaggerated because over 90 percent of class X school-leavers admitted into Maharashtra's 9,076 junior colleges are students of schools affiliated with MSBHSE. "The Maharashtra state board's written exam, which has replaced schools' internal exam, tests students' understanding of concepts. Therefore by introducing the written paper, MSBHSE has taken a step towards improving the quality of education in affiliated schools. We have long been accused of promoting rote learning instead of conceptual learning and research. Therefore, this change is in the interests of our students," says a state education department official who preferred to remain anonymous.
Nevertheless, there's no escaping the reality that in the short run admission into the static number of top-ranked colleges has become harder for students of state board schools.
Dipta Joshi (Mumbai)