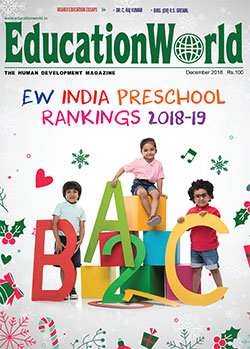 Spotlight anganwadis
Your decision to include model government-run anganwadis in this year's preschool rankings is commendable (EW December). The government, NGOs and other stakeholders need to take note of these model anganwadi centres and replicate their best practices nationally.
However, I wish you had used the same parameters to evaluate anganwadis as you have for private preschools. EW needs to introduce a full-fledged survey for anganwadis. This will serve the purpose of focusing government attention on upgrading anganwadis which is the only refuge of children from bottom-of-pyramid households. This is essential for distributive justice in society.
Smita Patil
Pune
Credible rankings
EducationWorld needs to be complimented for its pioneering effort to honour preschool educators of India. The EducationWorld India Preschool Rankings conducted by C fore are credible because they are based on the opinions of well-informed respondents including parents and preschool educators.
The Mongrace Montessori, Newtown, Kolkata team is delighted that we have retained our #2 position in the competitive proprietary preschools category. We value our ranking in the highly credible annual EducationWorld India Preschool Rankings. It is an acknowledgement of the hard work put in by our team and innovations introduced, and our commitment to continuous improvement and excellence. This would not have been possible without the cooperation of our talented team of teachers and auxiliary staff, supportive management and parents who are always willing to cooperate.
Chandrika Ramakrishnan
Principal, Mongrace Montessori House, Newtown, Kolkata
Authentication plea
EducationWorld is one of the best education magazines in the country, and I have been attending your national early childhood education conferences since 2015. However, I would like your team to review my general observations about this year's preschool rankings survey (EW December).
First, the ranked preschools under all categories remain almost the same every year with slight changes in rankings. A number of new schools are doing good work and need to be added. Though I understand that all good preschools cannot be surveyed, third party authentication should be more rigorous with additional checks and balances. For instance, some preschools which have shut down operations or are on sale, continue to be ranked.
Sneha Tapadia
CEO, Jumpstart, Pune
Monuments & institutions
In your editorial you aptly describe the unveiling of the gargantuan statue of Sardar Vallabhbhai Patel as an 'Ill-considered tribute to (the) great unifier' (EW December). Aptly also because, in the book review section in the same issue you hail Balraj Krishna's book on the Iron Man of India as an "overdue biography" that throws light on the man, his mind and work. As a tribute to this great son of India, the monument pales before the tome.
There are references elsewhere in the issue to our diminished academic monuments — our universities. Despite our highly-lauded IITs, NITs and IIITs, India doesn't figure among Asia's Top 10 exporters of electronics goods, which includes tiny Vietnam, Thailand and Philippines! We have countless LEDs around us — on mobile and other screens — but come to think of it, not one of them is made in India!
Vittalbhai Patel
Pollachi
360 degree perspective
I am a regular reader of EducationWorld and would like to thank you for publishing yet another comprehensive EW India Preschool Rankings survey.
While most publications are focused on higher education, EducationWorld has a 360 degree perspective on education with the belief that foundational preschool education is critical to deriving the full benefit of school and higher education. I couldn't agree more!
Sushmita Sanyal
Kolkata
Sad reality
Thanks for the Editorial 'Ill-considered tribute to great unifier' (EW December), honouring Sardar Vallabhbhai Patel.
India needs honest leaders like Patel, and the best tribute to him would be to stop divisive vote bank politics of caste and religion.
Sardar Patel was the mastermind behind unifying India. Sadly, the number of states of the Indian Union has doubled since his time.
Mahesh Kapasi on e-mail