In mid-February China's ministries of education and science and technology jointly issued a notification to reform the academic evaluation system to reduce "excessive reliance on the Science Citation and Social Science Citation indices" as key indicators for "academic promotions, job offers and allocation of research funding". This radical initiative is backed by the finance ministry, which funds research in national universities. Moving away from international research publications was first announced by President Xi Ping during a national education conference in September 2018. Xi observed that "academic standards in higher education institutions should not be led by Western ideas or standards, and stressed that China should have its own academic standards and norms, not bound by international norms," reports the London-based University World News (March 4).
Dr. Futao Huang, professor of higher education at Hiroshima University, Japan, who has been studying the research culture of young academics in China, says that the shift of emphasis from international publication will translate into huge changes for China's research evaluation system. He predicts that the status of several Chinese universities in major global university rankings will decline as a result of reduction in SCI publications from Chinese university researchers. That's because in recent years Chinese scholars are second worldwide for the number of research papers published in international journals, behind only the US.
Under the notification, while hard sciences will continue to be subject to international peer reviews and publication in international journals, in soft sciences, such as the humanities and social sciences, profound changes can be expected inasmuch as they have less international linkages and networks and conduct less international collaborative activities. In addition, as Prof. Huang highlights, English is not the language for soft sciences as it is for the hard sciences.
It's well-known that the major global university rankings — QS and Times Higher Education — are heavily influenced by research output and citations in peer reviewed journals published in English. This has a direct bearing on university rankings, and automatically favours Western and AngloAmerican universities which routinely top the QS and THE World University Rankings (WURs) league tables. Higher education institutions in non-English speaking countries of Europe (excluding the UK), Latin America, etc, suffer low rank as a result.
However, this doesn't apply to India where higher education is mostly in English. The plain truth is that research is given too little importance in this country's 993 universities. Instead of addressing this lacuna, the common complaint against established WURs is that social equity issues such as reservation for the under-privileged and backward classes are not given any importance in them.
The Indian response to the QS and THE WURs is the National Institutional Ranking Framework (NIRF) of the Union human resource development (HRD) ministry. In the annual NIRF, the country's Top 100 universities, arts, science, commerce colleges, engineering colleges and other professional institutions are evaluated under several parameters including resources, research and stakeholder perceptions which are assigned differing weightage and ranked inter se. About 3,500 institutions have voluntarily participated in the annual NIRF rankings exercise introduced in 2015.
Evidently, the purpose of NIRF is to shortlist India's best higher education institutions and rank them in several categories to motivate them to improve their performance under specified parameters. However, it is clear that NIRF will do little to enhance the standing of Indian universities in global rankings, because the WUR and NIRF appraisal frameworks are not aligned. The government mandated objectives for India's higher education institutions as set out in successive National Education Policies (including the imminent NEP 2020) are vastly different and include GER (gross enrolment ratio), and outreach and inclusivity.
The common criticism of the NIRF initiative is that the rank awarded to some institutions is often at wide variance with public perception. But it must be borne in mind that public perception is based on limited awareness of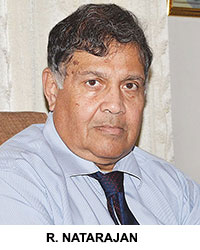 institutional excellence. The public relations campaigns of institutions, the halo effect of vintage universities acquired over time, and over-emphasis of popular metrics such as starting salaries and job-readiness, favoured by parents, students and the media don't influence NIRF rankings.
With several countries notably China, expressing dissatisfaction with the WURs of QS, THE and other Western rating agencies, the introduction of NIRF which is customised for Indian conditions and aligned with national objectives is a welcome development. However, it's important to ensure that its rankings are not too divergent from popular perceptions. Therefore, it is advisable that the NIRF league tables are reviewed by a credible third party or committee, prior to finalisation.
(Dr. R. Natarajan is former director of IIT-Madras and former chairman of All India Council for Technical Education (AICTE))