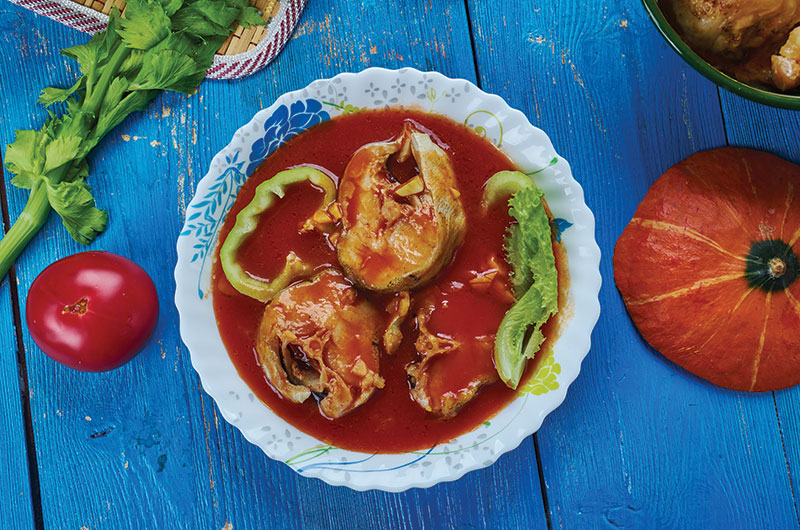 Assamese fish curry with ridge gourd
Ingredients
+ 4 pieces Rohu/ Catla fish
+ 1/2 tsp salt
+ 1/2 tsp turmeric powder
+ 1/2 cup mustard oil
+ 1 chopped ridge gourd
+ 4 chopped tomatoes
+ 1/4 tsp fenugreek seeds
+ Juice of 1/2 lime
Preparation Guide
+ Sprinkle 1/2 tsp salt and 1/4 tsp turmeric powder on the fish cubes and rub well. Heat oil in a pan, and fry the fish in batches until crisp on the outside. Keep aside.
+ In the remaining oil, add the fenugreek seeds and let them crackle on medium heat.
+ Tip in the chopped ridge gourd and add 1/4 tsp turmeric powder. Let it cook for 7-8 minutes. Once the gourd softens, add tomatoes and mix well.
+ Cover with a lid and let it cook for 4-5 minutes until the tomatoes are pulpy.
+ You could also use the back of your spoon to mash the vegetables.
+ Add 3 cups warm water and turn up the heat. Once the curry comes to a boil, add salt to taste.
+ Add in the fish cubes and continue cooking until the curry thickens. This should take 5-6 minutes.
+ Remove from heat, and squeeze the lime on top.
+ Garnish with chopped coriander leaves and serve with steamed rice.