-Riya Ganguly
From the royal Scindia School in Gwalior, alma mater to Salman Khan to the posh Bombay Scottish School, Mahim in metropolitan Mumbai, alma mater to Ranbir Kapoor and Aamir Khan, there are a multitude of Indian schools which boast notable alumni in a vast range of professions, from famous Bollywood stars to eminent politicians. Here are the most famous schools attended by renowned Indian personalities:
Scindia School
Ranked as the #1 boys boarding school in the Education World India School Rankings 2020-21, Scindia School is built on the historic hill fortress of Gwalior and is one of the most prestigious boarding schools in the country. Initially started exclusively for royals and nobles, it has since hosted prestigious alumni from a variety of fields, from Bollywood personalities such as Salman Khan and his brother Arbaz Khan, famous directors Anurag Kashyap and Sooraj Barjatiya and eminent broadcaster Ameen Sayani.
Doon School
Set amidst the rolling hills of the Mussorie range, Doon School is a boys' boarding school in Dehradoon and has maintained its top rank among boys' residential schools in India, often termed as the "Eton of India". Doon School is known for its eminent alumni, gaining success from politics to media & films. Among the most notable alumni of Doon School are former Indian prime minister Rajiv Gandhi and other members of his family (including Sonia Gandhi and Rahul Gandhi), renowned authors such as Amitav Ghosh, Vikram Seth and Ramachandra Guha, popular actors like Ali Fazl and Ashvin Kumar, eminent journalists such as Prannoy Roy, Rajiv Makhani, Aroon Purie and Rakesh Wahi and Olympic gold medallist Abhinav Bindra.
Campion School, Mumbai
The illustrious private Catholic boys' school has produced eminent personalities over the years who have earned success in various fields, from politics to the film industry. Famous film stars such as the Kapoor brothers- Rishi Kapoor, Randhir Kapoor and Rajiv Kapoor, Jugal Hansraj have attended Campion School, Mumbai, while other alumni include prominent politicians such as Shashi Tharoor, Praful Patel and Jyotiraditya Scindia, eminent journalists Rajdeep Sardesai and Jehangir Pocha, and prominent physicists such as Dr. Shiraz Minwalla and Dr. Mustansir Barma.
Bishop Cotton Boys' School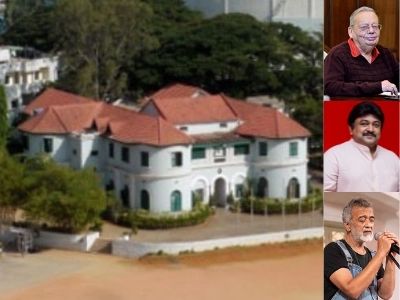 Situated in the heart of Bengaluru, Bishop Cotton Boys' School is a day-cum-boarding school founded in the memory of Bishop of Calcutta, George Edward Lynch Cotton. Since its inception 156 years ago, the school has produced several notable alumni including renowned author Ruskin Bond, Indian singer, songwriter and composer Lucky Ali, Academy Award winning music composer Ricky Kej, famous Tamil actor Prabhu Ganeshan and veteran Bollywood actor Feroz Khan, cricketers such as Brijesh Patel and Colin Cowdrey and eminent entrepreneur Nandan Nilekani.
Bombay Scottish School, Mahim
Alma Mater to a large chunk of the Bollywood industry fraternity, Bombay Scottish School is a private co-ed convent school in Mahim, Mumbai. Popular alumni from the film industry include popular actors such as Aamir Khan, Ranbir Kapoor, Abhishek Bachchan, Hrithik Roshan, Imran Khan and John Abraham, famous director Aditya Chopra and eminent TV producer Ekta Kapoor. Other alumni include cricketer and son of Sunil Gavaskar, Rohan Gavaskar, formula 2 racer Jehan Daruvala, Indian legend and posthumous recipient of the Ashoka Chakra Award Neerja Bhanot and Indian politician Aaditya Thackeray.
Greenlawns High School
Situated on India's most expensive residential plot "Scandal Point" in Mumbai, Greenlawns High School has produced several eminent personalities well-established in Indian arts and culture. Notable alumni of the school include famous film director and producers such as Karan Johar and Nikhil Advani, popular film actors such as Darsheel Safary and Neil Nitin Mukesh and business personalities such as Ameera Shah and Gautam Singhania.
Jamnabai Narsee School
A private school in Juhu, Mumbai, Jamnabai Narsee School has produced alumni including a variety of celebrities and eminent dignitaries. Popular alumni of the school include celebrated Bollywood actors such as Alia Bhatt, Kareena Kapoor, Abhishek Bachchan, Shradha Kapoor, Tiger Shroff and the Deol brothers, music composers and singers such as Amaal and Arman Malik and Akriti and Sukriti Kakkar and Bollywood directors such as Ayan Mukherji, Vikram Bhatt and Bhushan Patel.
Sherwood College, Nainital
Situated on the sprawling campus on the Ayarpata Hill, this co-ed residential school has seen several distinguished alumni pass out of its hallowed corridors. Eminent alumni include famous veteran Bollywood actors such as Amitabh Bachchan, Kabir Bedi, Dalip Tahil, popular Hindi TV and movie stars such as Ram Kapoor, Vivek Mushran, Nikhil Dwivedi Vipul Roy the CEO of BCCI Rahul Johri and esteemed members of the Indian armed forces such as Anil Chopra and S.H.F.J. Manekshaw.
Rishi Valley School, Chittoor
Situated in an expansive independent valley in Andhra Pradesh and surrounded by ancient hills and villages, Rishi Valley School has produced notable alumni in politics, journalism, business and art and culture. Eminent alumni include Indian film actress Aditi Rao Hydari, famous journalist Sreenivasan Jain, politicians such as Varun Gandhi and the former president of India Neelam Sanjiva Reddy, renowned Indian classical dancer Oopali Operajita and eminent Indian entrepreneur and banker Nachiket Mor.
St. Columba's School, Delhi
Located in the heart of Delhi, St. Columba's School has produced a large array of eminent personalities including three Rhodes Scholars, a Pulitzer Prize winner, and a Forbes 30 Under 30 awardee. Popular alumni include Indian actors and VJs such as Bollywood sensation Shahrukh Khan, Kunal Nayyar, Cyrus Sahukar and Samir Kochhar, eminent academicians and scientists including Deepak Chopra, Rajeev Motwani, Randeep Guleria and Siddhartha Mukherjee. St. Columba's School is also the alma mater to notable politicians such as Rahul and Sanjay Gandhi, Jayant Sinha and TV personality and politician Derek O'Brien, prominent businessmen such as Lalit Modi, Sumant Sinha and SpiceJet founder Ajay Singh, and distinguished lawyers such as supreme court judges Justice B. P. Singh and Justice Dhananjaya Y. Chandrachud.
Also read: Alma Maters of India's Top Tycoons