Carved out of Uttar Pradesh in 2000, this Himalayan state, Uttarakhand, nourished by some of Hinduism's most sacred rivers is developing into India's most high-potential tourism destination
The state of Uttarakhand (pop. 10.4 million) is arguably India's most high-potential tourism destination. Carved out of the mammoth state of Uttar Pradesh (pop. 215 million) in 2000, this quaint and charming Himalayan state, initially called Uttaranchal and renamed in 2006, attracts over 35 million domestic and foreign tourists annually. Spread over an area of 53,483 sq. km, of which nearly 93 percent is mountainous and 63 percent under forest cover, Uttarakhand ('Land of the North') encompasses the hill regions of Garhwal and Kumaon. Blessed with rolling hills and snow-covered mountains, it is nourished by some of Hinduism's most sacred rivers, including the Ganges, which originates in Gaumukh in the far north of the state and winds its way to the plains through the pilgrimage centres of Rishikesh and Haridwar.
Richly endowed with natural splendour, Uttarakhand offers tourists panoramic vistas of the Himalayan ranges. Snow-capped peaks, magnificent glaciers, pilgrimage centres including the char dhams — the four most sacred and revered Hindu temples (Badrinath, Kedarnath, Gangotri and Yamunotri) — rich cultural traditions, hill stations and a cool and invigorating climate make this state an idyllic destination for stressed visitors from the plains. Planned development of trekking and yatra (pilgrimage) routes and adventure sports such as river rafting, paragliding, skiing, mountaineering etc, have positioned Uttarakhand in the 'A' list of adventure and wildlife enthusiasts.
The history of Uttarakhand dates to the era of the Mahabharata (1000 BC). In the epic the Pandava brothers are said to have ascended to heaven by climbing the Swargarohini peak in western Garhwal. The Mahabharata also describes this region as the home of the Kirata, Pulinda and Tangara tribes. However recorded history is available only up to the time of the Macedonian march across the Himalayan foothills. Later in 330 AD, the Gupta dynasty instituted an imperialist tradition, which was followed by the Vardhanas until 400 AD.
The downfall of the Vardhana empire led to the emergence of a number of small principalities ruled by local chieftains. Subsequently during the Turkish invasions of the plains these principalities changed in size and power as additional waves of migration were experienced. Today, if a resident is asked about the history of the region, the answer is more likely to be shaped by myth rather than chronicle.
The region was part of the United Province of Agra and Awadh which was delineated in 1902 when the British stepped in to repulse invading Gorkhas. Later the British created replicas of little England in the hills of the region. After India gained independence, the United Province was renamed Uttar Pradesh (1950) and Uttarakhand remained a part of Uttar Pradesh until this new state of the Indian Union was decreed in 2000.
Uttarakhand owes much of its religious and spiritual traditions to Adi Shankaracharya, the revered saint who was almost entirely responsible for the renaissance of Hinduism in the early 9th century. He established a series of dhams and maths — seats of Hindu religion — on elevated sites amidst the Himalayas before his death at Kedarnath in 820 AD. His samadhi (memorial) continues to lure thousands of pilgrims from across the country.
Contemporary Uttarakhand comprises two divisions — Garhwal and Kumaon, which are further subdivided into 13 districts governed from Dehradun, the state capital. Though remote and mountainous, Uttarakhand has a high literacy rate of 70 percent.
DehraDun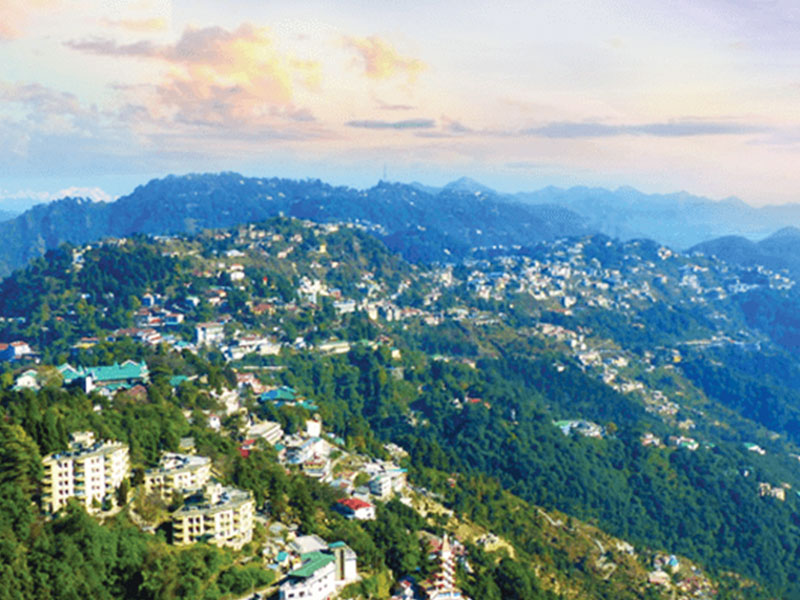 Sited in the broad Doon valley between the Shiwalik hills and the front range of the Himalayas, Dehradun (pop. 690,586) is the admin capital of Uttarakhand. Once the most scenic and salubrious hill station of north India, it has become a hot and dusty town because of excessive commercialisation. Naturalists describe this newly formed admin capital as a polluted, over-exploited and crowded city. The name Dehradun is an amalgam of 'dera' meaning camp and 'dun' or valley.
Dehradun is best known for its education institutions established by the British. The most notable among them is the Forest Research Institute (FRI), one of the finest of its genre worldwide. Set amidst vast botanical gardens with the Himalayas providing a spectacular backdrop, it boasts an excellent forestry museum. Other institutions of repute located here are the Indian Military Academy, Survey of India and several premier public schools including the top-ranked The Doon School (estb. 1935).
Other sites of historical interest in the city are the Ram Rai Darbar, the mausoleum of Ram Rai, errant son of the seventh Sikh Guru Har Rai; Widia Institute of Himalayan Geology with its vast museum and the Tapkeshwar temple dedicated to Lord Shiva set in a cave beside a stream that constantly drips water on the idol.
Accommodation. Top-end: Four Points by Sheraton (Rs.6,600 per night); Hotel Madhuban (Rs.4,100-4,700); President (Rs.3,100-3,900). Mid-range: Osho Resorts (Rs.2,700). Budget: Motel Himshri (Rs.1,100); Hotel Nishima (Rs.1,400); Hotel Meedo (Rs.1,000).
Restaurants. There are several good eateries in the city serving excellent vegetarian and non-vegetarian fare. Favoured among them are Kumar and Orchard.
Excursions. Dehradun serves as a base for mountaineering and trekking expeditions to the Garhwal Himalayas as also to the many pilgrim sites in the region. Backpack excursions include Sahastradhara (14 km) aka Cold Springs, the waters of which are believed to have medicinal properties; Robbers Caves (8 km), a popular picnic resort set amidst verdant forest, though a 1.5 km trek is mandatory to reach the caves.
Mussoorie

Established by the British in 1823, this picturesque hill station (pop. 35,000, alt. 6,500 ft) is just 34 km upslope from Dehradun. Mussoorie is famous for its walks, splendid colonial hotels and summer palaces. Gun Hill — the highest point in Mussoorie — is accessible by ropeway and is a vantage point for unspoilt views of the snowy peaks of the Himalayas. Also recommended is a stroll on Camel's Back Road, a lively promenade along a rock formation reminiscent of a camel. Around Mussoorie one could visit the Kempty Falls (15 km); Dhanoltri (25 km), a scenic picnic spot amidst deodar forests and the Sukhanda Devi temple sited at a height of 3,030 m (9,847 ft) affording panoramic views of the Himalayas.
Haridwar/Hardwar
One of the most sacred cities for Hindus, Haridwar (pop. 230,000) is propitiously sited at the point where the river Ganges emerges from the Himalayas. Pilgrims flock to the town throughout the year for a ceremonial dip in the crystal clear waters of the upstream holy Ganges. One of the most important sites in the temple town is Har-ki-Pauri aka Footstep of God and believed to be the precise spot where the Ganges leaves the mountains and enters the plains. The footprint of Lord Vishnu carved on a stone here is a sacred point where devotees hold on to chains to prevent themselves from being swept away while entering the swirling waters of the river. Participating in the Ganga Aarti or river worship performed every evening is an ethereal experience. Thousands of earthen lamps are set afloat here to drift downstream. Har-ki-Pauri is also the venue of the Kumbh Mela held every 12 years with the next slated for 2022.
Also worth a visit by cable car (Rs.100-263) is the Manasa Devi temple dedicated to Lord Shiva's Consort in her Shakti avatar, located on a hill above the city; the Pareshwar Mahadev temple consecrated by a mercury lingam; the Daksha Mahadev temple situated on a spot believed to be the precise location where Lord Shiva's first wife Sati immolated herself.
Accommodation. Options vary from ashram guesthouses to international hotels, all of which are prohibitively priced during peak season (May to July) after which the rates drop by nearly 30-50 percent. Top-end: Hotel Haveli Hari Ganga (Rs.8,400 per night). Mid-range: Hotel Mansarovar International (Rs.2,342); Hotel Theerth (Rs.1,500); Sagar Ganga Resort (Rs.700-1,250); Hotel Alpana (Rs.800-1,500). Budget: Hotel Ashok (Rs.491).
Restaurants. Alcohol and meat consumption are strictly prohibited in the entire town. Several restaurants serve palatable vegetarian fare. Hoshiyar Puri near Hari-ki-Pauri is over 50 years old; Ahaar offers Punjabi food and Chotiwala is famous for idlis and dosas prepared in typical South Indian style.
Excursions. Haridwar offers several excursions to suit differing tastes and temperaments. Rajaji National Park, a wildlife reserve spanning 820 sq. km is best known for its 445-strong population of wild elephants. Tigers, leopards, chital (spotted deer), sloth bears and sambars also inhabit the park. Chilla (13 km) northeast of Haridwar is the starting point for elephant rides in the morning and at dusk. For a fee of Rs.50 one can ride an elephant through the park and be almost sure to sight some wildlife.
Rishikesh

Rishikesh (pop. 260,000) is quieter than Haridwar despite its claim to being the 'Yoga Capital of the World'. Lush hills on three sides and the river Ganges on the fourth endow Rishikesh with a perfect atmosphere for yoga and meditation. The yoga revolution started here in the 1960s, following the visit of the Beatles and sundry spiritual seekers who came here in search of yoga guru Maharishi Mahesh Yogi.
A visit to Rishikesh would be incomplete without a walk across the Lakshman Jhula— a suspension bridge built in 1929, facing the 13-storey temples of Swarg Nivas and Sri Trayanbakeshwar. These orange structures taper to narrow turrets, with dozens of small shrines on each level dedicated to various deities of the Hindu pantheon. A pleasant 2 km walk along the east bank from Lakshman Jhula takes one to Swarg Ashram, where several yoga schools converge.
Meditation and Yoga centres. Numerous ashrams offer courses in meditation, yoga and Hindu philosophy. Reputable among them are: Swarg Ashram & Koyalgati, Gita Ashram, Sri Ved Niketan Ashram, Omkarananda Ganga Sadan etc. Courses ranging from two days to three weeks are priced between Rs.100-300 per day including basic accommodation and simple vegetarian food.
Accommodation. There are several accommodation options here but facilities are basic and cater mainly to the budget traveller. Some of the better known hotels are: Hotel Baseraa (Rs.860-1,260 per night); Hotel Bank Peasants Cottage (Rs.3,800-4,700) and Green Hotel (Rs.1,450-2,250).
Excursions. There are innumerable treks, trails and walk options in the grassy foothills of the Himalayas. Neelkantha Mahadev temple (17 km) is a picturesque four-hour walk from the town. The temple is also accessible by road and regular taxis and buses ply from Rishikesh. Uttarkashi (155 km) is an important pilgrim town on the way to the Char Dhams. The famous Nehru Institute of Mountaineering where Bachhendri Pal — the first Indian woman to climb Mount Everest — was trained is situated here.
Char Dham
Char dham — the four most sacred and revered Hindu temples (Yamunotri, Gangotri, Badrinath, and Kedarnath) — are on the itinerary of every pilgrim visiting the state. All four sites are in scenic locations and thousands of pilgrims throng the dhams every year. The yatra or pilgrimage concept has been well acknowledged by the government and entrepreneurs resulting in a well-established network of hotels and restaurants which provide food and shelter to pilgrims and trekkers alike.
Yamunotri is the source of the Yamuna — the second-most sacred river in India. Gangotri is the originating point of the Ganges — India's most revered river, though the physical source is a cave 18 km further north at Gaumukh. The Gangotri temple was built by Gorkha commander Amar Singh Thapa in the 18th century at the spot, according to legend, where Lord Shiva received Ganga into his matted locks as it descended from the heavens. Kedarnath is the highest (11,827 ft) of the Char Dham and is regarded as one of the holiest shrines of Shaivaite Hindus. Badrinath is sacred to the followers of Lord Vishnu and represents the source of the Alaknandariver. Adi Shankaracharya founded its vividly colourful temple in the eighth century. It is believed that the life of a devout Hindu is incomplete without a pilgrimage to the Char Dham.
Corbett Tiger Reserve

Established in 1936 as India's first national park by legendary shikari Jim Corbett, who put Kumaon on the world map with his book Man-Eaters of Kumaon, the park has an expanse of 1,318 sq. km and abounds in wildlife. The Ramganga reservoir attracts flocks of migratory waterfowl which arrive here in mid-December and stay on till end-March. The park is open November to June. Remember to carry mosquito repellent, adequate water and binoculars. The house formerly occupied by Jim Corbett at Veranda village has been transformed into a museum.
Accommodation. One can choose to stay at Dhikala, Bijrani and Khinnanauli villages inside the park. Bookings are made at Ramnagar. Top-end: Taj Corbett Resort & Spa (Rs.7,394-8,282 per night). Mid-range: Sterling Corbett (Rs.3,012-3,656); Le Roi Corbett (Rs.1,838-2,838); Le Reserve Corbett (Rs.2,172). Budget: Sri Sai Homestay (Rs.830); Him Darshan Vatika (Rs. 820).
Nainital

This pretty as a picture hill station (pop.1 million) was once the summer capital of Uttar Pradesh and is the largest town in Kumaon district. Founded by the British, its misty meadows and glades are reminiscent of the Lake District of England. The wooden clubhouse of the Nainital Boat Club which graces the edge of the lake is an impressive structure. Moreover there are interesting walks criss-crossing the forest around the lake leading to several points for taking in pristine Himalayan vistas.
The Naini Lake from which the town derives its name is believed to be one of the emerald green eyes of Lord Shiva's wife, Sati. Boat rides on the lake are a must on summer evenings. The Aerian Express is a ropeway which takes you up to the popular Snow View point at 7,491 ft. Take in the colourful Gadhan Kunkyop Ling Gompa of the Gelukpa Buddhist order. For the intrepid trekker, China Peak aka Naini Peak is the highest point (8,613 ft) and a short walk from Snow View.
Accommodation. Top-end: The Naini Retreat (Rs.6,196 per night); Manu Maharani Nainital (Rs.5,596-6,552); Vikram Vintage Inn (Rs.4,290-5,711). Mid-range: Royal Hotel (Rs.2,000-2,600); Evelyn Hotel (Rs.2,000-2,500). Budget: Hotel Lake View (Rs.1,500); Alps Hotel (Rs.1,000 onwards).
Excursions. Ranikhet (56 km) is a serene hill station initially established as army barracks by the British. Dwarahat (80 km) has interesting temples with finely carved frescoes. Almora (67 km) is a pastoral hill town famous for its Nanda Devi and Kesar Devi temples where Swami Vivekananda came to meditate.
Trekking in Uttarakhand
With 93 percent of its land area rugged and mountainous, Uttarakhand is a trekkers' and mountaineers' paradise, with bracing trek trails in the Garhwal and Kumaon Himalayas. Tents, rucksacks, sleeping bags etc can be hired at very reasonable rates from the Garhwal Mandal Vikas Nigam (GMVN) trekking and mountaineering division offices at all major towns of Garhwal, and from Kumaon Mandal Vikas Nigam (KMVN) in Kumaon.
GMVN also offers all-inclusive trekking packages to Har-ki-Dun (nine days), Valley of Flowers (eight days), Kuari Pass among others, and are priced at Rs.3,060 per person per day upwards. Alternatively one can hire a porter-cum-guide.
KMVN offers trekking packages in the Kumaon region. Breathtaking though arduous, is the Milam Glacier trek winding through magnificent rugged country to the east of Nanda Devi peak (25,792 ft) following the gorge of the Gori Ganga and the Pindari glacier.
Also read: Education holidays in Egypt