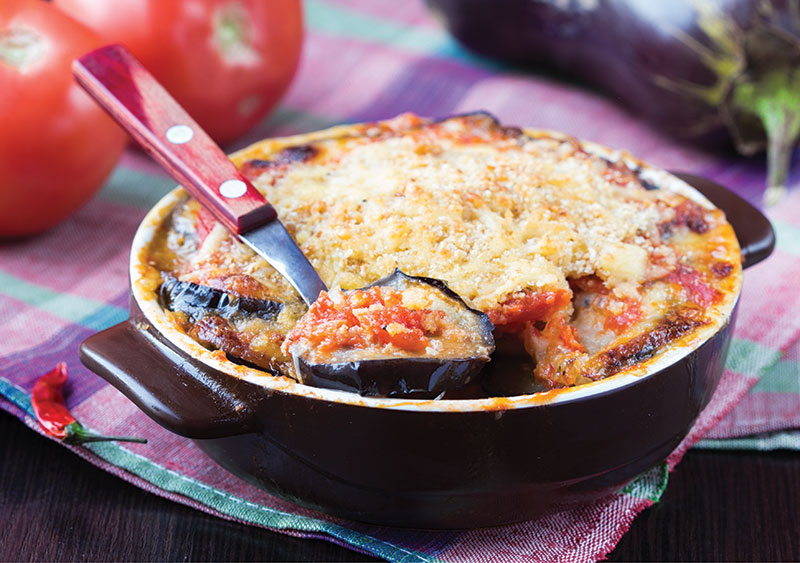 Ingredients
 1.5 kg brinjal, unpeeled and cut into 1/2-inch thick rounds
 1/2 cup olive oil
 1 large onion thinly sliced
 1 cup chopped carrots
 4 minced garlic cloves
 300g chopped mushrooms
 1 tsp oregano
 1/2 tsp ground cinnamon
 750 grams tomato puree
 1 cup grated Parmesan cheese
 6 tbsp butter
 7 tbsp maida
 3 1/2 cups milk
 4 large egg yolks
Preparation Guide
 Sprinkle salt on brinjal and set aside for 30 minutes. Preheat oven to 230°C. Pat brinjal dry. Oil some baking sheets.
 Brush brinjal rounds with 1/4 cup oil. Arrange in single layer on baking sheets. Bake for 10 minutes.
 Turn brinjal and continue baking until tender, about 15 minutes longer. Cool.
 Reduce oven temperature to 180°C.
 Meanwhile, heat 1/4 cup oil in pan.
 Add onion, carrots. Sauté until onion is tender. Mix in garlic, mushrooms.
 Sauté until juices evaporate, about 10 minutes.
 Mix in oregano and cinnamon. Add tomatoes.
 Cook until mixture is thick, about 10 minutes. Season with salt and pepper.
 Lightly oil glass baking dish.
 Arrange half of the brinjal rounds in a single layer. Spoon half of the tomato mixture evenly over eggplant. Sprinkle with 2 tablespoons cheese. Repeat layering with remaining eggplant, tomato mixture and 2 tablespoons cheese.
 Melt butter in a saucepan over medium heat. Whisk in flour (maida). Stir for 2 minutes. Gradually whisk in milk. Simmer until it thickens, stirring constantly, for about five minutes.
 Add in 1/2 cup cheese. Add salt and pepper.
 Whisk egg yolks in large bowl and blend. Gradually whisk into sauce. Pour sauce over vegetables in the baking dish. Sprinkle 1/4 cup cheese over sauce.
 Bake moussaka until heated through and sauce is golden brown on top, about 45 minutes. Cool for 15 minutes and serve.