Situated in the heart of India, the country's second largest state offers visitors the temples of Khajuraho, the serenity of Marble Rocks, stupas of Sanchi, and tigers of the Kanha National Park
As its name implies the state of Madhya Pradesh (central province) is situated in the heart of India. The second largest of the 29 states of the Indian Union, the huge geographical sprawl (308,252 sq. km) of MP (as it's popularly known) offers visitors a multiplicity of leisure and travel options. Whether it is the exquisite statuary and sculptures of the temples of Khajuraho, the ancient stupas of Sanchi, seat of Buddhism, the serene and peaceful waters of Marble Rocks or the Kanha National Park famous for its tigers, MP has plenty to offer business and leisure travellers. Though given its size state-wide tours are a tall order, its major cities Bhopal (the admin capital), Jabalpur, Indore and Gwalior offer numerous excursion options.
The recorded history of Madhya Pradesh dates back to the time of venerated emperor Ashoka (300 BC).
Subsequently a major portion of central India was incorporated into the Gupta Empire (300-550 AD). In the first half of the seventh century it was incorporated into the domain of emperor Harsha. In the early 11th century when Central Asian Muslims started invading central India, Mahmud of Ghazni and then Mohammad Gori integrated several parts of the state into the Delhi Sultanate. It was also part of the Mughal Empire during the rise of the Marathas.
Until the death of Madhoji Scindia in 1794, the Marathas ruled supreme in central India, but subsequently several independent and smaller states came into being. The disintegrated smaller states paved the way for British sovereignty. Around that time, fabled women rulers ruled over Central India and these include Rani Lakshmibai of Jhansi, Ahilyabai Holkar of Indore, Rani Kamla Devi and Rani Durgawati.
When India became independent in 1947, the British Indian Central Provinces and Berar were consolidated into Madhya Pradesh. Boundary changes followed and the state of Chhattisgarh was carved out of Madhya Pradesh in 2000. Forty percent of the tribal population of India, including large numbers of the Bhil and Gond tribes eke out a living in India's second largest state also noted for its ravines and forests.
The state hosts notable cultural events such as the annual Kalidas Samaroh (performing and fine arts) in Ujjain; the Tansen Samaroh (music) in Gwalior, and the Khajuraho Dance Festival, a unique extravaganza of performing artistes.
Comments Renu Diwan, a Mumbai-based physician who has visited MP several times: "The contrast between different places within Madhya Pradesh is immense, not only in terms of natural beauty and scenic spots, but also in infrastructure and hotel facilities."
Bhopal
The picturesque capital of Madhya Pradesh, Bhopal is set around a lake and is renowned for its archaeological wealth. It is sited on a 11th century city, Bhojapal, named after Raja Bhoj. But the founder of Bhopal was Dost Mohammed, an Afghan soldier. Contemporary Bhopal represents a multi-faceted profile. The old quarter with its teeming marketplaces and grand old palaces and mosques coexists with the new city with verdant, exquisitely laid out parks and gardens, broad avenues and modern offices.
Bhopal's monuments and buildings represent a fusion of varied architectural styles. Epitomising modern Bhopal is Bharat Bhawan, designed by avant-garde architect the late Charles Correa which is a unique centre for the visual and performing arts. Its high point is the Roopankar museum with exotic tribal and folk-art exhibits. Another architectural gem is Gohar Mahal, built by Kudsia Begum in 1820, representing an amalgam of Hindu and Mughal architecture. The city's famous landmark, Jama Masjid, was also built by Kudsia Begum and is distinguished by gold spikes crowning its minarets.
Visitors to MP's capital could also take in the Laxmi Narayan Temple located on the Arera hills. The contiguous Birla Museum houses a collection of scriptures from the Raisen, Sehore, Mandsaur and Shahdot districts of Madhya Pradesh. Also worth a visit is the Moti Masjid, architecturally akin to Delhi's Jama Masjid, Shaukat Mahal, Sadar Manzil and the Taj-ul-Masjid. The latter is one of the largest mosques in Asia, built by Shahjahan Begum. There are also several museums located in Bhopal including the Government Archaeological Museum, the Regional Science Centre and the Tribal Arts Museum.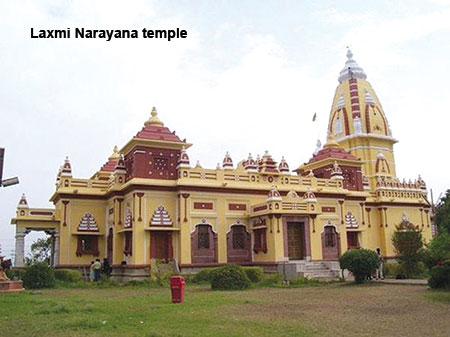 Excursions. These include Islamnagar (11 km), which was once the palace of Bhopal's Afghan rulers and was built by Dost Mohammed Khan. Formal gardens surround the palace and pavilion which is a synthesis of Hindu and Islamic decorative art. Also worth visiting is Hathaikhera (10 km), an ideal fishing and angling spot. Bhojpur (28 km) was founded by the legendary Parmar King, Raja Bhoj and is renowned for the magnificent Bhojeshwar Temple dedicated to Lord Shiva.
Further afield is Chiklod (45 km), summer resort of the former ruler, Nawab Hamidulla Khan; Raisen (45 km) located atop a hill was once a fortress of strategic importance in Malwa, and has nine gateways and three palaces. Bhimbetka (46 km) is an architectural treasure, where paintings in over 500 caves depict the life of prehistoric cave dwellers. Other historic spots include Vidhisha (56 km); Delwadi (62 km) and Ginnorgarh Fort (63 km).
Accommodation. Top-end: Hotel Jelan Numa Palace (Rs.8,146-8,177 per night); Noor-us-Sabah Palace Hotel (Rs.5,450-6,140); Hotel Lake View Ashok (Rs.5,700). Mid-range: Hotel Ranjeet Lake View (Rs.3,400); Hotel Palash (Rs.5,200). Budget: Hotel Arera Palace; Grand Hotel; Hotel Jyoti; Hotel Kings; Kwality's Motel Shiraz (Rs.2,000-3,500).
Gwalior
Several dynasties including the great Rajput clans of the Pratiharas, Kachwahas and Tomars have left an indelible mark on this city of palaces, temples and monuments (pop. 1.2 million). Gwalior's tradition of royalty continues with the Scindias having their dynastic seat here.
Gwalior's history can be traced back to a piquant legend. In 8 AD, a chieftain named Suraj Sen was stricken by a deadly disease. He was cured by a hermit saint called Gwalipa. In gratitude, the chieftain founded a city which he named after the saint who had given him the gift of a new life. Today Gwalior is a vibrant and bustling modern city.
Its skyline is dominated by the Gwalior Fort, built on a steep mass of sandstone and venue of momentous events: imprisonments, battles and jauhars. The Mughal Emperor Babur described it as "the pearl amongst the fortresses of Hind".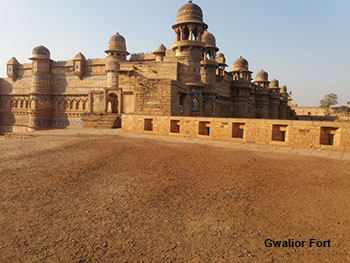 Within the fort are marvels of medieval architecture such as Gujari Mahal, a 15th century monument built by Raja Mansingh Tomar for his queen Mrignayani. The interior has been converted into an archaeological museum with rare antiquities dating back to the first century AD.
Also worth visiting is the Man Mandir Palace, built between 1486 and 1517 by Raja Mansingh. Underground are circular dungeons, which once housed state prisoners of the Mughals including emperor Aurangzeb and his brother, Murad. Close by is the Jauhar Pond where queens committed mass sati after their husbands were defeated in battle.
Teli Ka Mandir and Sas Bahu Ka Mandir are also a must-see. Soaring to a height of 100 ft, the former dates back to 1000 AD while the latter was constructed a hundred years later. Within the fort complex is the renowned Scindia School, ranked as one of the best independent primary-secondary schools of the country.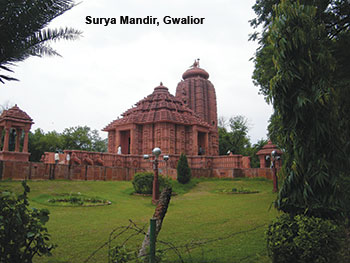 Other monuments worth taking in are Tansen's Tomb, housing the remains of the legendary musician, one of the 'nine jewels' of Emperor Akbar's court. This is also the venue of a national music festival held annually in November-December. You could also visit Ghaus Mohammed's Tomb and the Sun Temple.
Those interested in doing the rounds of museums and art galleries can visit Kala Vithika and the Municipal Museum, as also Sarod Ghar. The latter is a museum of music in the ancestral house of sarod maestro Ustad Hafiz Ali Khan.
Excursions. These include Datia (69 km), a town whose antiquity dates back to the Mahabharata; Sonagiri (3 km), a sacred Jain hill with 77 Jain temples; Pawaya (68 km), a fascinating complex of ruins; Tiger Dam (23 km) and the National Chambal Sanctuary. The Chambal river flows a length of 435 km and is the mainstay of the wildlife of the sanctuary, teeming with a variety of aquatic life such as the Ganges dolphin, freshwater turtles and river otters.
Accommodation. Top-end: Usha Kiran Palace (Rs.6,000-7,000 per night). Mid-range: Hotel Tansen (Rs.2,600-2,800); Hotel Gwalior Regency (Rs.2,600-5,200). Budget: Hotel Mayur (Rs.1,200-1,600); Hotel Safari (Rs.600-1,200); Hotel Residency (Rs.1,800-2,800).
Khajuraho
Once the capital of the Chandela kings, Khajuraho is the stuff of dreams, with magnificent temples dedicated to Lord Shiva, Lord Vishnu and Jain Tirthankaras. The temples were built between 950 and 1050 AD and symbolise the acme of medieval Indian art and architecture. However, only 22 of the original 85 temples are extant. Khajuraho (383 km from Bhopal) was declared a world heritage site in 1986.
The creators of Khajuraho claimed descent from the moon god. According to legend, Hemvati the beautiful young daughter of a Brahmin priest was seduced by the moon god while bathing in the Rati river. The child born of this union was Chandravarman. Harassed by society, the unwed mother sought refuge in the dense forests of central India where she was both mother and guru to her young son, who grew up to found the great Chandela dynasty.
When he was established as a ruler, he had a dream-visitation from his mother, who urged him to build temples that would reveal the erotic passions that govern human beings and by so doing, generate realisation of the emptiness of desire. Chandravarman began the construction of the first of these temples and successive rulers added to the fast-growing complex.
The temples of Khajuraho are divided into three geographical groups: western, eastern and southern. The Western Group of temples include the Kandariya Mahadeo; the Chausat Yogini, Chitragupta, Vishvanath, Lakshmana, and the Matangeshwara temples. A son-et-lumiere (sound and light) show is presented in English and Hindi at 6.30 pm every evening. The Eastern Group of temples include the Jain Temples Parsvanath, Ghantai and Adinath and some Hindu shrines such as the Brahma Vamana and the Javeri temples. The Southern Group of temples about 5 km from Khajuraho, comprise the Duladeo and Chatarbhuj temples. The Archaeological Museum, situated near the Western group contains a rare collection of sculptures, inscriptions, architectural panels and friezes dating back to the 10th and 12th centuries.
Excursions. Panna National Park (32 km), situated in a dense wooded belt forming the northern fringe of a natural teak forest is a protected habitat of tigers.
Panna (44 km) which was once the capital of Chhatrasal, is also known for its temples. The Majhagawan Diamond Mines (56 km), India's only working diamond mine and the largest in Asia, could also interest the visitor.
Accommodation. Top-end: The Lalit Temple View (Rs.5,500-6,300 per night); Hotel Jass Trident (Rs.2,000-3,000); Hotel Holiday Inn (Rs.1,500-2,600). Mid-range: Hotel Khajuraho Ashok (Rs.1,400-1,300) and Hotel Best Western Greenwood (Rs.1,100-1,900). Budget: Hotel Payal (Rs.340-690); Hotel Rahil (Rs.60-250); Tourist Village (Rs.250).
Sanchi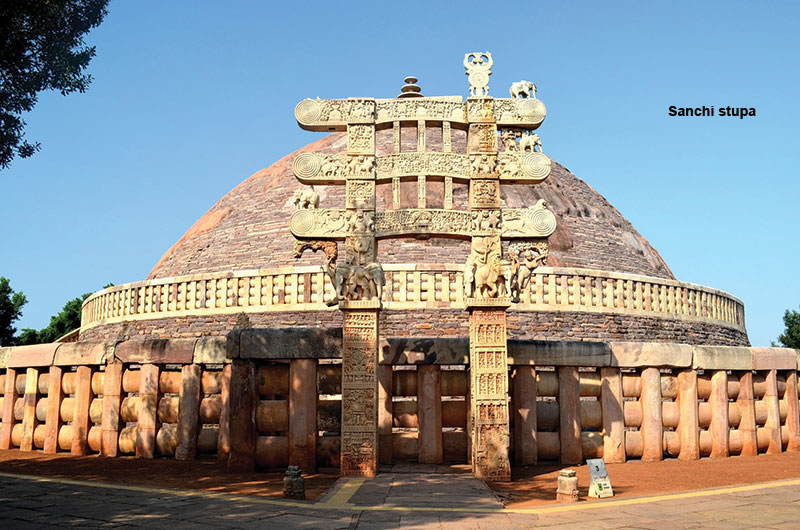 The history of Sanchi dates back to the 3rd century BC when Emperor Ashoka, Buddhism's most famous convert, contrite after the slaughter of the Kalinga war, built the first Buddhist stupas. Since then Sanchi has the singular distinction of harbouring specimens of all Buddhist architectural forms. These include stupas, chaityas, temples and monasteries and are the finest examples of Buddhist creative art and sculpture in the country. Architectural marvels and sculptures of Sanchi include the Ashoka Pillar and images of the Buddha and the Kushan kings.
Particularly worth checking out are the Great Stupa No. 1, the oldest stone structure in India, 36.5 m in diameter and 16.4 m high, with its massive hemispherical dome; the Ashoka Pillar dating back to 300 BC; Buddhist Vihara; Great Bowl; the Gupta Temple and the Museum.
Accommodation. Residential accommodation is sparse and utilitarian. Among the best are Travellers Lodge (Rs.250-450 per night) and Tourist Cafeteria (Rs.200-290). Other accommodation options include PWD and the Buddhist resthouses.
Pachmarhi
Madhya Pradesh's only hill resort (210 km from Bhopal by road) Pachmarhi is a popular destination of nature lovers and sportspersons. Situated at an altitude of 3,600 ft above sea level, it is a large plateau ringed by hills of the Satpura range. Its landscape of rugged hills, forests and ravines is sculpted in red sandstone by wind and weather which add their own colours to the palette of shades. Cascading waterfalls flash silver in the sunshine and azure pools are hidden everywhere. Pachmarhi is also an archaeological treasure house with the cave of the Mahadeo Hills rich with rock paintings, some of which are estimated to be 10,000 years old.
Priyadarshini (Forsyth Point) is a viewing point from where Pachmarhi was conceptualised by Captain Forsyth in 1857. The British developed Pachmarhi as a resort and their influence is embodied in its churches and colonial architecture. Check out Bison Lodge constructed in 1862, the oldest house in Pachmarhi and now a museum depicting the rich flora and fauna of the region. The Catholic Church was built in 1892 by the British, and is a blend of French and Irish architecture. Also worth a visit is Chauragarh, one of Satpura's prominent landmarks, and Chhota Mahadeo, a sacred spot.
Excursions. Satpura National Park declared a protected area in 1981, sprawls over 524 sq. km with a rich variety of wildlife and birds; Beni Forest (20 km) which accounts for much of the country's supply of teak wood is being developed as a wildlife sanctuary.
Accommodation. Top-end: Satpura Retreat (Rs.690-1,790 per night) and Rock End Manor (Rs.1,590-1,990). Mid-range: Hotel Amaltas, Near Tehsil (Rs.550-690); Panchvati Cottages (Rs.790 per cottage), Nilambar Cottage (Rs.500). Budget: D.I. Bungalow (Rs.175); Holiday Homes, near SADA Barriers (Rs.290); Dharamshala (Rs.125 per person).
Ujjain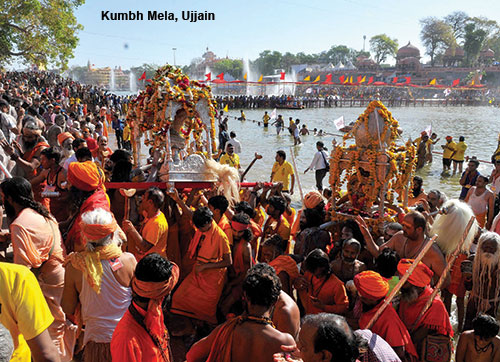 Once one of the greatest cities of India, Ujjain's links with its glorious past have endured to this day, making it a city still renowned for its traditions of spirituality, learning and culture. Sited on the banks of the river Shipra, Ujjain is one of the venues of the Kumbh Mela held every 12 years. Easy access is via motorable roads from Indore (53 km) and Bhopal (183 km).
This ancient city is a haven for the devout, dotted with pilgrim sites and temples including the Mahakaleshwar, the Bade Ganeshji Ka Mandir; and the Chintaman Ganesh temple. One should definitely visit Devas (37 km), a town famous for its hill-top temple of Devi Chamunda.
Accommodation. Top-end: Shipra Hotel (Rs.350-1,790 per night) and Meghdoot Resorts (Rs.450-1,100). Mid-range: Hotel Ashray (Rs.330-880); Hotel Atlas (Rs.350-650); Hotel Siddharth (Rs.350-700).
For further information visit www.mptourism.com
Also Read:Hampi – testimony to a golden age