Sri Chaitanya Group of Institutions
After three decades of under-the-radar growth in Andhra Pradesh and peninsular India, during which it has imperceptibly evolved into the largest chain of proprietorial K-12 private schools in India, and perhaps Asia, the Sri Chaitanya Group's second-generation management has ventured forth to establish it as a national brand in English-medium K-12 education
The ill-advised 65-70 weeks lockdown of all education institutions — the world's most prolonged — to check the spread of the Covid-19 pandemic has accelerated a comprehensive new digital technologies driven makeover in K-12 education countrywide. With middle-class parents compelled to work, and children forced to learn from home, a large and rising number of schools — especially private primary-secondaries which contrary to popular perception, host almost 50 percent of India's 260 million school-going children — have engineered a new ICT (information communication technologies)-driven education revolution.
Suddenly the country's lackadaisical change-resistant education institutions across the spectrum have been pitchforked into the digital age of ICT-enabled teaching-learning. Even as elections-focused politicians played safe by decreeing school and college lockdowns from pre-primaries to universities, managements — especially of the country's 450,000 private schools and 30,000 private higher ed institutions which are totally dependent upon students' tuition and other fees — started pulling out all stops to devise ways and means to maintain learning continuity of students. Fortuitously, this compulsion has resulted in a massive, unprecedented reliance on Internet connectivity and digital learning models.
"Although myopic politicians at the Centre and in the states seem unaware of the huge learning loss of an estimated 200 million children in early childhood and primary education — and that's a staggering number — the silver lining of the dark Covid-19 cloud that has enveloped the country is that the process of digitisation of Indian education has been accelerated by at least ten years. This opens up the possibility of making good the lost learning of the pandemic era through remedial education. India's moribund education system mired in 19th-century rote learning pedagogies has been pushed into the 21st century. This explains the fast growth of edtech (education technology) companies with outlandish valuations that are sprouting like mushrooms," says a Bengaluru-based education consultant preferring to remain anonymous.
Among the first major private education groups off the blocks to transform the threat posed to K-12 education into a rejuvenation opportunity is the Hyderabad/Vijayawadabased Sri Chaitanya Group of Institutions (SCGI), a well-known name in K-10 and junior college (classes XI-XII)) education. Over the past three decades, SCGI has acquired an excellent reputation for preparing students for highly competitive entrance exams of the country's top-ranked engineering and medical undergrad colleges.
Every spring after school examination boards announce their results, daily newspapers in peninsular India harvest an advertising revenue windfall as test-prep (aka coaching) schools such as Akash, FIT-JEE, Allen, Narayana Group among others, purchase full-page ads to proclaim their students who top IIT-JEE/Advanced, NEET and AIIMS entrance exams. To this list add SCGI which claims that a steady 20-25 percent of school-leavers who enter the country's 22 globally renowned IITs, 31 NITs (National Institutes of Technology), and premier medical colleges which administer stiff entrance exams, are its alumni. SCGI is in the vanguard of major test-prep-oriented institutions to transform the pandemic national lockdown into a great leap forward into new-technologies enabled 21st-century primary-secondary education.
Thus far despite SCGI having steadily grown into "Asia's largest school chain" with 750 K-12 schools and junior colleges including 322 state boards-affiliated K-10 Sri Chaitanya Techno Schools, 107 K-12 Sri Chaitanya Schools affiliated with the Delhi-based Central Board of Secondary Education (CBSE) and 321 state boards affiliated junior colleges with an aggregate enrolment of 650,000 students mentored by 29,360 teachers, its brief post-entrance exams print media advertising salvoes aside, it has maintained a low public profile restricted to Andhra Pradesh, Telangana and perhaps Deccan plateau states. But in the past few post-pandemic months, its highly qualified second generation management team has launched several initiatives signaling unambiguous intent to establish SCGI as a significant force in India's K-12 education sector.
In early 2021, when the country's entire education system was in lockdown, SCGI promoted its first major edtech subsidiary (Rankguru Technology Solutions Pvt. Ltd) which has launched Infinity Learn, the group's first hi-tech online education platform. In quick time on June 24, Infinity Learn launched its Sri Chaitanya Outstanding Achievers Reward Examination (SCORE) with a high-voltage promotional programme on NDTV 24×7, the well-reputed English language television news channel.
The objective of SCORE, endorsed by Rohit Sharma, India's white-ball (limited-overs) test cricket captain, is to invite meritorious, high-potential classes III-XII students from socio-economically disadvantaged households whose education has been disrupted by the schools lockdown to write Infinity Learn's talent hunt exams (online or in SCGI schools). The exams, held in late December and early January, evoked enthusiastic response as top rankers in SCORE "will receive global standard mentorship from highly qualified faculty and the finest coaching for IIT/NEET/AIIMS and other competitive entrance exams," says an SCGI spokesperson.
Suddenly after three decades of under-the-radar growth in Andhra Pradesh and peninsular India, during which it has imperceptibly evolved into the largest chain of proprietorial K-12 private schools in India, and perhaps Asia, SCGI's second generation management has ventured forth to establish it as a national brand in English-medium K-12 education.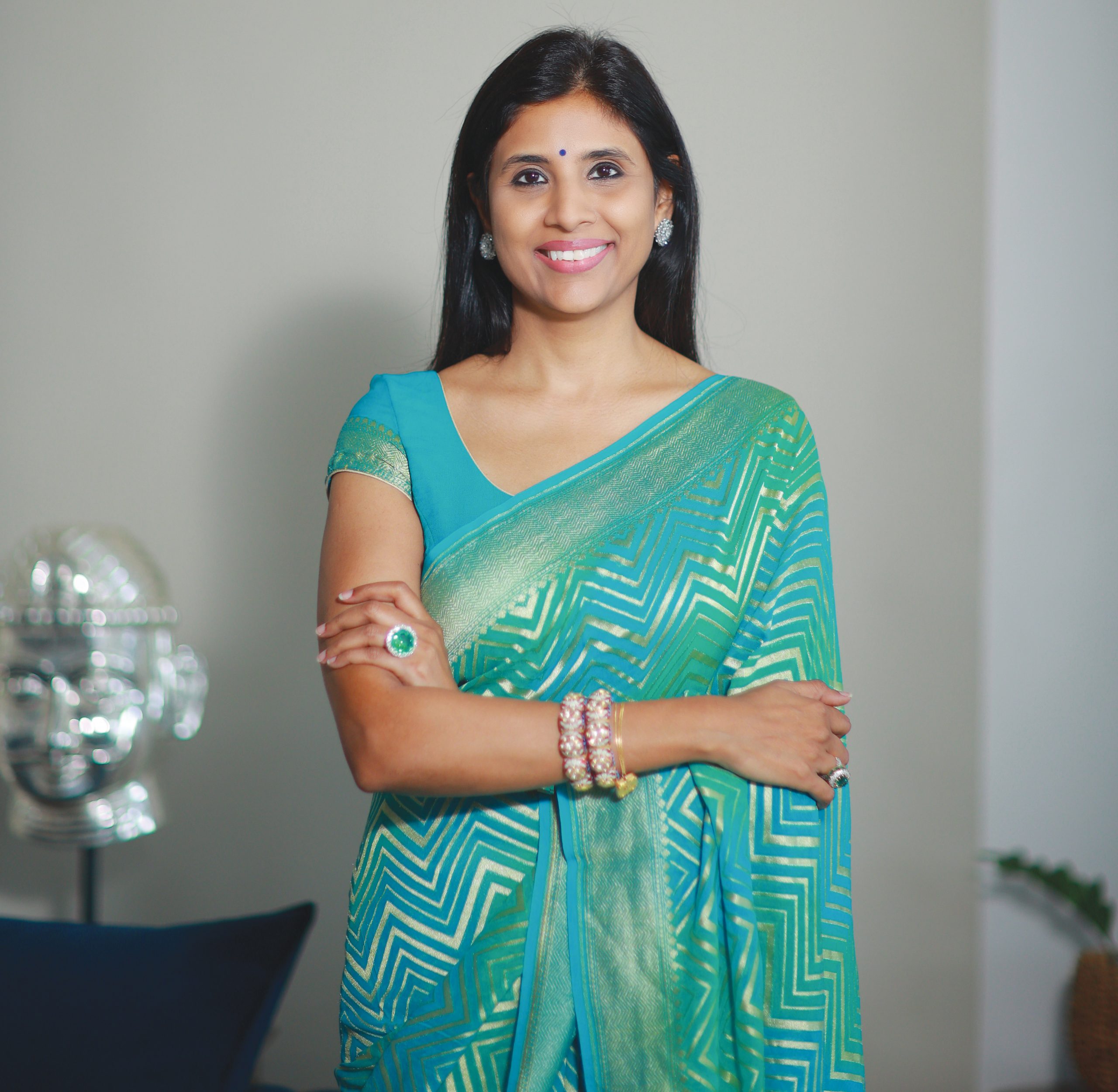 Sushma Boppana, a computer alumna of the top-ranked (except in the Union education ministry's NIRF rankings) BITS-Pilani and Oklahoma State University (USA) with several years' experience in America's health insurance industry and currently Academic Director and de facto CEO of SCGI, confirms that promotion of Infinity Learn and the SCORE national young talent hunt signals the group's intent to expand its national footprint.
"During the past 35 years after the first Sri Chaitanya School was established in Vijayawada, we have continuously evolved and fine-tuned our model of state and CBSE examination board mapped curriculums with highly enriched and value-added SCGI content which prepares students to excel in national entrance examinations such as IIT-JEE, NEET, JIPMER and UPSC. Over the next three years, we intend to promote 200 CBSE-affiliated Sri Chaitanya K-12 schools in several states across India. Our surveys indicate high level of parents and student satisfaction in Andhra, Telangana, Tamil Nadu, Maharashtra and Karnataka with our unique K-12 education model. Now we are set to make the SCGI model available to parents and students countrywide. We believe that our online school Infinity Learn is the perfect platform to lead SCGI's national rollout," says Boppana.
Boppana is unfazed by "ill-informed criticism" that SCGI's 750 schools and junior colleges are old-fashioned cram/factory schools drilling and skilling children through rote learning to excel in competitive entrance exams of top-ranked undergraduate colleges and universities. "In SCGI schools, we hire the country's best teachers who take pains to ensure that our students thoroughly grasp theoretical concepts and develop creativity and analytical skills. When students comprehend theory and its applications, learning becomes a joyful experience. It's absurd to believe that school-leaving students can succeed in competitive entrance exams such as IIT-JEE Advanced and NEET through learning by rote. The secret of our success is our excellent curriculums and pedagogy, and continuous testing. This empowers our students to succeed in highly competitive national entrance exams," adds Boppana.
Although critics and holistic education purists tend to be sceptical, the SCGI Management makes no bones that its prime objective is to ensure the admission of its students into the country's too-few high-quality engineering, technology and medical institutions of professional education. And in the fulfilment of this objective Sri Chaitanya institutions have been very successful.
In the IIT-JEE Advanced Examination 2021, 125 of the Top 1,000 scoring students in the open (merit) category including ranks 1, 8 and 10 were SCGI school-leavers. Moreover, of the Top 100 (all categories — merit, OBC, scheduled castes and tribes), 71 were SCGI students and of the Top 1,000 (all categories), 414 were SCGI graduates. Likewise in NEET 2021 (the national common entrance exam for medical colleges), 9 of the Top 20 and 23 of the Top 100 were SCGI school leavers.
Behind the steady growth and evolution of SCGI into India's largest primary-secondary schools chain is an extraordinary back story. Dr. B.S. Rao and wife Dr. Jhansi Lakshmi Bai Boppana, graduates of Guntur Medical College, practised medicine in the UK and Iran (1974-86) prior to returning to India after 12 years abroad. "When we settled in Vijayawada, we were struck by the low percentage of Andhra students — especially girl children — securing admission into high-ranked engineering and medical colleges. This prompted us to start the Sri Chaitanya Mahila Kalasala (junior college) in 1986 with an initial batch of 87 girl students mentored by ten teachers. Right from the start, our success formula was to recruit welleducated, high-quality teachers and maintain low teacher-pupil ratios to enable teachers to pay individual attention to students. As a result, both my daughters were admitted into excellent universities and have succeeded in nurturing and developing SCGI into the largest schools chain in Asia. In the process, we have earned the gratitude of millions of parents whose children were prepared by us to enter India's best engineering and medical colleges. Development of the SCGI model of school education which is widely respected in Andhra, Telangana and Karnataka for national rollout is proof that girl children can perform miracles, if given high quality schooling and higher education," says Dr. B.S. Rao, chairman of SCGI.
Restricted Content / Members Only
You cant read further without a subscription. If already a subscriber please Login or to subscribe click here