Sri Chaitanya Group of Institutions
After three decades of under-the-radar growth in Andhra Pradesh and peninsular India, during which it has imperceptibly evolved into the largest chain of proprietorial K-12 private schools in India, and perhaps Asia, the Sri Chaitanya Group's second-generation management has ventured forth to establish it as a national brand in English-medium K-12 education
The ill-advised 65-70 weeks lockdown of all education institutions — the world's most prolonged — to check the spread of the Covid-19 pandemic has accelerated a comprehensive new digital technologies driven makeover in K-12 education countrywide. With middle-class parents compelled to work, and children forced to learn from home, a large and rising number of schools — especially private primary-secondaries which contrary to popular perception, host almost 50 percent of India's 260 million school-going children — have engineered a new ICT (information communication technologies)-driven education revolution.
Suddenly the country's lackadaisical change-resistant education institutions across the spectrum have been pitchforked into the digital age of ICT-enabled teaching-learning. Even as elections-focused politicians played safe by decreeing school and college lockdowns from pre-primaries to universities, managements — especially of the country's 450,000 private schools and 30,000 private higher ed institutions which are totally dependent upon students' tuition and other fees — started pulling out all stops to devise ways and means to maintain learning continuity of students. Fortuitously, this compulsion has resulted in a massive, unprecedented reliance on Internet connectivity and digital learning models.
"Although myopic politicians at the Centre and in the states seem unaware of the huge learning loss of an estimated 200 million children in early childhood and primary education — and that's a staggering number — the silver lining of the dark Covid-19 cloud that has enveloped the country is that the process of digitisation of Indian education has been accelerated by at least ten years. This opens up the possibility of making good the lost learning of the pandemic era through remedial education. India's moribund education system mired in 19th-century rote learning pedagogies has been pushed into the 21st century. This explains the fast growth of edtech (education technology) companies with outlandish valuations that are sprouting like mushrooms," says a Bengaluru-based education consultant preferring to remain anonymous.
Among the first major private education groups off the blocks to transform the threat posed to K-12 education into a rejuvenation opportunity is the Hyderabad/Vijayawadabased Sri Chaitanya Group of Institutions (SCGI), a well-known name in K-10 and junior college (classes XI-XII)) education. Over the past three decades, SCGI has acquired an excellent reputation for preparing students for highly competitive entrance exams of the country's top-ranked engineering and medical undergrad colleges.
Every spring after school examination boards announce their results, daily newspapers in peninsular India harvest an advertising revenue windfall as test-prep (aka coaching) schools such as Akash, FIT-JEE, Allen, Narayana Group among others, purchase full-page ads to proclaim their students who top IIT-JEE/Advanced, NEET and AIIMS entrance exams. To this list add SCGI which claims that a steady 20-25 percent of school-leavers who enter the country's 22 globally renowned IITs, 31 NITs (National Institutes of Technology), and premier medical colleges which administer stiff entrance exams, are its alumni. SCGI is in the vanguard of major test-prep-oriented institutions to transform the pandemic national lockdown into a great leap forward into new-technologies enabled 21st-century primary-secondary education.
Thus far despite SCGI having steadily grown into "Asia's largest school chain" with 750 K-12 schools and junior colleges including 322 state boards-affiliated K-10 Sri Chaitanya Techno Schools, 107 K-12 Sri Chaitanya Schools affiliated with the Delhi-based Central Board of Secondary Education (CBSE) and 321 state boards affiliated junior colleges with an aggregate enrolment of 650,000 students mentored by 29,360 teachers, its brief post-entrance exams print media advertising salvoes aside, it has maintained a low public profile restricted to Andhra Pradesh, Telangana and perhaps Deccan plateau states. But in the past few post-pandemic months, its highly qualified second generation management team has launched several initiatives signaling unambiguous intent to establish SCGI as a significant force in India's K-12 education sector.
In early 2021, when the country's entire education system was in lockdown, SCGI promoted its first major edtech subsidiary (Rankguru Technology Solutions Pvt. Ltd) which has launched Infinity Learn, the group's first hi-tech online education platform. In quick time on June 24, Infinity Learn launched its Sri Chaitanya Outstanding Achievers Reward Examination (SCORE) with a high-voltage promotional programme on NDTV 24×7, the well-reputed English language television news channel.
The objective of SCORE, endorsed by Rohit Sharma, India's white-ball (limited-overs) test cricket captain, is to invite meritorious, high-potential classes III-XII students from socio-economically disadvantaged households whose education has been disrupted by the schools lockdown to write Infinity Learn's talent hunt exams (online or in SCGI schools). The exams, held in late December and early January, evoked enthusiastic response as top rankers in SCORE "will receive global standard mentorship from highly qualified faculty and the finest coaching for IIT/NEET/AIIMS and other competitive entrance exams," says an SCGI spokesperson.
Suddenly after three decades of under-the-radar growth in Andhra Pradesh and peninsular India, during which it has imperceptibly evolved into the largest chain of proprietorial K-12 private schools in India, and perhaps Asia, SCGI's second generation management has ventured forth to establish it as a national brand in English-medium K-12 education.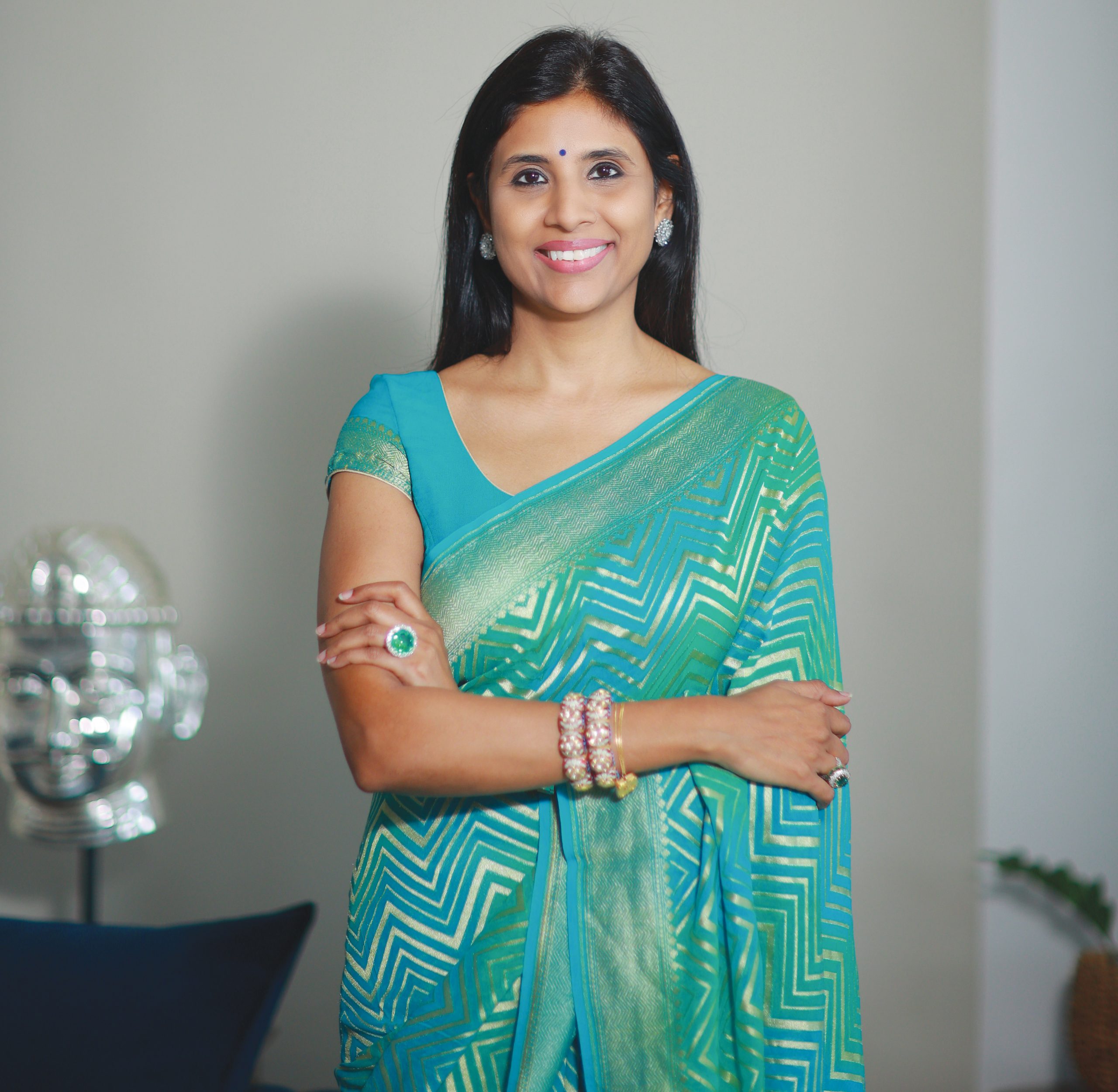 Sushma Boppana, a computer alumna of the top-ranked (except in the Union education ministry's NIRF rankings) BITS-Pilani and Oklahoma State University (USA) with several years' experience in America's health insurance industry and currently Academic Director and de facto CEO of SCGI, confirms that promotion of Infinity Learn and the SCORE national young talent hunt signals the group's intent to expand its national footprint.
"During the past 35 years after the first Sri Chaitanya School was established in Vijayawada, we have continuously evolved and fine-tuned our model of state and CBSE examination board mapped curriculums with highly enriched and value-added SCGI content which prepares students to excel in national entrance examinations such as IIT-JEE, NEET, JIPMER and UPSC. Over the next three years, we intend to promote 200 CBSE-affiliated Sri Chaitanya K-12 schools in several states across India. Our surveys indicate high level of parents and student satisfaction in Andhra, Telangana, Tamil Nadu, Maharashtra and Karnataka with our unique K-12 education model. Now we are set to make the SCGI model available to parents and students countrywide. We believe that our online school Infinity Learn is the perfect platform to lead SCGI's national rollout," says Boppana.
Boppana is unfazed by "ill-informed criticism" that SCGI's 750 schools and junior colleges are old-fashioned cram/factory schools drilling and skilling children through rote learning to excel in competitive entrance exams of top-ranked undergraduate colleges and universities. "In SCGI schools, we hire the country's best teachers who take pains to ensure that our students thoroughly grasp theoretical concepts and develop creativity and analytical skills. When students comprehend theory and its applications, learning becomes a joyful experience. It's absurd to believe that school-leaving students can succeed in competitive entrance exams such as IIT-JEE Advanced and NEET through learning by rote. The secret of our success is our excellent curriculums and pedagogy, and continuous testing. This empowers our students to succeed in highly competitive national entrance exams," adds Boppana.
Although critics and holistic education purists tend to be sceptical, the SCGI Management makes no bones that its prime objective is to ensure the admission of its students into the country's too-few high-quality engineering, technology and medical institutions of professional education. And in the fulfilment of this objective Sri Chaitanya institutions have been very successful.
In the IIT-JEE Advanced Examination 2021, 125 of the Top 1,000 scoring students in the open (merit) category including ranks 1, 8 and 10 were SCGI school-leavers. Moreover, of the Top 100 (all categories — merit, OBC, scheduled castes and tribes), 71 were SCGI students and of the Top 1,000 (all categories), 414 were SCGI graduates. Likewise in NEET 2021 (the national common entrance exam for medical colleges), 9 of the Top 20 and 23 of the Top 100 were SCGI school leavers.
Behind the steady growth and evolution of SCGI into India's largest primary-secondary schools chain is an extraordinary back story. Dr. B.S. Rao and wife Dr. Jhansi Lakshmi Bai Boppana, graduates of Guntur Medical College, practised medicine in the UK and Iran (1974-86) prior to returning to India after 12 years abroad. "When we settled in Vijayawada, we were struck by the low percentage of Andhra students — especially girl children — securing admission into high-ranked engineering and medical colleges. This prompted us to start the Sri Chaitanya Mahila Kalasala (junior college) in 1986 with an initial batch of 87 girl students mentored by ten teachers. Right from the start, our success formula was to recruit welleducated, high-quality teachers and maintain low teacher-pupil ratios to enable teachers to pay individual attention to students. As a result, both my daughters were admitted into excellent universities and have succeeded in nurturing and developing SCGI into the largest schools chain in Asia. In the process, we have earned the gratitude of millions of parents whose children were prepared by us to enter India's best engineering and medical colleges. Development of the SCGI model of school education which is widely respected in Andhra, Telangana and Karnataka for national rollout is proof that girl children can perform miracles, if given high quality schooling and higher education," says Dr. B.S. Rao, chairman of SCGI.
Dr. Rao's initiatives in K-12 education have not gone unnoticed. In 2015 in acknowledgment of the pioneer leadership role that Dr. Rao has played in transforming the education landscape of Andhra Pradesh and Telangana during the past three decades, EducationWorld conferred its Lifetime Achievement in Education Leadership Award upon him.
Dr. Rao's formula of hiring "bright youngsters" as teachers, training them intensively and paying them well (Rs.25,000-13 lakh per month), maintaining low teacher-pupil ratios and continuous testing for remedial education, has paid off spectacularly.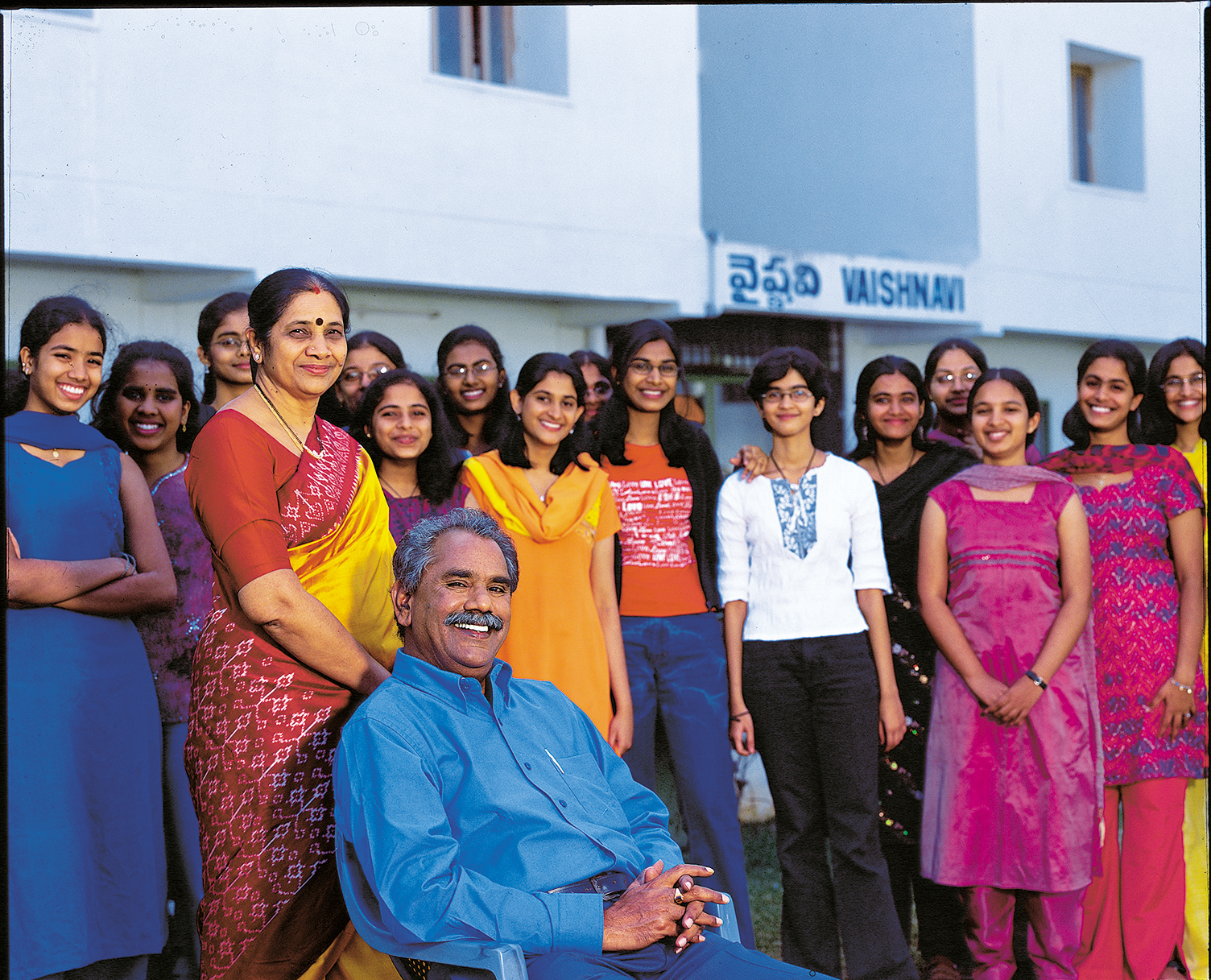 Over the past 36 years, the number of Sri Chaitanya institutions has risen to 750 with an aggregate enrolment of 650,000 eager-to-learn girl and boys. The excellent reputation of SCGI in Andhra and Telangana which has a fast-expanding middle class that places high premium on professional engineering, technology and medical education, generated widespread public demand for backward integration from junior colleges into K-12 education. As a result, currently 321 SCGI Techno schools are providing K-10 education to 400,000 children mentored by 9,000 teachers.
"Sri Chaitanya Techno K-10 state boards and K-12 CBSE affiliated schools are the outcome of pressing demand from the public to provide the SCGI model of IIT foundation education. Our schools deliver high quality primary-secondary education mapped with official examination boards but supplemented by enriched mathematics and science curriculums to prepare students from early age for entry into IITs and premier engineering and science colleges countrywide. However, it's a misconception that Sri Chaitanya schools are rote learning factories drilling, skilling and stressing children for success in competitive exams and Olympiads. In Indian K-12 education, the gap between class X and higher secondary education is very wide. In Sri Chaitanya schools, our objective is to reduce the big jump that class X students have to make through our enriched curriculums dispensed by excellent teachers from class VI onwards," says Seema Boppana, a business management and computer sciences graduate of Oklahoma State University and Academic Director (K10) at SCGI.
Although it's fashionable — especially among left-liberals and communists — to disparage family-run enterprises and proclaim the virtues of professionally managed enterprises, the pathetic failure of postindependence India's estimated 366 Central and numerous state government public sector enterprises (PSEs) established at huge socio-economic development (public education and health) opportunity cost, is a telling example of premature professionalisation of business and service organisations. Therefore, the SCGI promoter-family has prudently resisted the temptation to divest management control and/or introduce the franchise model to safeguard against brand dilution. Fortunately or by design, even the all-important portfolio of wiring up the SCGI empire and investing it with sophisticated and continuously evolving Internet and cloud technologies is managed by a highly-qualified inner family member.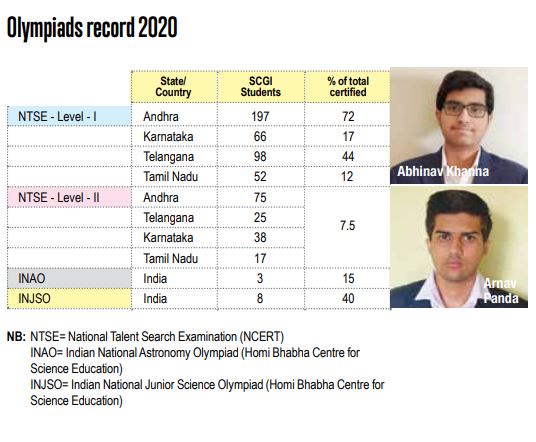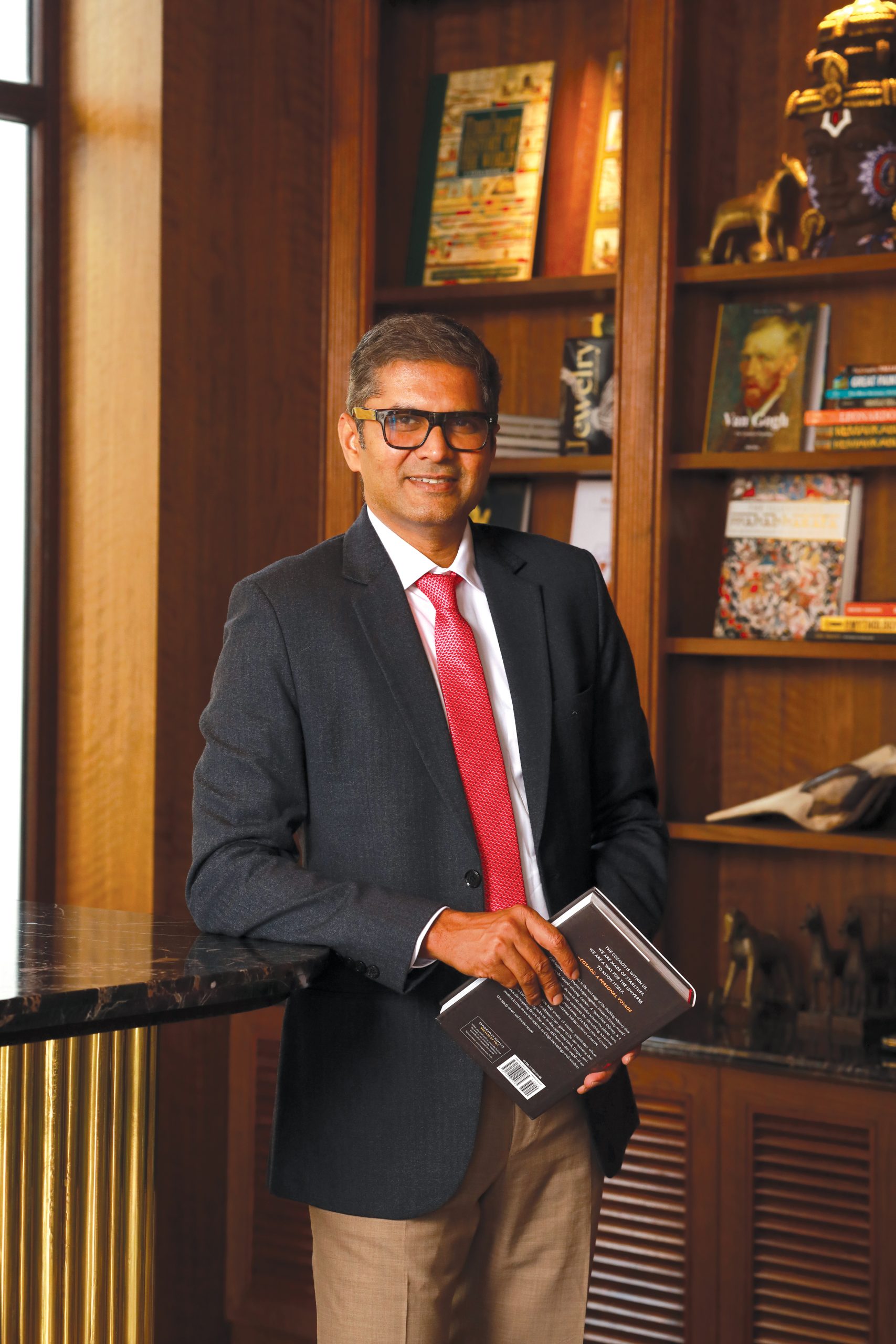 A computer science alum of Wayne State University, USA with valuable professional management experience in the US (Cavalry Portfolio Services, New York, 2000-07) — and Academic Director/CEO Sushma Boppana's husband — Y. Sridhar is Director of Operations at SCGI. In this capacity, he manages three cohorts of 900 highly-skilled professionals who run the IT, finance and infrastructure services departments of SCGI.
"Until 2007 when the number of Sri Chaitanya institutions had grown to 70, the administrative and accounts systems were managed manually. At that time, we realised that multiplication of SCGI junior colleges and schools to meet public demand would be impossible without induction of new digital technologies. Since then, we have designed and evolved a comprehensive Student Management System (SMS) that continuously maps all SCGI students' academic progress, fees payment record and transportation logistics. Our SMS enables us to monitor the SWOT (strengths, weakness, opportunities and threats) of every student and intervene with remedial education when necessary. Moreover, the customised MIS (management information system) that we have designed and evolved over the past 14 years for financial and infrastructure management has proved vitally important to the expansion and scaling of SCGI," says Sridhar.
Nevertheless it speaks well of the judgement of Dr. Rao and the promoter family that 35 years after they conceptualised, developed and continuously improved its unique school examination boards-mapped enriched curriculums and pedagogies for competitive exams, the family has recognised the limits of proprietorial capabilities. Therefore, to aid and enable the group's national rollout, it has inducted Ujjwal Singh, a highly qualified, tried and tested ICT and education professional with international experience, into its top management.
A physics alumnus of Patna University and the top-ranked IIM-Bangalore, with extensive professional work experience in several blue-chip corporations including TCS, NIIT, Hughes Communications, the pioneer iDiscoveri and Pearson India, Singh was hitherto the London-based global K-12 and English Language training director of the education multinational Pearson Plc (annual revenue: $4 billion or Rs.30,00 crore). Therefore, his induction as CEO of SCGI's new Hyderabad-based edtech venture Infinity Learn (Rankguru Technology Solutions Pvt. Ltd) is a recruitment coup that's almost a sure-fire guarantee of success.
In quick time, Singh has launched Infinity Learn, the group's first senior (classes IX-XII) online school designed to gradually transform into a fully online K-12 institution. Infinity Learn has set an ambitious target of 1 million subscriber learners by March 31, 2023. The auguries are good. Thanks to the widely advertised SCORE talent hunt endorsed by popular test cricket star Rohit Sharma, Infinity Learn has signed up over 10,000 subscriber learners (at Rs.99-40,000 per year) in the June-December period.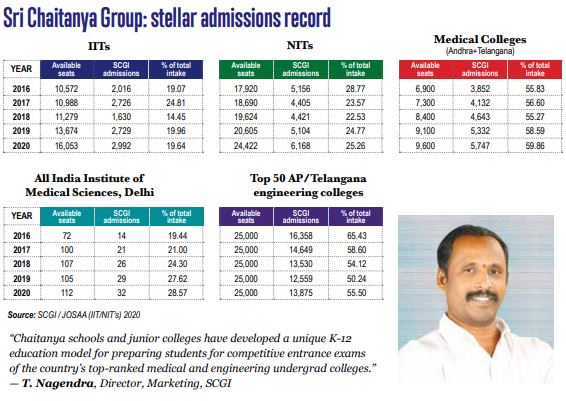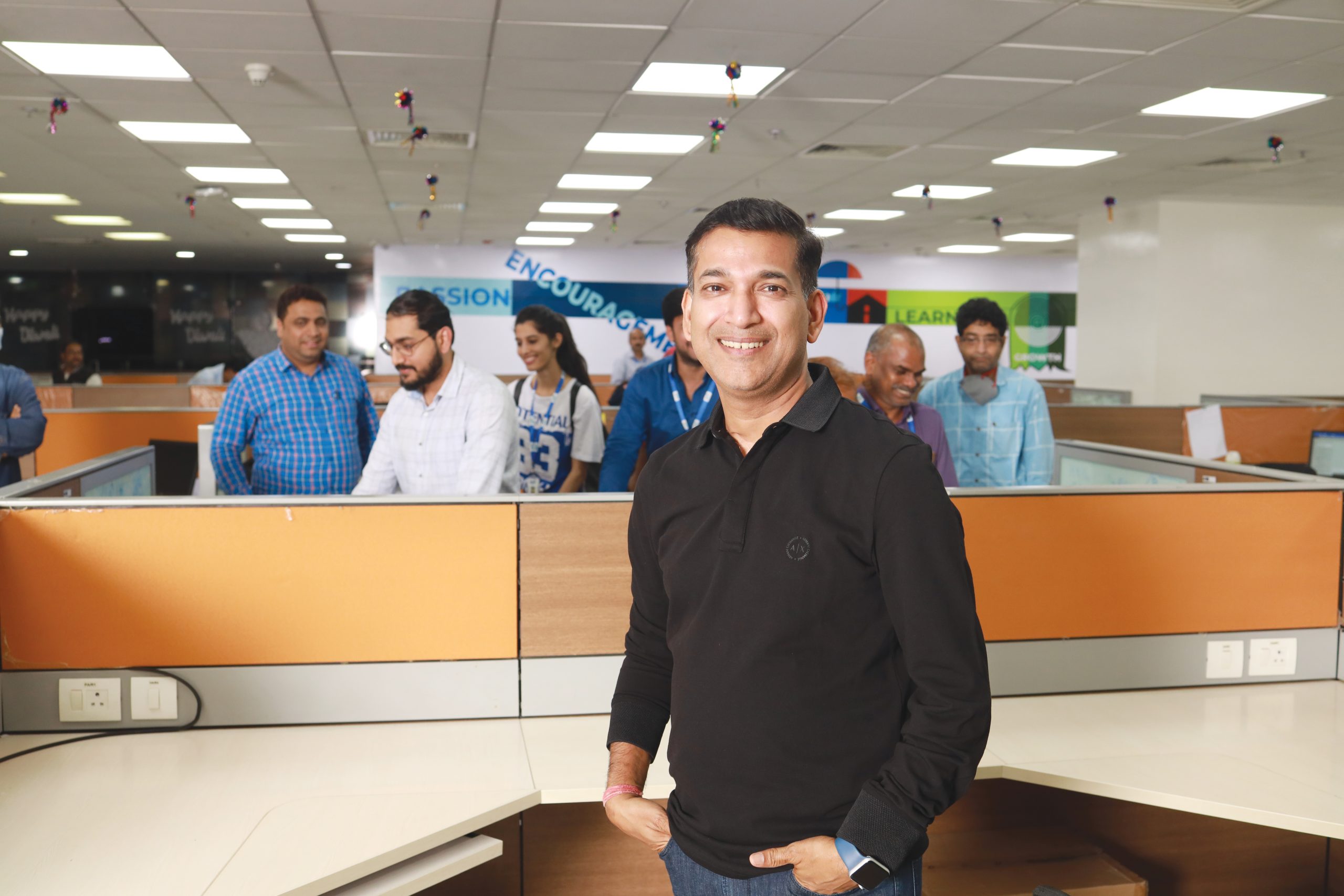 Over the past 35 years, the SCGI management has designed robust school examination boards mapped curriculums and pedagogies that prepare school-leaving students to top the entrance examinations of IITs, NEET, AIIMs, IISc and the country's Top 100 science and technology undergrad colleges. Infinity Learn is an edtech company that provides the tried, tested and successful SCGI model online to prepare students countrywide for success in competitive entrance examinations of India's most respected higher education institutions. Driven by highly-qualified and intensively-trained faculty, over the next three years Infinity Learn will transform into a fully online K-12 school with 300 teachers to provide online education, supplementary tuition and conduct remedial education classes for children to learn deeply and meaningfully. Our prime objective is to enable our students to thoroughly grasp fundamental concepts and develop analytical, creative and knowledge application skills from young age and enter the best higher education institutions in India and abroad. I believe this enterprise will not only serve students in India, but in the Asia Pacific region and Africa as well, to learn meaningfully at their own pace," says Ujjwal Singh.
With its purpose driven deep-dive learning pedagogies dispensed by highly-trained teachers, supplemented by weekly testing and continuous practice of archival board examination papers and advanced digital technologies, the SCGI management is all set to move beyond peninsular India and establish a national footprint. "Over the next three years, we intend to promote 200 CBSE-affiliated Sri Chaitanya schools in several states and new geographies. These schools will enrol over 200,000 students and create well-remunerated employment for 10,000 young teachers who will learn to teach the Sri Chaitanya way. I believe that the fast-expanding Indian economy urgently needs high quality scientists, engineers and medical practitioners who will perform optimally if they have the benefit of the K-12 education model we have developed over the past 35 years," says Sushma Boppana, the outcomes-driven Academic Director and CEO of SCGI.
The malignant winds that have prompted lockdown of India's already sub-optimal education institutions for 65-70 weeks have exacted a heavy toll in terms of learning loss and future prospects of the world's largest child and youth population. Yet some good that they have visited upon the faltering economy is acceleration of digitalisation and professionalisation of Indian education. For too long, memorisation and rote learning has been the bane of the country's K-12 education system. The national rollout of the SCGI model offers the prospect of amendment, perhaps reversal, of this infirmity.
Photo credits: Rakesh Kurrra, Hyderabad.