Almost 180 years after British educationist Lord Macaulay penned his famous Minute on Education decreeing an education system to train clerks for the British raj, an overwhelming majority of the country's 1.4 million schools are loyally following Macaulay's education system. Fortunately all is not lost – Summiya Yasmeen
1916. Typical school classroom scene in British India. Children are seated at row desks with a teacher at the head of the class instructing students from a textbook. This daily routine culminates in a sudden death memory-testing exam at the end of the academic year.
2016. Typical classroom in post-independence India. Children are seated at row desks with a teacher at the head of the class instructing students from a textbook. This will culminate in a sudden death memory-testing exam at the end of the academic year.
Over the past century, while urban India has moved from the bullock cart to automatic motorcars, from scarce landline telephones to almost 1 billion touch screen smartphones, and from queuing up at ration shops to online shopping, Indian education is still mired in the colonial era. Almost 180 years after Lord Macaulay penned his famous Minute on Education decreeing an education system designed to train clerks for the British Raj, and in the process uprooted "the beautiful tree" of the gurukul system of Indian education based on peer learning pedagogies, the overwhelming majority of the country's 1.40 million schools — especially 1.20 million government primary-secondaries — are loyally following Macaulay's education system designed to churn out armies of government clerks.
"Indian education was redesigned by the British in the 18th century. Its purpose was to produce people who would be useful for administering British rule in India. At the time, India had already been conquered and ruled by people from Central Asia for over 800 years. No trace of its earlier heritage was either evident or in public memory. Indians had forgotten what it was like to be free. British-designed education to produce clerks and factory workers continued after independence. Amazingly, it continues even today. Government schools in particular, go on mindlessly producing 19th century people using 19th century curriculums, 19th century pedagogy and 19th century examination systems. But 21st century learners learn differently. We need to factor the Internet into our schools and examinations, and set up collaborative learning spaces in schools", said Dr. Sugata Mitra, professor of education technology at Newcastle University, UK, in an interview with EducationWorld (May 2016). Dr. Mitra is an awardee of the TED prize (2013) for his Computer-in-the-Wall experiment, and has subsequently pioneered the Internet-enabled SOLE (self-organised learning environment) and School in the Cloud innovations in K-12 education.
Although post-independence India's middle class has almost entirely opted for early childhood and primary-secondary education provided by the country's 320,000 fees-levying private schools, and even bottom-of-the-pyramid households are abandoning free-of-charge government schools in droves, the quality of education provided by the majority of India's private schools is only relatively superior. According to the Quality Education Study 2011 conducted by Bangalore-based IT major Wipro Ltd and Ahmedabad-based Educational Initiatives Pvt. Ltd which assessed 23,000 students of 89 English-medium private primary-secondaries countrywide, students of India's top private schools are also uncritically learning by rote, and perform dismally in global standardised tests.
In 2010, a batch of 15-year-olds (class X) from government and private secondaries in Himachal Pradesh and Tamil Nadu (ranked among the country's most educationally advanced states) were — for the first time ever — selected to write the Programme for International Student Assessment (PISA) test conducted by OECD (a club of industrialised first world countries), which measures the unprepared, real learning outcomes of 15-year-olds in reading, maths and science. The Indian contingent was ranked 73rd among 74 countries — just above Kyrgyzstan.
"It's imperative that the country's educators abandon their fears and try out new ways of teaching as 21st-century India needs job creators and innovators, not armies of clerks good at following instructions and performing repetitive tasks", says Meeta Sengupta, an alumna of IIM-Ahmedabad, who has worked with several blue-chip organisations including Citibank, JP Morgan and the London Business School and is currently a Delhi-based writer and education and skills development advisor to several think tanks including Centre for Civil Society and FICCI.
Fortunately, all is not lost. A small number of progressive schools led by committed educationists in pockets across the country are experimenting with new pedagogies and processes in their classrooms. If replicated en masse, their example could revive India's moribund education system and enable the country's 260 million school-going children to develop vital skills required to compete in a rapidly globalising 21st century milieu. In the pages following, EW highlights eight pedagogy innovations introduced by schools in the vanguard of an emerging education revolution in India.
Activity-based learning
Designed and tested by the Rishi Valley Rural Education Centre (RVREC) of the pioneer alternative education Rishi Valley School, Chittoor (Andhra Pradesh) in the 1990s, activity-based learning (ABL) is a child-centric pedagogy under which children of mixed ages are grouped in classrooms to encourage peer learning and self-study using activity cards and worksheets, with teachers discharging the role of facilitators.
The pedagogies of peer and self-learning are integral to ABL with children experiencing individual, teacher and group-assisted learning, enabling the teacher to pay personal attention and record the achievement levels of every child. The number of children per class is restricted to 30.
In 2003, M.P. Vijayakumar, then commissioner of the Chennai Municipal Corporation (CMC), adopted the ABL model in 13 corporation schools, which was later expanded to all 264 CMC schools in the city. Subsequently in 2006, when Vijayakumar was appointed project director of Sarva Shiksha Abhiyaan in Tamil Nadu, he persuaded the DMK government to implement ABL in all 34,871 government primaries of the state.
"There's been remarkable improvement in children's confidence levels, communication skills, interaction with teachers and their ability to understand concepts. This learning-by-doing pedagogy allows children to learn and progress at their own pace. The government is constantly working on improving ABL implementation and we are currently focusing on upgrading students reading and maths skills", says the headmistress of a government primary in Coimbatore, who insisted upon anonymity as prior permission of N. Arul Murugan, CEO of the TN state school education department, is required for her to speak to the media. Several calls and emails to Murugan by our Coimbatore correspondent Hemalatha Raghupathi elicited no response.
Tamil Nadu's ABL success story has attracted the attention of the Central as well as state governments countrywide. Currently, ABL pedagogy is being implemented in selected government primary schools in Karnataka, Kerala, Uttar Pradesh, Gujarat, Madhya Pradesh, Haryana, Maharashtra and Union territories of Chandigarh and Puducherry.
Experiential learning
Manit Jain is promoter-director of the Heritage Group of three K-12 schools in Delhi NCR with an aggregate enrolment of 6,000 students and 600 teachers. An alumnus of the Harvard School of Education, Jain began implementing experiential learning (EL) in the Heritage School, Gurgaon in 2004. Over the past 12 years, Jain has successfully mainstreamed EL pedagogies in the group's three schools.
What is the essence of experiential learning (EL) pedagogy?
Its centred upon learning about life through real-life experiences. It teaches children how to learn and makes them learners for life. It also implants empathy and shapes young minds to accept multiple perspectives. The modern approach to experiential learning was developed in the 1970s by US-based education philosopher David A. Kolb.
What factors motivated you to implement EL in the Heritage schools?
Traditional classrooms discourage critical thinking and multiple perspectives. All learning has to be distilled into one correct answer to be reproduced in the exam. Workplaces now demand out-of-the-box thinkers and innovators, change managers and leaders who can build teams and leverage team strength. Our current education system has failed children. Dissatisfaction with passive rote learning prompted us to innovate.
How did you integrate EL into the Heritage curriculum?
The three Rs — relevance, relationships and rigour — are the cornerstones of experiential learning. We integrated EL into our classrooms through multi-disciplinary learning expeditions and projects. For instance, through a bicycle expedition, our students learnt basic science (the engineering of a bicycle), social science (history of the bicycle leading to women's empowerment), language (reading and writing about it), visual art (sketching), and math (calculating speeds, distances etc).
To prepare our teachers to deliver EL, we enlisted the help of reputed training organisations including education NGO Eklavya, curriculum development company XSEED and the US-based Expeditionary Learning Schools.
How satisfied are you with the results of EL implementation in your schools?
Very satisfied. Our children experience a huge sense of meaning in their work. EL has also tremendously improved students academic achievement. Heritage, Gurgaon is ranked among the country's Top 25 CBSE schools in terms of student scores in the class XII board exam.
Differentiated instruction
Aditya Patil is founder-CEO of the new-age Ascend International School (AIS), Mumbai, promoted in 2011 by the Kasegaon Education Society which runs 46 education institutions with an aggregate enrolment of 26,000 students in Maharashtra. AIS is modeled after its highly-reputed partner institution, the Seattle (USA)-based University Child Development School, and follows the differentiated instruction pedagogy for all subjects including science, math, music, art, design and technology. Currently the school offers the primary years programme (PYP) of the Geneva-based International Baccalaureate to 175 students mentored by 50 teachers.
Dipta Joshi interviewed Aditya Patil in Mumbai.
What are the essential characteristics of differentiated instruction?
Under this pedagogy, teachers tailor instruction according to the learning capability of each student. Thus while lessons are the same for all students in a class, the methodology used to dispense instruction depends on each students capability and learning style. For instance, to learn multiplication tables, while one student may prefer memorisation, another may prefer the repeated addition method.
Therefore differentiated pedagogy requires teachers to be well-versed with each child's learning capabilities to deliver lessons in the mode and pace which suits the child. Children who learn fast are encouraged to move up to the next level rather than wait for the rest of the class. Obviously, this pedagogy works best in classrooms with small numbers of students — ideally class strength should be not more than 18.
What is the motivation behind choosing this pedagogy for AIS?
I was educated in India, and am deeply aware of the limitations of the traditional teacher-centric model and its learning-by-heart and one-size-fits-all pedagogy. My father, Bhagat Patil, travelled the world, visiting and studying education innovations practiced in the best schools before choosing the differentiated instruction method followed by the University Child Development School, Seattle.
How satisfied are you with the outcome?
Very satisfied with the differentiated instruction pedagogy. The personalised instruction our teachers deliver according to varied learning needs, enables all our children to learn joyfully and effectively.
Flipped classroom model
The flipped classroom model is a high-potential innovation which has turned conventional teaching upside down. The typical classroom lecture and homework elements are reversed. Short video lectures are viewed by students at home, while class time is devoted to exercises, projects and discussions based on the video lectures.
History. American high school teachers Jonathan Bregman and Aaron Sams of the Woodland Park High School, Colorado, are credited with pioneering the flipped classroom model in 2007. During their many years in classroom teaching, they discovered they were spending considerable time bringing children who missed class up to speed. This prompted them to record their live lectures and post them online for reference. Soon, they discovered their online lectures were also being accessed by students who had not missed class, for reinforcement and review. This led to the idea of the flipped classroom model.
R. N. Podar School implementation model. After an initial pilot project, the Mumbai-based CBSE-affiliated R.N. Podar School (estb.1998) formally introduced flipped classroom learning (FCL) in 2012 for classes IX-XII, and subsequently for classes VI-VIII. Currently, the FCL model is being used for maths and science subjects. Over the past four years, teachers in collaboration with an ed-tech company have recorded over 1,100 lecture videos, which are shared online with students. To ensure that students view the prescribed videos at home, the school uses Edpuzzle, a data and assessment platform to track students' online activity.
"I was very impressed with the online tutorial videos of the Khan Academy and encouraged students to watch them. However, we found the videos were not in sync with the CBSE curriculum. Thus the idea of recording our own video lessons was born. Simultaneously, I thoroughly studied the FCL model before introducing it in our school", says Avnita Bir, director-principal of R.N. Podar School, which has an enrolment of 2,700 students and 120 teachers on its muster rolls.
According to Bir, FCL has improved learning outcomes in RNP in a big way. "Our teachers have learned to present appealing video content and have tremendously improved their public speaking skills. And students have the opportunity of revisiting lectures multiple times at home. Now they utilise face-to-face time with teachers to ask questions, discuss the lecture, enrich project assignments and develop higher order problem-solving skills", adds Bir, a former member of the governing council of CBSE (2012-15) and a strong proponent of leveraging ICT in education. In CBSE's school-leaving class XII national exam 2016, over 50 percent of RNP students averaged 90 percent-plus.
Mixed-age group learning
S. Jayaram is principal of the new-genre J. Krishnamurti-inspired The Valley School (TVS), Bangalore — ranked India's #1 co-ed day school in the EducationWorld India School Rankings 2016. The CISCE-affiliated class I-XII school introduced mixed-age group learning in primary classes (II-VII) way back in 2004.
What are the essential features of mixed-age group learning?
The essence of mixed-age group learning (MAGL) is to group children of different ages in primary classrooms in which every child learns according to her capability rather than age-prescribed standards. Unlike conventional classroom teaching where the teacher directs the pace of learning, each child is responsible for her own learning. The role of the teacher is to guide and facilitate the learning process of each child. In addition to encouraging self-learning, this pedagogy creates opportunities for younger children to learn from peers and/or older children and vice versa under the supervision of the same teacher for three years.
What was the motivation for introducing MAGL?
The Valley School is based on the ideals of philosopher-educationist J. Krishnamurti who believed that education should not be comparative, competitive or measured by numerics. Schools should be vibrant places where children are comfortable with their inner selves, happy and secure with adults. Teachers must deeply connect with students as co-learners to explore life and understand its subtler aspects and encourage children's natural spirit of enquiry.
In a conscious effort to move away from same-age classrooms and the one-size-fits-all approach, we evolved the mixed-age group learning programme for children up to the age of 12. Here children play, study and learn in small groups for a three-year period with the same class teacher before moving on to the next group. There are no year-end exams or tests; instead, we have a set of learning objectives to be achieved over three years. Each child's progress is observed and recorded on a continuous basis, rather than through flash-in-the-pan tests.
How satisfied are you with the outcome of MAGL pedagogy in primary education?
Personally and as a community, we are convinced this is the right approach to learning. The feedback from children and parents is that they deeply value this learning experience. When they transition into class VIII, they are initially overwhelmed but our teachers hand-hold them and smoothen the transition. There is no dip in learning outcomes in senior school. This proves that a learning environment which fosters creativity and joy and is not based on comparison, achievement and reward, is not inimical to academic excellence.
Reggio Emilia
Developed after World War II by psychologist Loris Malaguzzi together with parents of villages grouped around Reggio Emilia, a city in north Italy, the eponymous early childhood education pedagogy is based on the belief that youngest children are capable of constructing their own learning under the supervision of enabling mentors and guides.
The IB-affiliated Singapore International School (SIS), Mumbai has adopted this pedagogy. Summiya Yasmeen interviewed Meera Bhalla, lower primary coordinator of SIS and programme director of Reggio Emilia (India) Foundation (estb.2010).
What is the essence of the Reggio Emilia pedagogy?
Reggio Emilia is based on the belief that all children are born curious, wide-eyed with wonder and able to express themselves in several 'languages'. Arousing their natural spirit of enquiry and providing them opportunities to express themselves freely, develops self-belief and drives learning. The adult or teacher in a Reggio setting is a co-learner and researcher who facilitates learning and discovery alongside. The environment is the third teacher. Central to this pedagogy is the 'Atelier' — a studio-like space where children can experiment and play-learn, either in groups or individually.
Moreover, children's progress is documented through photographs, videos, notes, records and reflections to be shared with parents, children, educators and teachers.
When and why did you choose to implement Reggio Emilia in SIS?
In April 2012 five SIS educators visited Reggio Emilia and participated in a week-long orientation programme at the Loris Malaguzzi Centre. I was in this study group and spent the most inspiring seven days visiting beautiful Reggio schools and interacting with highly-driven teachers. Subsequently, the school management decided to adopt Reggio in SIS. The first prep school in Mumbai was inaugurated in 2012 and SIS Prep, Ahmedabad two years ago.
Integration of Reggio Emilia in the SIS ECCE curriculum…
We have successfully adopted the Reggio Emilia philosophy to suit our cultural and pedagogical requirements. Our experience is that Reggio methodology blends well with the primary years programme of the International Baccalaureate as both are based on inquiry-based learning.
Reggio Emilia (India) Foundation objectives and initiatives…
The Reggio Emilia (India) Foundation has organised several conferences and interactions with 'atelieristas' (teachers) from Reggio Children, Italy, to help Indian educators to understand and apply this pedagogy. Preschool education has been grossly neglected in India in terms of curriculum development, establishing learning milestones and professional development. We hope to change this scenario by sharing our inspiration, experience and learning with early childhood educators.
Self-organised learning environment
Developed by Dr. Sugata Mitra, professor of education technology at Newcastle University, UK, a self-organised learning environment (SOLE) leverages the power of the Internet and technology to facilitate collaborative and inquiry-based learning. In SOLE, children work in small groups to learn and explore using computers with Internet access. In 2014, Dr. Mitra launched the School in the Cloud platform to help educators — teachers, parents and community leaders — to run their own SOLEs. On this platform, teachers and educators pose questions/problems to students who with the help of the Internet and Granny Cloud volunteers (an online community of teachers) discover answers.
History. In the 1990s, Dr. Mitra conducted his famous Hole-in-the-Wall experiment in Kalkaji, a Delhi slum where a computer was placed in a kiosk and children were allowed to use it freely. The experiment concluded that groups of children can learn to use computers and the Internet without formal training, and teach each other. From this experiment, Dr. Mitra developed the concept of SOLE. The first SOLE lab was set up in 2008 in Hyderabad funded by Newcastle University. During this project, it became apparent that children's use of Internet resources was severely limited on account of the English language barrier and lack of adequate teacher resources. Subsequently Dr. Mitra developed the School in the Cloud and Granny Cloud. During a Granny session, 'Grannies' (mostly retired teachers) skype in and answer children's questions, play games etc.
In 2013, Dr. Mitra was awarded a TED Prize of $1 million. This sum funded seven SOLE labs — five in India and two in the UK. Currently, over 10,000 self-organised learning environments have been created in five continents, and the SOLE toolkit has been downloaded more than 67,000 times.
SOLE labs/School in the Cloud. One of the first SOLE labs in India was set up in the Marathi-medium Pragat Shikshan Sanstha (PSS) School in Maharashtras Satara district. It transformed into a 'School in the Cloud' in 2014 and incorporates the SOLE approach as well as the Granny Cloud. "The schools newly constructed lab with five computers is connected to a large skype screen where children conduct Granny and SOLE sessions.
Since children work in groups, they are able to help each other and attain comprehension levels that are of much higher level than if they were working individually. Grannies enable children to learn English and more importantly, how to search, reason, think critically while using a variety of online resources", says Suneeta Kulkarni, Pune-based director of Granny Cloud and research director of the School in the Cloud project, who is also a member of the governing council of PSS School.
According to Kulkarni, the SOLE/School in the Cloud at PSS has enabled children to develop self-learning and critical thinking skills. "Our children are self-confident and able to search and use internet resources to find answers, draw conclusions, and present their learning. The schools teachers have also become adept at developing exploratory and inquiry-based test papers", she says.
Multiple Intelligences
The multiple intelligences (MI) theory was first propounded by Dr. Howard Gardner, professor of cognition and education at the Harvard Graduate School of Education in his seminal book Frames of the Mind (1984). In this breakthrough work, he argued that the traditional assessment of intelligence based on IQ testing, is too limited. Instead, he argued that every individual has eight intelligences, in varying proportions. They are the linguistic, logical-mathematical, spatial, bodily-kinesthetic, musical, naturalist, interpersonal and intrapersonal intelligences.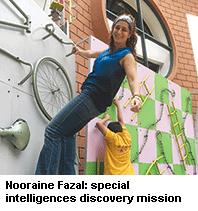 Since the mid-1980s, the MI theory has been enthusiastically embraced and implemented by educationists around the world. In India, MI has been adopted in some progressive K-12 schools, to draw out the full potential of children.
Inventure Academy implementation model. Among the handful of education institutions which have fully integrated the MI theory into the curriculum is the Bangalore-based Inventure Academy. Promoted in 2005 the CIE, UK and CISCE (Delhi)-affiliated Inventure Academy's pedagogy is heavily influenced by MI theory. "I visited and was hugely influenced by the Key Learning Academy in Indianapolis — a school world-famous for being the first to be built on MI theory — in 2005. Subsequently, educators from Key Learning visited us and conducted workshops for our teachers. The belief that every child has several intelligences, and that the job of educators is to discover, stimulate, and develop the special intelligences of students, forms the core of our teaching-learning philosophy", says Nooraine Fazal, an alumna of Boston University and former executive with IBM and Reuters, and currently founder-CEO of the K-12 Inventure Academy.
According to Fazal, several activities and programmes have been woven into the curriculum to develop students multiple intelligences. "Every concept is learnt through a theme or project. Last year, our primary students went on a 'trash trail starting from school to a landfill. Students interviewed people working in the garbage industry (to develop interpersonal intelligence) and reflected on how their actions affect the environment (intrapersonal intelligence). Back in school, they wrote stories about the people they interviewed (linguistic intelligence) and calculated the average amount of garbage generated (logical intelligence). Then, students used differing mediums — dance (bodily-kinesthetic), song (musical) and posters (spatial) — to create awareness about garbage. Through this process every child is given the opportunity to use and develop her special intelligences", explains Fazal.
With Dipta Joshi (Mumbai) & Hemalatha Raghupathi (Chennai)