Conceptualised as a 'model school' providing free-of-charge schooling to the meritorius children of marginalised communities in the 314 block headquarters of Odisha, the Adarsha Vidyalaya envisions to promote academic excellence among other publicly-funded schools in the region.
Launched in 2015 by the Shri Naveen Patnaik led Biju Janata Dal (BJD) government of the eastern seaboard state of Odisha with the objective of bridging the rural-urban educational divide through the provision of high-quality education to the masses, the Odisha Adarsha Vidyalaya Sangathan (OAVS) is a first-of-its-kind publicly funded initiative in the country that sets a precedent for other states to follow.
Managed by an apex body (general body) helmed by minister, school & mass education, Odisha as president, the OAVS — comprising 214 presently operational CBSE-affiliated Adarsha Vidyalayas and 100 more in the making — provides 58,712 underprivileged children from class VI through XII, including 33,049 girls and 33,895 students from SC/ST communities free-of-charge English-medium education. Conceptualised as a 'model school' providing free-of-charge schooling to the meritorius children of marginalised communities in the 314 block headquarters of Odisha, the Adarsha Vidyalaya envisions to promote academic excellence among other publicly-funded schools in the region.
"We launched an unprecedented initiative to provide free quality education to underprivileged children through CBSE affiliated English-medium schools so that no deserving child of Odisha is deprived of his/her right to learn. The Adarsha Vidyalayas have been playing a key role in making progressive education accessible to children in far flung regions of the state while integrating the students of small towns and villages into mainstream education. I strongly believe OAV will create leaders who are capable of scripting Odisha's growth and transformation story," says Shri Naveen Patnaik, incumbent chief minister of Odisha whose commitment to upgrade and transform the public education system in the state is evident in the steadily increasing budgetary allocation for the sector over the past few years.
Distinguishing features of OAVS
The Adarsha Vidyalayas offer classes from VI through XII with two sections in each class and an intake capacity of 40 students in each class.
Admission is based on performance in an entrance test and students are admitted in class VI only.
The test is largely non-verbal and objective in nature and is designed to prevent any disadvantage to children from rural areas.
Teacher-pupil ratio is maintained at 1:25.
50 percent reservation for girls in each category.
Reservation of seats in SC/ST category is at par with the percentage of SC/ST population in the respective blocks.
Bridge course materials are developed to enable smooth transition from Odia medium to English medium.
English is the primary mode of instruction and Odia is offered as second language.
Uniformity in logo, school uniform, badge to instill respect, pride and community spirit among the students.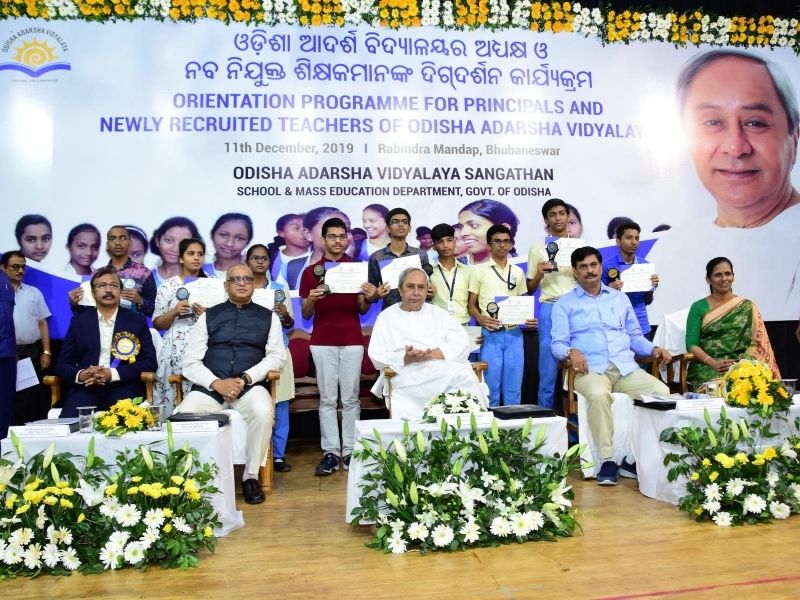 Moreover, ever since Dr Bijaya Kumar Sahoo, founder-mentor of the Bhubaneswar (Odisha) based SAI International Education Group, took charge as OAV's first advisor-cum-working president in June 2019, he has been introducing a slew of measures to contemporise education at the Vidyalayas and develop them into 'centres of excellence' in public education. Among them:
Implementation of the principles of 5T (Teamwork, Technology, Transparency, Time bringing in Transformation), in true spirit.
Launch of an innovative website for Odisha Adarsha Vidyalaya Sangathan head office as well as for each school that provides comprehensive information for students.
Implementation of a robust ERP (enterprise resource planning) system that helps track the academic and non-academic progress of each child, monitoring performance of each school and leveraging larger technology-based analytics for better evaluation.
Creation of an academic development school calendar, annual planner, standard operating procedures (SOPs) and academic calendar for students.
Establishment of streamlined processes through drafting and implemention of policies and procedures.
Capacity building for teachers through continuous teacher education programmes.
Redesigning of curriculum through an optimal blend of academics, co-curricular activities and sports for the holistic development of students.
Introduction of professional career counselling and coaching facilities for children.
"Blending technology with academics, improving the school's infrastructure, creating road maps, for academic as well as non-academic pursuits and bringing more accountability into the system, have accelerated the transformation of the public schooling system within the OAVs. The outcomes were visible within a short span of six months since my association with OAV. The website, ERP system, close monitoring and my weekly review of all the Vidyalayas has helped bring back the focus of all the stakeholders into the gravity of our work and made them realise the magnanimity of the vision behind this initiative. We are fortunate to have very young teachers, full of passion and enthusiasm. Healthy competition among the OAVs has led to better outcomes. Moreover, our regular teacher training programme has helped enhance the competency of teachers and enabled them to upskill," says Dr. Sahoo.
Ensuring learning continuity amid the COVID-19 pandemic
Perceiving the Covid-19 induced disruption as an opportunity rather than a challenge, the OAV management responded promptly to the announcement of the countrywide mass closure of educational institutions in March 2020 with a multi-pronged interim strategy outlined do below.
Motivating the school staff: Dr. Sahoo reached out to the principals and teachers of the 214 operational Adarsha Vidyalayas motivating them to step up and do their best amid these troubled times.
Leveraging technology for online learning: To ensure learning continuity of students, the OAV management introduced innovative virtual teaching-learnings solutions by leveraging online digital platforms such as Zoom, Google Meet, WhatsApp, among others. Teachers also provide guidance over phone to students with limited or nil Internet access.
Curating online learning resources: Teachers curated and put up online learning content for students on the school website. Video lessons were shared through the YouTube platform.
Despite the challenges of poor Internet connectivity and limited access to smartphones for a large majority of students from rural areas, OAVS has been able to reach out to almost 70 percent of its students and continues to provide them virtual learning.
Door step delivery of books: The school management arranged for the text books to be delivered to the students right at their doorsteps with the help of its committed teaching staff.
Teachers as COVID warriors: Assuming the role of COVID warriors during the ongoing crisis, several Adarsha Vidyalaya teachers have been efficiently managing the TMC's (Temporary Medical Centre's) as well as the QC's (Quarantine Centers).
Uninterrupted mid-day meal supply: With the Covid-19 induced shutdown of schools making it impossible for mid-day meals to be served at school, the teachers distributed food ration in lieu of mid-day meals to the children.
Strategy for board exams: The Vidyalayas' strategy for this year's CBSE board exams included provision of one-on-one mentoring to students. Extra classes and remedial sessions conducted after school hours by the dedicated teachers were instrumental in helping the students achieve the recording-breaking results in board exams.
"Keeping with the noble vision and mission of our hon'ble chief minister Shri Naveen Patnaik, we are committed to develop the Odisha Adarsha Vidyalaya Sangathan into a role model public educational institution in the country. We firmly believe we can build a better Odisha and contribute to national development through the Adarsha Vidyalayas," says Dr. Sahoo.
Recommended: 50 Leaders who can revive Indian education – Dr. Bijaya Kumar Sahoo
Campus
,
News