Contrary to popular belief there are numerous easily accessible weekend getaway options in and around Mumbai which will help a visitor unwind or celebrate a lucrative deal just signed up
The standard advice given to the estimated 6 million people who visit Mumbai (pop. 20 million) every year, the commercial capital of the country, is to stay focused, get your business over as fast as possible and forget all about leisure, travel and sightseeing activities. Don't take it! Contrary to popular belief there are numerous easily accessible weekend getaway options in and around Mumbai which will help you to unwind or celebrate the lucrative deal you've signed up in this fast-tempo metropolis.
Mumbai is also the administrative capital of Maharashtra (pop. 115 million), a huge state in western India which sprawls over 307,713 sq. km — a land area three times the size of England. Not surprisingly it offers great beaches, hill stations and leisure resorts with all the modcons which the country's richest and most famous business tycoons and flashy film stars (Mumbai is the epicentre of the world's largest feature films industry) insist upon. Most of these playgrounds of the rich and famous are a mere few hours drive out of Mumbai, which is also well connected to the rest of the country by rail and air.
The history of the city dates back to the stone age when fisher folk made it their home. Mumbai was under the rule of hindu dynasties from the 6th century AD, invaded by the Muslims in the 14th century and ceded to the Portuguese in 1534. The Portuguese included Mumbai in the dowry of Catherine of Braganza when she married England's Charles II in 1661. Thus Mumbai became a British possession and in 1668 it was leased to the east India Company for a paltry annual rent of £10.
Though with its huge crowds and cramped public spaces, Mumbai is hardly a tourist haven and can be disconcerting for visitors, this megalopolis offers a lively night life (pubs, restaurants, discotheques) and interesting historic monuments, museums and art galleries. Among them: the Gateway of India, an impressive structure built in 1911; Kala Ghoda, between Colaba and Fort houses the National Gallery of Modern Art and the Prince of Wales Museum (renamed Chhatrapati Shivaji Maharaj Vastu Sangrahalaya), built to commemorate King George V's first visit to India in 1905. Marine Drive (a.k.a. Queen's necklace) is ideal for a zippy drive along the sea from Nariman Point to the foot of Malabar Hill. Chowpatty beach, a perennial carnival and the Taraporewala Aquarium are also worth visiting. The Hanging Gardens, (Pherozeshah Mehta gardens) of Malabar hill, the Adinath Jain temple, Kamala Nehru park and the Banganga tank are also popular with visitors.
Excursions. Mumbai also offers several day-trip excursion options. The most popular among them are: a boat ride to Elephanta Island famous for its rock cut cave temples; a drive to the Sanjay Gandhi National park, a 87 sq. km protected forest hill on the northern fringe of the city which houses the Bombay Natural History Society's Conservation Education Centre and offers lion and tiger safaris; Kanheri caves with Buddhist era rock carvings dating back to 1st century BC.
Alibag
This seaside town is a mere 45-minute ride by boat or 20 minutes hydrofoil from the Gateway of India. For day trips or weekend excursions, Alibag is Mumbai's own resort town. This sylvan seaside getaway has something for everybody, whether you're looking for an active weekend, a spiritual retreat or even a journey into Maratha history. This is the place where the late Salim Ali, India's best-known ornithologist spent the better part of his life watching, studying and identifying birds. The coastal strip is chocka-block with sprawling weekend homes and chalets of the rich and famous. Since their number is multiplying, a large number of hotels and resorts have also mushroomed in Alibag which is only three miles as the proverbial crow flies from Mumbai.
Alibag is known for its Jewish Synagogue, with a small Jewish settlement; the ancient Janjira Sea Fort, ascribed to Shivaji's admiral Kanhoji Angre, situated in the sea and accessible only during low tide; and the famous Siddheshwar temple.
Mumbai's beautiful people have taken to Alibag in a big way in recent years. Comments a former model and actress: "I visit Alibag simply to de-stress. I can relax on a beach, lounge in a cottage or go trekking. Everything is just a stone's throw away."
Accommodation. Top-end: hotel Maple Ivy (Rs 2,96544,739 per night); hotel Relistay sagar Inn (Rs.2,0005,000); Coco Mango (Rs.2,250-2,500); sandy's holiday Inn (Rs.3,599-4,799). Mid-range: The Ocean Beachside (Rs.1,800-4,800); hotel York Inn (Rs1,500); Vamoose Akshay (Rs.1,530-1,700). Budget: Lotus The Lake View Resort (Rs.600-1,800); Royal Palace Cottage (Rs.450); Amilin Cottage (Rs.600); salunke's home stay (Rs.600).
Excursions. Ex Alibag there are some interesting excursion options to the secluded beaches at Nagaon, Akshi (7.3 km), and Kihim (9 km). The ancient Kankeshwar temple (12.5 km), dedicated to lord shiva, sited at a height of 1,250 ft and accessible by ascending 750 steps is a popular pilgrim centre for native Marathas. Chaul (16 km), the erstwhile capital of the shalihar dynasty has forts and monuments constructed in the Portuguese, Mughal and Maratha periods. The Karnala Bird Sanctuary (47 km) is a bird watcher's paradise.
Lonavala and Khandala
For those who prefer cooler climes to warm beaches, Maharashtra has several hill resorts within easy reach of Mumbai. Of these the most accessible are Lonavala and Khandala, a mere two hour drive from Mumbai. During the monsoons these twin resorts offer breathtaking views of cascading waterfalls flowing down the Western Ghats. These twin-resorts are also a popular location for Bollywood film directors who have been shooting their song-n-dance sequences here for ages. While the weather in Lonavala and Khandala is pleasant the year round, July-October is the most preferred season for Mumbaikars who quite obviously love to take in the rains.
The Kaivalyadhama Yoga Hospital is popular among domestic tourists in search of yogic healing. Founded in 1924 by Swami Kuvalayanandji, the ashram is a yoga centre with research facilities.
Accommodation. Top-end: Fariyas holiday Resort (Rs.4,500-8,700 per night); Avion holiday Resort (Rs.6,700-9,300); Della Resorts (Rs 11,200-14,160); Meritas Picaddle Resort (Rs.4,3425,928). Mid-range: Sikka Villa hotel (Rs.2,050-2,665); hotel Jagadguru lonavala (Rs.2,9994284); Treasure Island Resort (Rs.2,227-5,345). Budget: greenwood Countryside Resort (Rs.976-1,626); hotel Om Palace (Rs.1,078-2,105); Casa Fedora holiday home (Rs.1,118-1,492).
Excursions. Day trip options from lonavala/ khandala include the Karla caves (11 km), one of the finest examples of Buddhist rock-cut architecture dating back to 200 BC. The Bhaja caves (12 km), a group of 18 Buddhist caves of the same vintage as Karla; Lohagad Fort (15 km), which soars up to a height of 3,389 ft of sheer rock. The Visapur and Korigad forts are also in the vicinity
Matheran
The primary charm of the hill station of Matheran (pop. 6,000; elevation 2,625 ft), a two-hour drive via neral from Mumbai, is that all automotive vehicles and even bicycles, are banned within municipal limits. Car-borne visitors have to park at the base of the hill and walk up. But the best approach route is by train. From Neral junction (45 mins by rail from Mumbai) visitors can make the 21 km ascent by a narrow gauge train which huffs and puffs its way up in two hours. An undulating hilltop discovered in 1850, Matheran's sylvan setting offers numerous (car-free) walking tracks culminating in look-out points with panoramic views of the plains.
Most of Matheran's look-out 'points' can be accessed by a few hours walk. The most scenic are Louisa Point (sunset view), Panorama Point, Porcupine Point and Little Chouk. Another interesting walk is Shivaji's ladder which takes you to the valley below One Tree Hill. Ponies and horses (Rs.700 per hour) are options.
During high season or peak holiday periods of April-May, Diwali and Christmas, Matheran tends to become uncomfortably crowded, particularly on weekends when hordes of day-trippers crowd the place. And during the monsoon it becomes waterlogged and inaccessible. Accommodation. Top-end: Westend Hotel Matheran (Rs.3,695 per night). Mid-range: MTDC Resort (Rs.1,400); hotel Paramount (Rs.1,954). Budget: Ashirwad Cottage Matheran (Rs.990).
Pune
Sited 150 km south of Mumbai at the confluence of Mutha and Mula rivers, Pune (pop. 7.4 million), the cool former summer capital of the Bombay Presidency, has mushroomed into Maharashtra's second city and a fast-growth centre for industry, education and IT services. In 2002, the much-awaited six-lane Mumbai-Pune expressway was completed cutting the (road) commuting time between the two cities by half, to three hours. This development is likely to result in the gradual amalgamation of Mumbai-Pune.
For most western visitors the city's major attraction is the Osho Commune International or ashram of the late Bhagwan Rajneesh which is styled as a spiritual health club and attracts thousands of visitors annually. Another tourist attraction is Raja Kelkar Museum which houses an impressive collection of more than 22,000 works of art and curios, comprising antique musical instruments, carved doors and windows, hookah pipes, oil lamps, betel-nut cutters, brass foot scrubbers, wooden noodle makers and hair drying combs.
Visitors could also check out the ruins of Shaniwar Wada; the wonderful rock-cut Pataleshvara temple; the Tribal Cultural Museum which documents the tribal cultures of Maharashtra, and Gandhi National Memorial in Yerwada, dedicated to the lives of Mahatma and Kasturba Gandhi.
Accommodation. Top-end: JW Marriott hotel Pune (Rs.10,785 onwards per night); Conrad Pune (Rs.12,38312,980); le Meridien (Rs.7,050 onwards); sheraton grand Pune Bund garden hotel (Rs.8,231-9,083); Mid-range: hotel Ritz (Rs.1,813-2,464); The Pride hotel Pune (Rs.2850-4,206). Budget: hotel sargam (Rs.1,566); hotel Rajmandir (Rs.923).
Mahabaleshwar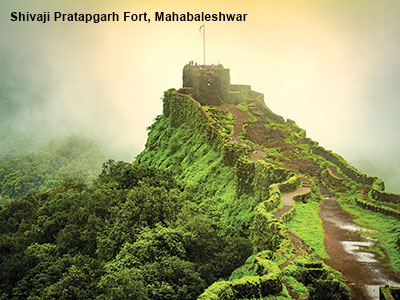 Nestling in the Sahyadri range of the Western Ghats, Mahabaleshwar (260 km from Mumbai via Pune) is the highest hill station in western India. Sited at an invigorating height of 4,439 ft, Mahabaleshwar is also a destination of great religious and historical significance. The town is famous for its ancient temples, Mahabaleshwar (from which the town derives its name) and Atibaleshwar.
With the Mumbai-Pune expressway now operational, Mahabaleshwar has become much more accessible from Mumbai. Founded in 1828 by sir John 'Boy' Malcolm, it was the summer resort of the Bombay Presidency during the British Raj. nature is extraordinarily bountiful here — rugged hills, lush green forests teeming with exotic flora and rivers gushing through the green hills have made it a popular hill resort and excellent trekking terrain, especially for those interested in medicinal herbs.
A visit to Mahabaleshwar would be incomplete without taking in the waterfalls of Chinaman's, Dhobi's and Lingmala. Boating on the Venna Lake is a popular pastime here. Mahabaleshwar is also famous for its strawberries. Archie's Strawberry Farm, near Kate's Point is a popular favourite for strawberry milkshakes and those interested in learning about strawberry cultivation.
Accommodation. Top-end: Le Méridien Mahabaleshwar Resort & spa (Rs.10,858 per night); neeta's shanti Villa (Rs.17,700); hotel Dina (Rs.13,580); hotel saket Plaza (Rs.7,506). Mid-range: Prashant Cottages (Rs.2,016); hotel godai girikunj Mahabaleshwar (Rs.2,790); latanand Residency Mahableshwar (Rs.2,462). Budget: Victoria Cottage (Rs.1,344); hotel lake Paradise (Rs.1,320-1,623); Treebo Trip The new hill Retreat (Rs.1,288-1,826).
Excursions. Pratapgad fort (24 km), standing tall at 900 m, overlooking the vital road to the Deccan was one of the most impregnable of Chhatrapati Shivaji's fortresses. A temple of the goddess Bhavani is situated within the fort. Raigad fort (80 km), which served as shivaji's capital between 1656 and 1689 and Sinhagad fort (107 km), formerly known as Kondana and one of the most redoubtable bastions in western India, are interesting historical sites.
You could also visit the Panchganga Mandir which is situated at the confluence of five rivers — the krishna, Gayatri, Savitri, Koyna and Venna. Contiguous Panchgani which hosts several highly rated independent schools is also a charming town noted for its huge plateau a.k.a Table Land.