Sited on a modern 2.1-acre campus in the heart of South Delhi, the CBSE-affiliated Paul George Global School (PGGS, estb. 2015) has quickly earned a reputation for providing a rigorous academic programme supplemented by a rich menu of extra-curricular and sports activities to enable all-round development of students. Affiliated with the Central Board of Secondary Education (CBSE), PGGS has an enrolment of 500 Kindergarten-class VII students and 52 teachers on its muster rolls. The school follows a Montessori-inspired child-centric pedagogy which encourages projects-based and experiential learning.
PGGS was promoted in 2015 by industrialist M.G. George Muthoot in memory of his son Paul M. George under the aegis of St. George's Education Society, which also runs the St. George's School, Delhi, and two nursing colleges, an allied health sciences and management college and the Muthoot Institute of Technology and Science — all in Kerala.
PGGS Leaders
M.G. George Muthoot
Chairman
A highly respected entrepreneur-philanthropist, M.G. George Muthoot is chairman of the Kochi-based Muthoot Group (annual revenue: Rs.6,200 crore) and the St. George's Education Society. An alumnus of Harvard University and Wharton School of Business, he is committed to offering "holistic education encompassing academics, co-curricular activities, sports education and life-skills learning" to students.
Geeta Karunakaran
Principal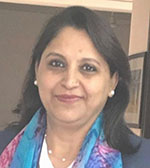 An education and English literature alumna of Pune University, Geeta Karunakaran served with the Army School, Shahjahanpur, Lotus Valley International School, Noida and Manav Rachna International School, Faridabad prior to her appointment as founder-principal of the Paul George Global School in 2015. A qualified outbound trainer who also worked with the Bangalore-based Pegasus Institute of Excellence and Educomp Solutions Ltd, Karunakaran has helped create a conducive learning environment that inspires excellence and encourages high performance through experiential learning pedagogies.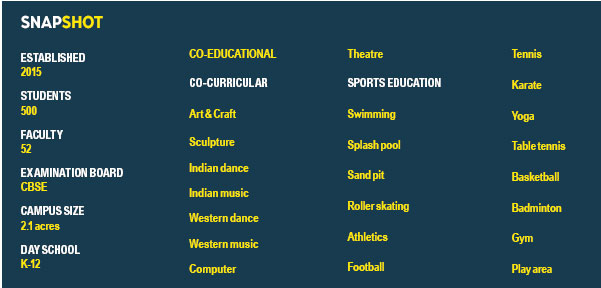 Campus Infrastructure
The school's contemporary 2.1-acre wi-fi enabled campus, designed by the well-known Montreal (Canada)-based Arcop Associates Pvt. Ltd, provides state-of-the-art academic, co-curricular and sports facilities. The academic block hosts 56 well-ventilated classrooms equipped with Pearson Smart boards; a library with over 1,000 books and electronic resources; a well-equipped composite science laboratory; and amphitheatre. However, the school's showpiece facility is its 564-seat auditorium that not only hosts cultural programmes but is provided with automated retractable seating which transforms the auditorium into an indoor basketball court within five minutes. In 2017, PGGS was conferred the # 4 national rank in the EducationWorld Grand Jury Awards in the category of campus architecture and design.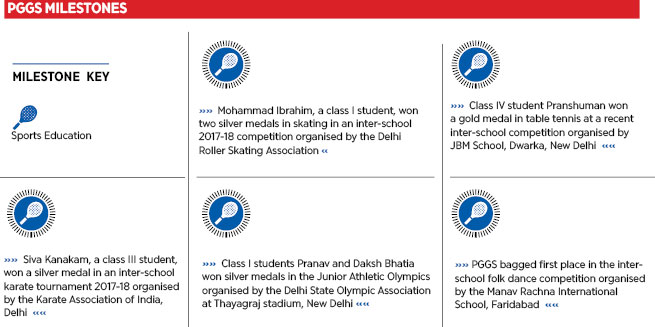 Special academic programmes
Connecting minds is a unique programme that raises awareness within the school's pre-primary parents about early childhood education pedagogies. Parental interface, an interaction with parents, is held every month and 'home visits' are also scheduled. Innovative and activity-based learning programmes include Extra Mile, Heritage Walks, Passion Time and Buddy Interaction among others.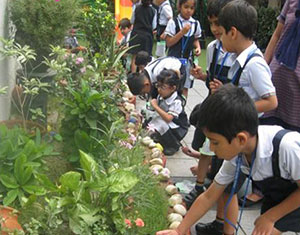 Co-curricular and Sports Education
PGGS is committed to the all-round development of children and offers a host of co-curricular activities including dance, music, art & craft and sculpture etc. The school also boasts excellent sports facilities including a temperature-controlled shaded swimming pool, a playground with child-friendly green synthetic turf, mini-hockey and football play areas, an 8-lane, 100 metre synthetic athletic track, a roller skating rink and a rooftop tennis court.
Admission & fees
Paul George Global School is a CBSE-affiliated K-VII co-educational day school. The school admits students in January for pre-primary and other classes.
Tuition fees (per month):
Rs.16,850-18,000
For further information visit http://pggs.edu.in/