Plaeto (estb.2021) is a Direct-to-consumer (DTC) footwear brand promoted with the mission to "spread the joy of play among India's youth by making world-class footwear accessible while protecting the planet that they will inherit."
Designed for the student community, Plaeto's rich assortment of school footwear boasts child-centric design backed by over 4,000 hours of scientific research on Indian feet.
Proudly "Made in India", Plaeto footwear is designed by one of the best footwear design and development teams in the world, with a cumulative experience of over 30 years with international brands such as Nike and Adidas. Moreover, it has been created in partnership with leading footwear development labs in Italy and Taiwan.
"Poorly designed footwear can lead to severe foot and body structure development issues for the child during their formative years and later. We, at Plaeto, have developed shoes specifically for the Indian childrens' feet, at a price that is accessible to them, as school footwear is the single most used product by any child in India, with 40-50 hours of usage per week. Unfortunately, the school shoe has seen no innovation or conscious design improvement for decades. We've changed all that and more, with shoes that are packed with intuitive features that are designed specifically for Indian feet. We are glad to have Rahul Dravid, current coach of India's cricket team, on board to support our mission and help us reach our goals," says Ravi Kallayil, CEO & co-founder, Plaeto.
Plaeto Leaders
Ravi Kallayil
Co-founder & CEO
An alumnus of the Wharton School of the University of Pennsylvania (USA) and IIM Bangalore, Ravi Kallayil has over 20 years of experience in innovation, business development, supply chain, manufacturing and strategy across the footwear, apparel, engineering and consumer product industries in the US, India, Africa and Nepal.
Since 2011, when he received a handwritten request from a 10-year-old boy for a discount on a Nike shoe, he strove to find the answer to the question "How can we make great shoes for Indian children at an affordable price?" After nearly a decade, he realised that the only way to make it happen was to do it himself. In 2020, amidst the uncertainty and challenges posed by the pandemic, Ravi decided to give up "the best job in the world" with Nike Innovation in Portland (USA) and relocated to India to take the entrepreneurial plunge.
Ravi is also actively involved with Maya Organic, a livelihood development programme, and Ananya Trust, an alternative school for underprivileged children.
Pavan Kareti
Co-founder & COO
An MBA alumnus of TA Pai Management Institute, Manipal, Pavan Kareti has acquired over two and a half decades of experience in retail, channel sales and business development across industries. Launching and developing new businesses, setting up process and policy frameworks, and operationalising global retail practices with strong customer orientation are his fortes.
Drawing from his rich experience in launching new GTMs in consumer segment to product scale in his previous roles at Nike, Adidas, Apple and Hewlett Packard, at Plaeto, Pavan is responsible for designing the company's Go-To-Market (GTM) strategy and implementation. An executioner of key strategies, he is adept at leading teams to thrive in turbulent circumstances and meet ever-changing consumer demands and landscapes in global markets. Having lived in multiple cities and states across India, Pavan brings in a nuanced understanding of cultural and market dynamics to his role at Plaeto. His mission is to help Indian children discover the 'joy of play'.
Pioneering unprecedented innovations in school footwear
Within a short span of time since its inception, Plaeto has emerged as a trailblazer in the Indian school footwear segment with its offering of the perfect 'Multiplay Shoe' with innovative features such as:
Tilt Lacing – Plaeto shoes feature tilt lacing to aid the natural motion of the foot for optimal flexibility and maximum comfort.
Plaeto365 Midsole – Plaeto's proprietary midsole retains Day 1 comfort, cushioning and responsiveness even after Day 365.
High Toe Bumper – Keeps toes and feet safe from collision with hard surfaces.
Wide Toe Box – More room for broader Indian feet to stay comfortable and active.
Non Marking Shoes – Can be used for play across all surfaces, indoor and outdoor.
Uncompromising focus on sustainability
Environmental-friendly raw materials
Plaeto shoes are made with materials that aren't just durable but also earth friendly. For Plaeto, all the raw materials that go into the production process must pass the low carbon footprint test. Infact, Plaeto shoes boast a carbon footprint of just 6.5 kg of CO2 per pair, almost 50 percent lower than most athletic footwear. Moreover, the company's low-waste manufacturing ensures that waste from the process is constantly repurposed.
Endurance guaranteed – both for the product and its love for the planet
Despite its softness, Plaeto shoes' low carbon footprint upper possesses high tensile strength and abrasion-resistant coating in areas of high wear further increases the life of the shoe. The Plaeto365 midsole cushioning retains its comfort and responsiveness for a longer period of time and over all kinds of surfaces.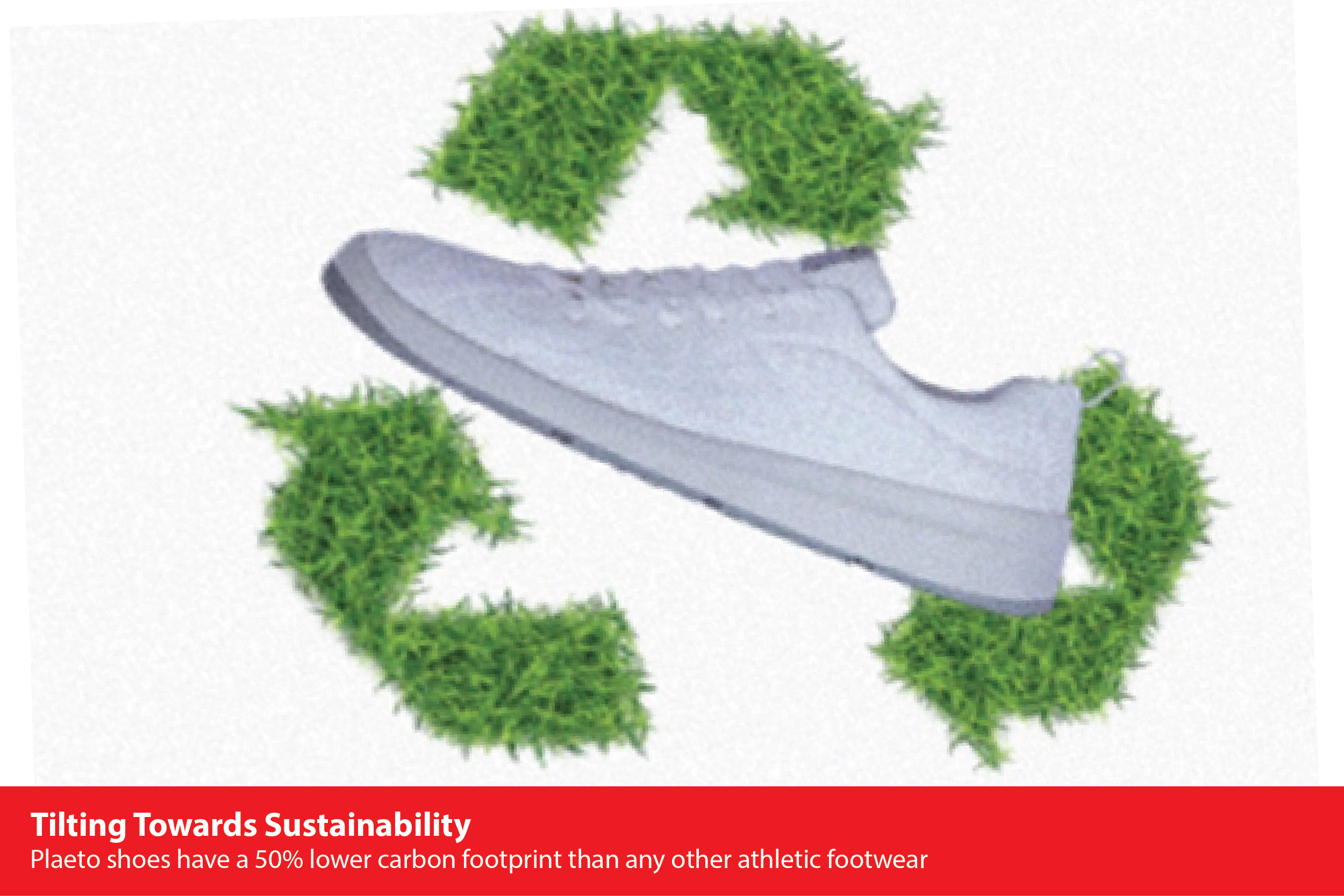 Committed to the 4 R's — Reduce, Reuse, Recycle, Reinvent
Apart from using materials with low carbon footprint and repurposing waste generated during the manufacturing process, Plaeto is planning on offering a take-back programme for used shoes. The plan is to either recycle them in making new Plaeto shoes or to sanitise and have them reused by those in need to ensure they stay out of landfills and on playful feet for as long as possible.
Earth-friendly bags for sturdy shoes
To minimise the colossal trash generated by unnecessary packaging and secondly, to reiterate the message that tough shoes don't need the protection of a box, Plaeto shoes are delivered in a beautiful reusable cloth bag made from recyclable textiles by working with self help women artisans in Karnataka. Therefore, not only do the deserving women have the opportunity to earn a living, but the sales don't add to the piles of packaging waste generated every day.
Made for India. Made in India
Despite matching global standards in terms of quality, a large proportion of the materials used in making Plaeto shoes — which are manufactured in India — are sourced from India, making them affordable and accessible to the masses.
Customer Voices
Here's what Plaeto's elated customers are saying about its revolutionary footwear for the student community.
Campus
,
News