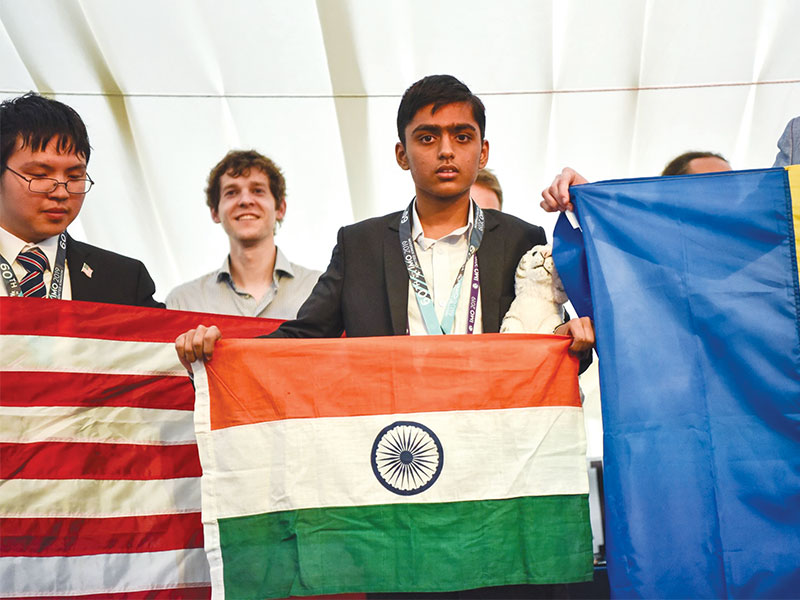 Bangalore-based teenage STEM enthusiast Pranjal Srivastava (15) was a member of the six-strong national team representing India at the International Mathematics Olympiad (IMO) 2019 staged in the University of Bath, UK, in July. The team brought home a gold medal after a gap of six years and Pranjal became the youngest Indian to win gold since India began participating in the competition in 1989.
IMO is a self-governing autonomous organisation which has been organising annual competitions since 1959. In this year's two-day competition, the national teams of 112 countries were required to solve three mathematical problems — with a weightage of seven marks each — within four-and-a-half hours each day. Pranjal solved five of six questions with a total score of 35.
The younger child of software professionals Ashish and Surbhi Srivastava, Pranjal, a class X student of the CBSE-affiliated National Public School, Koramangala, says that solving math problems is relaxation and recreation. "I have grown up solving math teasers and puzzles set by renowned British mathematician Ian Stewart in his books on recreational mathematics," he says.
A regular contestant in national science and math olympiads for the past three years, this is the second time this teenage maths whiz competed internationally. In IMO 2018, he bagged a silver medal and he is well-known in competitions such as the Asia Pacific Mathematics Olympiad and Tournament of Towns.
According to Pranjal, qualifying for the IMO finals involves a rigorous three-tier elimination process comprising a preliminary examination (held in November) followed by the Indian National Mathematics Olympiad (January) exam and a four-week orientation and selection camp at Mumbai's Homi Bhabha Centre for Science Education in April. Six national olympiad winners were finally selected to represent India at IMO 2019 from among 30 finalists.
Right now, Pranjal is focused on his class X board exams scheduled for February 2020. However, he aspires to make a career in mathematics. "After I complete Plus Two, I intend to qualify for admission into one of India's premier IITs or IISc to read theoretical maths," says Pranjal, who is also a trained drummer and self-taught pianist.
Paromita Sengupta (Bangalore)