This article is republished with permission from

IntrepidEd News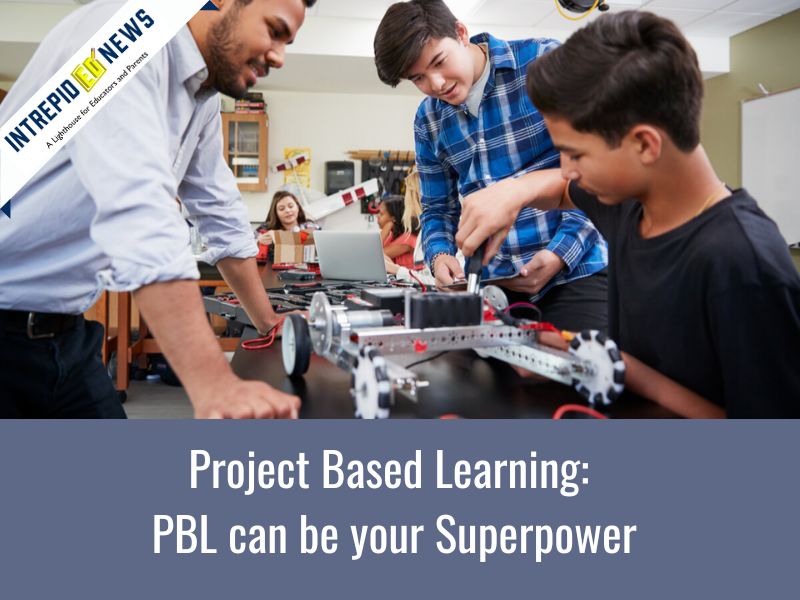 Harbord and Khan
Our superpower is ethical dilemmas, what's yours? As teachers of middle school students, we discovered that embedding a real-life problem into our unit of work gave students a way to connect to their learning. Our students always surprised us with their interest in discussing dilemmas. For example, our grade 7's were tasked to explore the concept of how "Human and Robot interactions will shape our view of being human." They researched the idea of robot rights and after looking at Asimov's Robot rules, designed their own bill of rights for robots. What intrigued us was the level of critical and creative thinking and empathy that resulted from these collaborative discussions all based around the ethical dilemma.
We use the Harbord & Khan Ethical Modelⓒ to drive student inquiry using ethical dilemmas and the ethical equation.
Using ethical dilemmas in PBL
Wherever there is human activity, whether the depths of the oceans or the expanse of the stars, there will be ethical dilemmas. Students can relate to ethical dilemmas as we face them in all parts of our lives, at home, at school, in our relationships, and perhaps even in what we dream and hope for. So what are the superpowers ethical dilemmas can offer us?
Transform purpose: As a starting point, ethical dilemmas ground the inquiry of ethical issues. Exploring these can generate dynamic, authentic, and meaningful Driving Questions and summative tasks.
Construct knowledge: Ethical dilemmas are powerful because they provide an overarching framework rooted in real-world issues, driven by Design Thinking.
Strengthen transfer: Ethical dilemmas provide a natural way of making connections and support student understanding of the collaborative nature of PBL.

Inspire empathy:

Ethical dilemmas encapsulate multiple stories and perspectives. They are ideal for engaging student attention through emotion when using a PBL approach.
Amplify creativity: Ethical dilemmas can give your students opportunities to think in novel and innovative ways.

Immerse in Flow:

Ethical dilemmas can harness student engagement and give them pathways to deepen their learning.

Activate interdisciplinary learning:

Ethical dilemmas show your students ways to view problems through differing subject lenses.
Encourage communication: Ethical dilemmas give your students opportunities to present and listen to a range of viewpoints, beliefs, and values and encourage student choice.
Grow higher-order thinking: Global skills require students to develop skills in critical thinking, communication, collaboration, and creativity. Ethical dilemmas are the conduit to do this and make learning meaningful.
Expand open-mindedness: Ethical dilemmas offer students time and space to listen to each other's core beliefs and values.
Evolve self-management skills: Young people are inundated with information relating to environmental, societal, and ethical issues. Exploring ethical dilemmas can offer more manageable ways of navigating these.
Nurture mindful approaches: Embedding ethical dilemmas into the curriculum facilitates self-reflection and enables students to examine their personal values and beliefs in a safe space.
Deepen understanding: Ethical dilemmas encourage students to define sustainable ways of living and thinking, as a consideration of human values drives the problem-solving process.
THE ETHICAL EQUATION AND COLLABORATION
When we were thinking about how to share our tools for generating ethical dilemmas, we realized that we could write the scenario out as an equation.
Choose the ethical value you want to work with e.g. honor or courage.
Identify the real-world issue or problem.
Determine the subject skills involved.
Consider the ethical impact of the scenario.
The Ethical Equation can clarify student understanding of collaborative learning in the PBL process. You and your students can use this to develop your ethical dilemma and generate or rework your Driving Question.
The concept of using a math equation to explain a written problem involves a transfer of understanding and illustrates creative, interdisciplinary thinking, both of which are important PBL skills. Developing innovative devices to explore more expansive ways of thinking requires looking at problems through new lenses. As educators, we must demonstrate that looking for novel approaches will support teachers in the classroom or online. Let ethical dilemmas be your superpower for writing your Driving Questions and guiding your inquiry for your students in your PBL.