a) Ramagya School participated in Born to Play Lawn Tennis Tournament organized at the Thyagraj Stadium forstudents in the category U-16 and U-18.
Anika Singh of class VIII won the finals of Lawn Tennis Tournament. She was awarded with U-16 Lawn Tennis Trophy and Certificate. She also participated in the U-18 category where she was declared the first runner up and also received a certificate.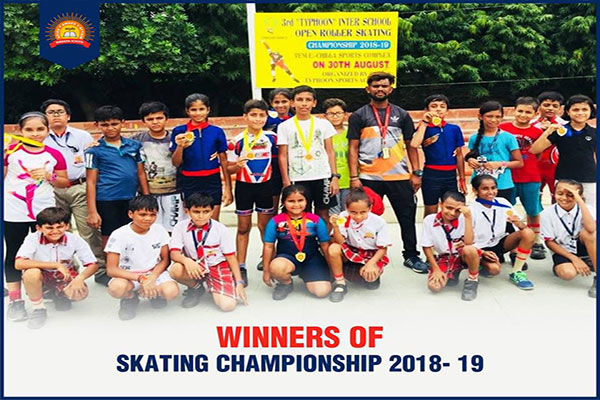 b) Ramagya School participated in 3rd Inter-School Open Roller Skating Championship organized by Typhoon Sports Academy at DDA Chilla Sports Complex, Vasundhara Enclave Delhi– 96.
The girls and boys of age 6 to 16 years competed with many schools of Delhi NCR. Ramagya School won 14 medals-5 Gold Medals, 6 Silver Medals, and 3 Bronze Medal.
Gold Medalists: Daksh Chauhan, Shatakshi Puawar, Hanish kalwani, Kashvi Sharma, Saadhya
Silver Medalists: Akshat Prasoon, Jahanvi, Tanisha Chauhan, Shreya Yadav, Manasvi Bhoi, Vaishnavi Singh
Bronze Medalists: Akshita Bhatnagar, Akshat Nautiyal, Anant Arora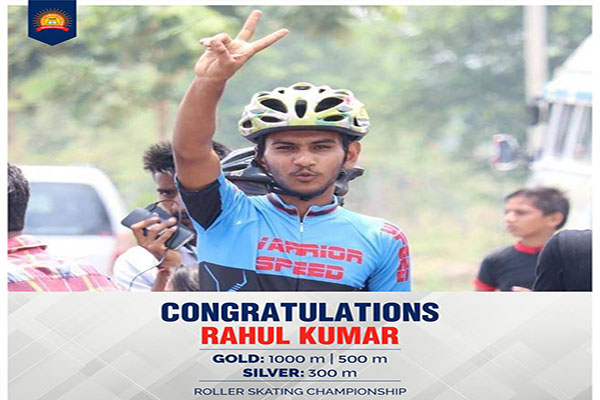 c) Ramagya School participated in Roller Skating Championship organized by Roller Skating Federation of India at Lionz Sports Association, Crossing Republik, Ghaziabad.
Rahul Kumar from class XI C of Ramagya School won gold medals in 1000 m and 500 m, and silver medal in 300 m
d) Ramagya School played JP trophy Cricket tournament organized in the first week of September at JP Cricket stadium Ghaziabad .
Ramagya School Cricket team of category- under 13, won the Finals of J.P trophy Cricket Tournament in a exciting match against Presidium school. Presidium school scored 124/10 in 25 overs. Ramagya successfully chased down the total and won by six wickets.
Man of the Match was awarded to Prince Chauhan and the Best Bowler of the Match was awarded to Advait Jain.
e) The 3rd National Games 2018 were organized by Sports & Cultural Federations of India at Mapusa, Goa for students under the age of 17 years. The event was held on June 24th and 25th, 2018. Students from Ramagya School participated in the National Football Tournament at Goa and gave their best performance to put up an extraordinary show. Adhithya Bajaj of class XII B and Jashanpreet of class XI C of Ramagya School represented UP in the final match held between U.P and Kerala and won the match by their tantalizing performance.
Campus