The pharmaceutical industry is recession-proof and the demand for new generation drugs and formulations is growing
Pharmacology is a rapidly growing, highly organised profession in which the role of the pharmacist has gained considerable importance with rapid advances and breakthroughs in the global pharmaceutical industry. In the next few years there is a distinct possibility of Indian pharmaceutical firms (Lupin, Cadila, Dr. Reddy's Labs, Wockhard, Cipla etc) embarking on a recruitment spree of pharma professionals to manage their expanding worldwide businesses.
It is estimated that India accounts for 5 percent of the world's market for pharmaceuticals, with an estimated value of about $33 billion (Rs.231,000 crore). The country ranks third in terms of total pharmaceutical production and 13th in terms of value of production. It is growing at an average of 15 percent annually and the market is expected to grow to $40 billion by 2020 which means fantastic career opportunities for pharmacy graduates.
Until very recently, pharmacology was the next best option of aspiring medical practitioners — a second preference career choice for those who couldn't get that much-coveted medical seat. In the present scenario however, industry leaders are becoming aware that a pharmacist is much more than a compounder or someone with a licence to manage a pharmacy.
Pharmaceutical science is all about the development and formulation of drugs (from natural and synthetic sources) which are used in the prevention and treatment of disease. Pharmacists work in research laboratories, in the research and development (R&D) departments of pharma companies and other establishments to develop new drugs, guarantee the quality of existing drugs and formulations, and improve their efficacy.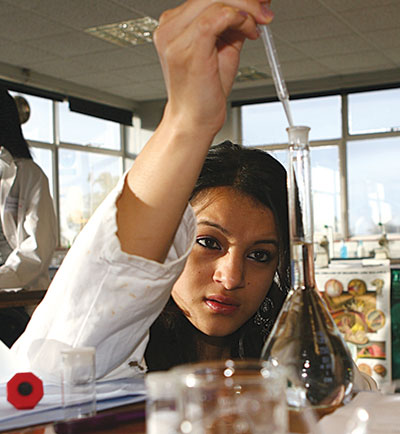 STUDY PROGRAMMES. Pharmacy programmes are offered as bachelor's degree and diploma courses. The degree programme in pharmacy — bachelor of pharmacy (B.Pharm) — is a four-year study programme open to students who have completed Plus Two or equivalent examination with physics, chemistry, and biology or mathematics. Admission into B.Pharm programmes is on the basis of performance in an entrance examination which evaluates candidates' knowledge of physics, chemistry, and biology at the Plus Two or equivalent level.
Most states of the Indian Union have promoted colleges of pharmacy which conduct B.Pharm courses. Admission into state-run colleges is on the basis of state domicile. Some of the reputed colleges/institutes for the study of pharmacy are:
• Institute of Medical Science, Banaras Hindu University, Varanasi
• Birla Institute of Technology, Mesra, Ranchi
• Faculty of Pharmacy, Jamia Hamdard, New Delhi
• Department of pharmaceutical science, Punjab University, Chandigarh
• SNDT Women's University, Mumbai
• Birla Institute of Technology and Science, Pilani
• Al-Ameen College of Pharmacy, Bangalore
• Nalanda College of Pharmacy, Nalgonda
• LM College of Pharmacy, Ahmedabad
The eligibility criterion for admission into diploma pharmacy courses which are usually of two years duration, is completion of the secondary school examination. However, a diploma merely qualifies one for the job of a dispensing pharmacist in hospitals or a pharmacy technician. These courses are of limited value in the present scenario.
Pharmacists working in R&D tend to have postgraduate degrees and this career can be stimulating and rewarding for those interested in serving humankind, alleviating pain and suffering. Research jobs are available at institutes such as the Central Drug Research Institute, Lucknow; the National Chemical Laboratory, Pune; the Council of Scientific and Industrial Research and the Indian Institute of Chemical Technology, Hyderabad.
RECESSION-PROOF INDUSTRY. The pharmaceutical industry is recession-proof and as the population of the aged increases, the demand for new generation drugs and formulations will continue to expand. The export market also offers cost-effective Indian drug manufacturers the best prospect for rapid expansion and higher profits. Therefore, the employment prospects of pharmacy professionals are good.
(Excerpted from 101 Great Careers for the 21st Century by Indra Gidwani, 2016)