With the Covid-19 pandemic and national lockdown forcing mass closure of education institutions, several state governments have issued circulars directing private school managements to defer/ waive tuition and other fees during the lockdown period. Moreover, some state governments such as Karnataka, Maharashtra and Madhya Pradesh have issued notifications prohibiting private schools from conducting online classes for pre-primary and primary children.
These ill-advised knee-jerk notifications have severely disrupted the cash flow of private independent (unaided) K-12 schools, especially budget private schools (BPS) countrywide whose number is estimated at 400,000, and endangered the employment of over 5 million teachers of private schools. With a substantial number of parents withholding March-June tuition fees, private schools countrywide are experiencing an unprecedented financial crunch and are unable to pay teachers' salaries
Summiya Yasmeen & Akhila Damodaran present a national round-up of state government directives relating to tuition fees and online teaching-learning in major states of the Indian Union.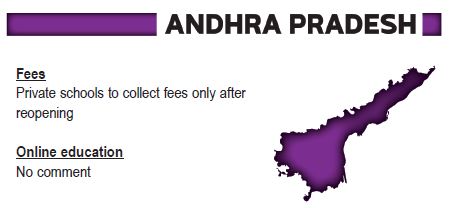 "We have petitioned the state education minister to direct parents who are financially capable, to pay school fees. Many private schools have 25-30 percent fees pending from the last academic year. How can the government expect us to pay teachers and other staff when we are not allowed to collect fees? Also we are unable to conduct online classes because parents fear this will become an excuse for us to charge fees." — A. Krishna Reddy, chief mentor, Andhra Pradesh Unaided Schools Managements
"The state's private schools are facing a grave financial crisis because of loss of fees revenue during the past three months. We have petitioned the state government to provide financial assistance to private school managements. Had the Central government allocated even 0.1 percent of the Rs.20 lakh crore Covid-19 stimulus package to education, it would have helped a great deal. We have placed our demand for financial support before the prime minister as well." — Syed Shamael Ahmed, national president, Private Schools and Children Welfare Association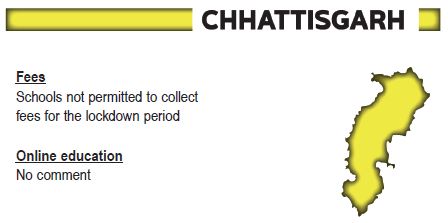 "If private schools are not allowed to collect fees, we will have to close down. In Chhattisgarh, parents believe online classes are an excuse for extorting fees from them. Parents and government should understand that education, like any other service, cannot be provided free-of-charge. Government should allow us to collect fees; otherwise many teachers will lose their jobs." — Jitendra Singh Thakur, founder-member, Chhattisgarh Private School Managements Association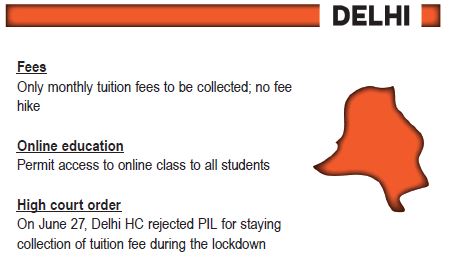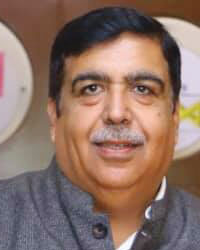 "All private schools in Delhi have complied with the government order and charged parents only tuition fees during the lockdown period. But there is huge shortfall in the collection of fees and most private schools are struggling to meet mandatory expenses including teachers salary payments. In its order the government clearly says that the fees collection restriction is for the lockdown period. Now with the Central and state governments officially beginning Unlock 1.0, we want them to issue a new order allowing schools to charge annual and development fees." — Bharat Arora, general secretary, Action Committee Unaided Recognized Private Schools, Delhi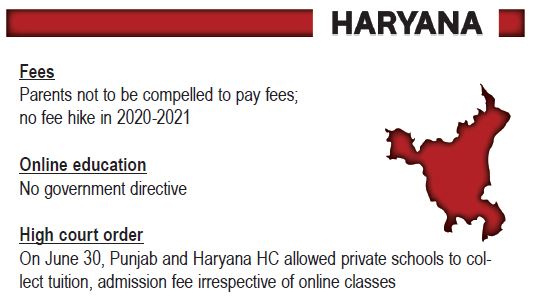 Moreover, the state government has issued an order stating that the School Leaving Certificate is not mandatory for students wanting admission into government schools. "The government is doing its best to destroy the state's private schools especially budget private schools (BPS). First, its directives deferring fees collection and prohibiting annual fee increase have severely jeopardised the financial stability of BPS, since parents who are 'capable to pay' are reluctant to pay. Moreover, the government order abolishing School Leaving Certificate is aimed at destroying BPS. Many parents who have not paid their children's fees will now be able to transfer into government schools." — Kulbhushan Sharma, president, Federation of Private Schools Association, Haryana
"The state government has been changing its stand and issuing confusing directives on fees collection. First, it prohibited schools from collecting fees during the lockdown period. Then it allowed only schools that conduct online classes to collect fees. In the circumstances, it has become very difficult to pay teachers. The government should waive private schools' property tax and electricity dues owing for the past few months" — Ramranjan Kumar Singh, general secretary, Jharkhand Private Schools Association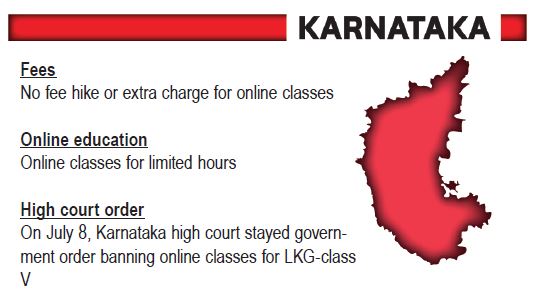 "The Karnataka government has not come forward to help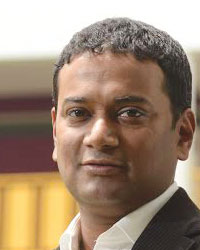 private school education, either monetarily or through policy making during this difficult time even though we contribute immensely to nation building. The government is also sending mixed messages about online classes. On one hand, it is encouraging profit-making online education businesses such as BYJU'S and Vedant and on the other it is discouraging private schools from conducting online classes to ensure learning continuity of children." — Mansoor Ali Khan, general secretary, Management of Independent CBSE Schools Association, Karnataka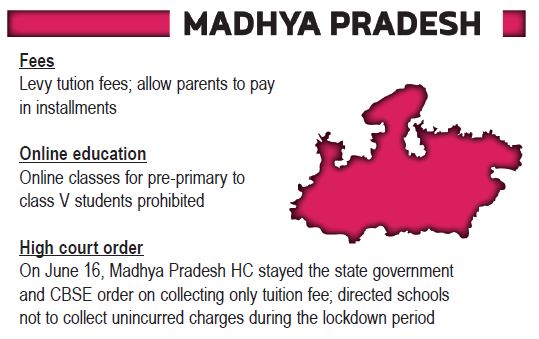 "The government does not have any right to interfere in the administration of private schools. In the T.M.A. Pai Case (2002), the Supreme Court upheld the right of private education institutions to administer themselves. We have obtained a stay from the high court on the state government's fees circular and are vigorously opposing the ban on online classes for pre-primary and primary students" —Anil Dhupur, president, Association of Unaided CBSE Schools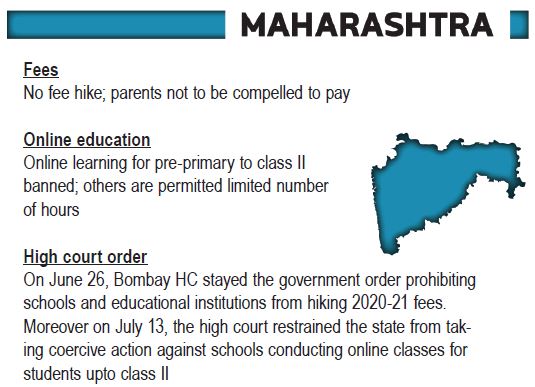 "While the government has been very helpful on some issues, it needs to come up with guidelines and policies based on consultation with experts and research to cater to a wider spectrum of schools. What may be applicable to a school in a rural area may not hold good for those in urban areas. Similarly, requirements are different for schools affiliated with different boards." — Rustom Kerawalla, founder-chairman, VIBGYOR Group of Schools and president, Association of Indian Schools
"Private schools in Rajasthan are in a better position than schools in other states. The state government has not yet passed any orders on fees collection and online education since closure of education institutions in March. However, some parents associations have begun agitating under the slogan 'No school no fees', and have petitioned the government to waive all fees of the past four months. But the state government is unlikely to heed this demand." — Damodar Goyal, president, Society for Unaided Private Schools of Rajasthan
"Because of the government order asking schools not to compel parents to pay fees, parents — even those who are financially capable — have stopped paying. This, in turn, has made it very difficult for schools to pay teachers and non-teaching staff. We have made several representations to the education ministry to allow schools conducting online classes to collect fees. But there has been no response." — R. Visalakshi, president, Tamil Nadu Private Schools Association
"Private schools especially budget private schools in Telangana are experiencing a severe financial crisis. Many parents haven't paid fees for several months resulting in nonpayment of teachers' salaries, rents and other expenses. The government has to step forward to rescue the state's private education system from collapse. It should offer interest-free loans to budget private schools and reduce school building rents by 30-50 percent. We have submitted representations to all MPs and MLAs of the state but there has been no response." — Madhusudhan Sadula, general secretary, Telangana Recognised Schools Management Association
"Most private schools are conducting online classes despite non-payment of fees by parents. How does the government expect us to pay teachers when we have no income? The government is paying salaries to its teachers but not providing any financial support to the teachers of private schools. We have demanded that the state government advances loans with low interest rates to schools. Prime minister Narendra Modi announced a Rs.20 lakh crore stimulus package but not a single paisa has been allotted for education. This is sad and unfortunate." — Atul Srivastav, president, Association of Private Schools, Uttar Pradesh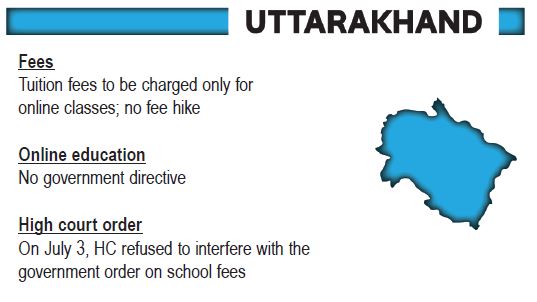 "The state government is not supporting private schools during this unprecedented crisis. The government changes its stand every fortnight, creating confusion within schools, students and parents' communities. As we cannot compel parents to pay fees, we haven't been able to pay many of our teachers and other staff since March." — Sureshchandra Ramola, president, Private Schools Management Association, Uttarakhand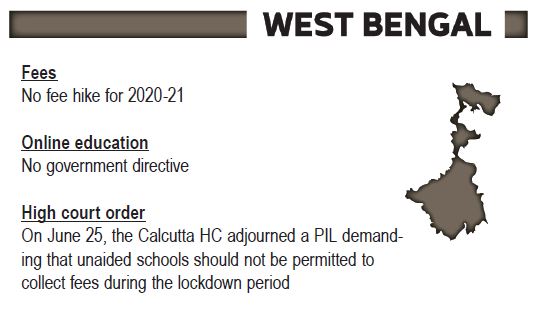 "The state government's sole directive to private schools post the Covid-19 lockdown is to not hike school fees or this academic year. We are thankful to the state government which hardly interferes in the functioning of private schools. It has always been very considerate and has cooperated with private schools. All private school managements in the state are taking decisions on online classes with full autonomy and freedom." — Nabarun De, joint secretary and secretary of The Association of Schools for the Indian School Certificate (WB Chapter)
With Autar Nehru (Delhi), Baishali Mukherjee (Kolkata) & Shivani Chaturvedi (Chennai)