Sprawled across 35 green acres in the historical town of Gwalior in Madhya Pradesh, Scindia Kanya Vidyalaya (SKV) was founded by the Gwalior dynasty matriarch Rajmata Vijaya Raje Scindia with the objective of nurturing and developing women leaders for newly-independent India. Inaugurated in 1956 by the late President Rajendra Prasad, SKV's first batch of students included the Rajmata's daughters and the President's grand-daughters.
Over the past six decades, SKV has metamorphosed into India's top-ranked all-girls boarding school offering internationally benchmarked higher primary and secondary education rooted in Indian cultural traditions. Unsurprisingly, the school is consistently ranked among India's Top 3 girls boarding schools in the annual EducationWorld India School Rankings.
The school is affiliated with the Delhi-based Central Board of Secondary Education (CBSE). Guided by the current President, Board of Governors, HH Rajmata Madhavi Raje Scindia, SKV offers class VI-XII education to 500 girl students mentored by 50 teachers. The school's impressive alumni roll call includes women leaders and achievers such as Smt Yashodhara Raje Scindia, Minister in the Madhya Pradesh Government; Maneka Gandhi, Union minister for women and child development; Sunanda Singhania, Executive Director of PSRI Hospital, New Delhi, Kamaljeet Sandhu, the first Indian woman athlete to win a gold in Asian Games, Richa Sharma IAS, Vaishali Malhotra IRS, Lt.Col. Dr Suprita Kalra, eminent educationists Jyotsna Brar and US-based sociologist Dr. Jaskiran Mathur to name a few.
"Scindia Kanya Vidyalaya was founded with the objective of educating the girl child for a newly independent India. The all-boys The Scindia School had already been in existence for over half a century by then. The royal family discerned the need of a school exclusively for girls to contribute to the creation of an egalitarian society by producing women leaders just as the boys school sent out eminent men into Indian society," says Nishi Misra, principal, SKV.
An alumna of Allahabad University with valuable teaching and admin experience in St. Mary's Convent and All Saints College (Nainital), Nishi Misra is the former headmistress of Sherwood College Junior School and Principal Vidya Devi Jindal School, Hisar. She took charge as the principal of Scindia Kanya Vidyalaya in 2010. A strong proponent of value-centric education, she is committed to nurturing creativity and compassion in the students.
A nationally renowned educationist, Misra served as a governing body member of the Delhi-based Central Board of Secondary Education (CBSE) and Chairperson of the Indian Public Schools Conference (IPSC). She currently serves as the chairperson of Gwalior Sahodaya Samiti.
During the course of her illustrious career in Indian K-12 education, Misra has been conferred with several awards and encomiums. Among them: CBSE National Award for Principals 2019, Women Achiever (Education) Award at the Women Who Lead National Awards 2021, Innovative Principal of the Year Award 2020 at the International Education Symposium & Awards, Principal Leadership for Outstanding Endeavors Award 2019 of Expressions India, Shrimati Sushma Swaraj Stree Shakti Samman,among others.
Eco-friendly campus equipped with contemporary infrastructure
SKV's picturesque 35-acre campus is set amidst immaculately landscaped lawns and seasonal flower beds and is home to diverse species of fauna.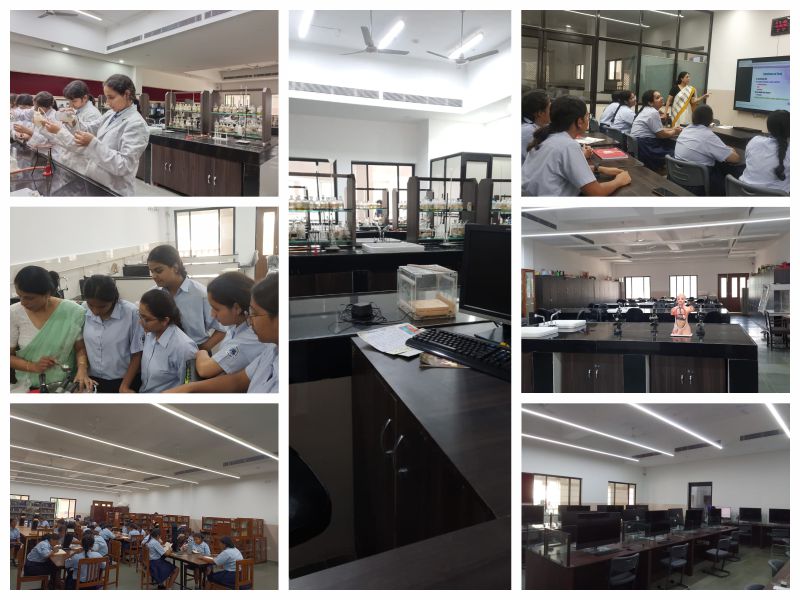 Spread over 1 lakh sq. ft., the main school building houses classrooms equipped with Smart boards, a library hosting 17,000 books and journal subscriptions and seven state-of-the-art science, geography, multimedia, home science and four well-equipped computer laboratories with 65 computers to enable experiential, hands-on learning. A newly installed weather station is used to log weather details which are used by NASA to record climate change. The campus also hosts a publishing department equipped with Apple PC's and publication accessories.
In the tradition of the country's vintage boarding schools, SKV provides excellent pastoral care to its 500 girl students who are housed in five well-maintained halls of residence with resident staff ensuring their physical and emotional well-being. A 24-bed hospital with a resident lady doctor and half a dozen nursing personnel are available 24/7 and all students and staff are medically insured.
Contemporary K-12 education rooted in cultural heritage
With an enviable teacher-student ratio of 1:10, SKV offers student-centred curriculums to enable children to explore and pursue their passions and interests. Experiential learning curriculum offered in the primary years enables children to learn through exploration and drive their academic progress.
The SKV girls are provided ample exposure through international student exchange programmes with well reputed international schools including the Westminster School, London; Appleby College, Ontario (Canada); the Woodbridge School, London; Oprah Winfrey School, Johannesburg (South Africa), among others. Gap-year students and overseas faculty visit SKV regularly contributing to enrichment of the school curriculum and enhancement of teaching-learning standards. Moreover, as a member of the Round Square, the school provides its students opportunities to interact with 90 schools worldwide and hone their collaboration and leadership skills.
Besides fostering internationalism in curriculum, SKV is committed to propagate and revive India's rich cultural heritage. Hosted each year on a different heritage theme, the Dharohar festival serves as a platform for showcasing arts such as Dastangoi, Batto Bai Doll making, Khatam Band Talab of Kashmir, Jhyali with Tangka painting from Sikkim and cuisines of various states.
With the school's strong focus on promoting entrepreneurship, SKV students have launched start-ups by creating full fledged business plans. A sanitary napkin manufacturing unit was set up in the village of Jarga. The unique Business Incubation Centre regularly trains students to give wings to their entrepreneurial dreams.
"Service, selflessness and enterprise define SKV's ethos. As part of our community outreach programme, we have set up an industrial unit 'Sankalp' where the students manufacture low cost sanitary napkins and distribute these free of cost to the underprivileged girls and women. Besides regular visits to schools for the blind, homes for the elderly and such other facilities, our students work hands-on to construct school buildings and toilets in villages where there are no schools. We have undertaken some of these projects in collaboration with other schools such as The Scindia School and The Doon School," says Misra.
Encomiums
In the 2022 CBSE class XII board exam, the SKV girls averaged 93.7 percent while 85 percent students averaged 90 percent and above.
In the 2022 CBSE class X board exam, SKV students averaged 87 percent while 37 percent students averaged 90 percent and above.
In the last few years, SKV students have undertaken expeditions to scale the 19,000 ft Baby Shivling Peak in the Garhwal Himalayas and the Chandrakhani Pass (16,000 ft). 17 students led by two teachers scaled 5,895 mt. of Mt. Kilimanjaro, Tanzania in 2019.
In 2019, class X student Zoya Rakishi performed her Arangetram in school. She had been learning Bharatanatyam for over three years from her dance teacher Kavita Pillai at SKV. Padmashri Smt. Geeta Chandran graced the event as the chief guest.
In 2019, SKV's head girl Diki Choden Bhutia broke the IPSC record for javelin throw and also won Gold in the CBSE nationals for Javelin representing the state of Madhya Pradesh.
A group of eight students participated in a filmmaking workshop conducted by world-renowned director Emilio Barrachina at the GSD School in Buitrago, Spain in 2018.
SKV offers the Money Smart School financial literacy programme of the National Centre for Financial Education (NCFE) to classes VI-X students.
A team of 22 students participated in the Miami International Conference for the Simulation of the UN in 2016. Four students bagged top prizes.
SKV students are set to represent India at the International Quality Circle Convention in Jakarta in November 2022.
"I would like to give the world to my students before I give my students to the world." – Nishi Misra, principal, Scindia Kanya Vidyalaya
Also read:
Scindia Kanya Vidyalaya: Promoting service, heritage and enterprise
Campus
,
News