This stamp-sized state in which tradition and modernity, spirituality and materialism, the familiar and strange, misty mountains and meadows blend seamlessly, offers a unique vacation experience
Way up in the clouds in the north-east of the subcontinent, flanked by Nepal to the east and Tibet to the North is the Himalayan Shangri-la of Sikkim (pop.540,000). The charm of this mountain state is its sweeping, uplifting vistas of white peaks glistening on the horizon, mist-shrouded green hills sliced by the frothing River Teesta, magic lakes hidden in lush forests, brooding Buddhist gomphas (monasteries) perched atop rocky heights, meadows carpeted with wild flowers, deep gorges and frozen glaciers. Nature has endowed Sikkim with all this and more. For the nature lover and the adventure sports enthusiast, it's a near ideal destination.
Colourful history
Originally the home of the Lepcha hill tribe, from the 15th century onward Sikkim experienced continuous immigration from Tibet. In the 16th century the Nyingmapa order of lamas (monks) consecrated Phuntsog Namgyal as the first Chogyal (king) of Sikkim. When the kingdom was established its jurisdiction extended to a part of eastern Nepal, Tibet's Chumbi valley, the Haley in Bhutan and the Terai region of India down to the plains including Darjeeling and Kalimpong. In 1849 the British annexed the entire area between the Sikkimese border and the Gangetic plain and declared it a protectorate in 1861.
After independence British treaties with the kingdom of Sikkim devolved upon New Delhi even as the majority Nepalese-origin population began demanding democratic elections. In a referendum in 1975, 97 percent of the population of Sikkim voted for union with India as a consequence of which it became the 22nd state of the Indian Union. Currently, the state is ruled by the Sikkim Democratic Front which has acquired a noteworthy reputation as the most environmentally-conscious state government of the country.
In this stamp-sized state, famous for the awesome Mt. Kanchendzonga (aka Kanchenjunga), the third highest peak in the world which the Sikkimese regard as their presiding deity, tourism and agriculture are the mainstay of the economy. For administrative purposes the state is divided into four districts — north, south, east and west. The east, with Gangtok as its capital, is the seat of government and is also the most easily accessible point from where most tourists begin their expeditions. The best time to visit is between March and late May and between October and December.
"We first visited Sikkim about ten years ago and since then we have been back six or seven times, drawn by the beauty of the mountains as well as the warmth and natural courtesy of the people. Despite the influx of tourists, Sikkim still has the distinctive charm of a mountain kingdom. The landscape with green cultivated hillsides to the rocky terrain of the Chhangu Lake and Nathu La; the monastries, such as Rumtek, are richly decorated; road connections are fairly good; the food especially the local soup, thukpa, is outstanding. What more could a traveller want," exudes Supriya Chaudhuri, former professor of English at Jadavpur University.
Getting there
Air. Sikkim's sole Pakyong Airport, opened in September 2018. Located in Pakyong Village 35 km south of Gangtok, it is one of five highest altitude airports of the country. Pakyong, however, is still not very well connected by air with the rest of the country. Only one airline, Spicejet operates direct flight services between Pakyong and Kolkata and Guwahati.
However, Bagdogra in north Bengal, which is 124 km from Gangtok and a four-hour drive in fair weather is well served by direct air service with Kolkata, New Delhi, Mumbai, Chennai, Bengaluru, Hyderagad, Guwahati and Paro (Bhutan). Sikkim Tourism operates a daily five-seater helicopter service between Bagdogra and Gangtok, which gets you there in 30 minutes.
Road. Though Sikkim is unserved by Indian Railways, motorable roads connect Gangtok with Siliguri (114 km); Kolkata (725 km); Darjeeling (139 km); Guwahati (589 km) and to all district headquarters in Sikkim. The Sikkim Nationalised Transport (SNT) runs regular bus services from Gangtok to major towns in north Bengal and within the state. Private buses and taxis are also ubiquitous.
Gangtok
Situated at an altitude of 5,800 ft, this friendly, bustling hill station offers a host of tourist attractions. The Buddhist heritage of Sikkim is best appreciated at the world-renowned Namgyal Institute of Tibetology, a treasure trove of rare manuscripts, thankas (tapestries used in Buddhist liturgy) and other religious artefacts. Also a must-see is the 200-year-old Enchey Monastery and the Do-dul Chorten or stupa around which are 108 prayer wheels turned by devout Buddhists to invoke the bodhisattva.
Surrounding the Namgyal Institute and in the heart of a serene forest is the breathtaking Orchid Sanctuary which showcases 454 orchid species for which Sikkim is famous. For flora and fauna enthusiasts, orchid shows at the White Memorial Hall Complex in springtime are mandatory. For shoppers, the Directorate of Handicrafts and Handlooms has an emporium from where you can pick up exquisitely crafted objects while watching gifted craftsmen at work. Alternatively you can spend a whole afternoon wandering through Gangtok's bazaars which offer great bargains.
Spread over a mere 7,096 sq. km, Sikkim is a tiny state. Therefore despite its undulating terrain it offers visitors to Gangtok, numerous opportunities for excursions to other parts of the state.
Accommodation. Gangtok has hotels and lodges to suit all budgets. Top-end: Hotel Tibet (Rs.3,500-6,900 per night), Hotel Elgin Nor-Khill (Rs.9,600-12,300 per night including meals); Tashi Delek (Rs.4,500-6,750); Central Hotel (Rs.1,100-3,300), Chumbi Residency (Rs.2.025-7,425). Mid-range: Golden Pagoda (Rs.1,000-1,750); Rendezvous (Rs.3,300-3,950); Mist Tree Mountain (Rs.1,336-1,406). Budget: Denzong Inn (Rs.1,530-2,620); Hotel Pomra (Rs.1,200-3,000); Sun Flower and others. Sikkim has several restaurants serving local gastronomical delights such as mama and thukpa. Several restaurants including the Blue Sheep cater to western tastes.
Excursions
Rumtek Dharma Chakra Centre. A mere 45-minute drive from Gangtok, this awe-inspiring monastery exudes a rare aura of serenity and offers spectacular views.
Changu Lake and Nathula Pass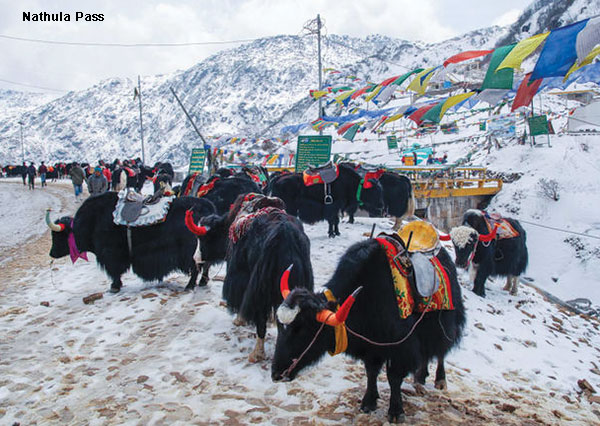 One should definitely include these destinations in the Sikkim itinerary, even though it entails getting a special visitors permit, because of their proximity to the China border. En route one gets to meet several brigades of the Indian Army and the rare opportunity to witness first-hand the great dedication and courage of these individuals who live and work in extreme weather conditions, 12,000 ft above sea level. The stark beauty of the lake and snow-covered mountains add to the amazing experience.
Warning. Unsuspecting travellers are often hoodwinked by drivers and guides who declare halfway that roads are blocked and refuse to go further. Make sure snowchains are attached to your vehicle; this will ensure that your cab or van can traverse the full distance of the Nathula pass.
Pelling
Pelling has fast mushroomed into an urban settlement, mostly due to increased tourist traffic. It offers several categories of hotels and bus services link the town with major tourist destinations in west Sikkim. It is a base point for excursions to the western reaches of the state.
Pemayangtse Monastery
This wonder of ancient, unscripted engineering built on a height of 6,840 ft offers a pristine view of the Kanchencizonga mountain. It houses the famous sang-tak-palri — a wooden structure depicting the Maha Guru's heavenly palace. Be prepared to be awed by the sombre, mysterious aura of this monastery constructed in 1705.
Rabdentse ruins
This ruined splendour of the second capital of the erstwhile kingdom of Sikkim is off the beaten track, but worth a visit. You get there by following a footpath, which branches off the main road just below the Pemayangtse monastery. Vistas from the upper heights of the ruins span the nearby valleys and the towering Kanchendzonga peak.
Khecheopalri Lake
Popularly known as the Wishing Lake. Legend has it that not a single leaf is to be found floating in its clear waters, because birds swoop down and carry leaves away as soon as they fall. A 20-minute walk through thick forest takes you to the lake. In the late afternoons a walk through this lonely stretch, with prayer flags fluttering in the wind and solitary lamas bowed in prayer offers the visitor an eerie but memorable experience.
Kanchendzonga Waterfalls. Within an hour's drive from Pelling these falls provide a roaring vista of nature at its raging best.
Yuksam
The first capital of Sikkim, Yuksam is sacred soil to the Sikkimese because the first Chogyal of the kingdom was consecrated here in 1614. It is a popular base destination of trekkers because the picturesque treks to Dzongri and to the base camp of Kanchendzonga begin here. The Kanchendzonga range can be viewed in all its splendour from Dzongri.
This is one of the less-discovered parts of Sikkim. There are few travellers here — mostly foreigners and hardcore trekkers. Its unspoiled charm draws trekking enthusiasts like Sharanya Sen, who returns to Sikkim year after year. "The feeling of being alone among the mountains is amazing" she says. "The rush of adrenaline, the bitterness of failure, the triumphant sense of achievement — you go through an entire gamut of emotions during a trek," says Sen.
Accommodation. Hotels like Demazong, Dzongrilla, Wild Orchid, Tasi Gang and Pemathang offer good facilities. There are trekkers' huts along the route, which offer concessions to students. Porters and guides are very helpful.
Yumthang Valley
This beautiful valley in the high reaches of the Himalayas at an altitude of 11,800 ft. is a mere 140 km north of Gangtok. It abounds in fields of violet primulas, wild yellow flowers and multi-coloured rhododendrons. This has earned it the sobriquet of the valley of flowers. It erupts into a riot of colour in May, with flowers in full bloom. The valley is also renowned for the Shinqba Rhododendron.
Sanctuary. Sikkim orchids: riot of colour nurturing 24 different species of the flower. The Yumthang tsa chu or hot springs are famous for their healing properties.
Package tours. Package tours are organised by registered travel agents in Gangtok to Yumthang. This is the most convenient option for busy tourists. A three day/two nights package (Gangtok-Lachung, Lachung-Yumthang-Lachung, Lachung-Gangtok) is the most preferred option though a shorter package of two days, one night is also available.
Lachen
A picturesque six-hour drive from Gangtok, the Lachen monastery commands a panoramic view of the surrounding mountains.
Kanchendzonga National Park. Spread over 850 sq. km, this preserve lies in the shadow of the second highest mountain range in the country with peaks rising to 1,829-8,585 metres with the spectacular Mt. Kanchendzonga towering over miles of virgin forest. Rare species of animals like the Tibetan wolf and the red Panda are found here.
Namchi
This headquarter town of the south district is about 78 km from Gangtok. Flower exhibitions are organised here as an annual feature during the month of February with wild orchids a must-see.
Tendong Hill.This is the Lepcha version of Mt. Ararat on which Noah's Ark rested. According to Lepcha legend when the whole world was flooded, the hill saved Lebchas from the deluge. Rising to 8,530 ft. and surrounded by verdant forests, the view from here spans across the plains of Bengal to the craggy snow-clad peaks of the Himalayan ranges.
Ravangala and Menam Hill
On a clear day, the peaks of Kanchendzonga loom so near, it seems possible to run across to them. From the base of Menam hill the scenic trek to Ravangla takes four hours. Also recommended is the trek from Namchi through Ravangla and Menam to Borong.
Adventure sports
Trekking. Technical climbing experience is not necessary as most routes are between 6,000 and 14,000 ft. Camping and trekking gear is available on hire from the tourism department and reputed travel agencies. Ideal trekking season is from mid-February to May and October to mid-December.
River rafting on the Teesta, rafting expeditions begin from Makha down to Sirwani and Rangpo. The Rangeet expedition takes you from Sikip via Nayabazaar to Melli. The Sikkim department of tourism and most travel agents organise river-rafting expeditions.
Kayaking. Facilities are available on the Teesta with the tourism department renting kayaks. Some experience in kayaking is required.
Mountain biking. This sport has been recently introduced and has become very popular. Most roads of Sikkim are negotiable by mountain bikes.
Yak safari. Organised from Dzongri onwards in west Sikkim by the tourism department or travel agencies. Prior booking required.
A land of stark contrasts, where tradition and modernity, spirituality and crass materialism, the familiar and the strange, order and chaos blend seamlessly, Sikkim offers a unique vacation experience. Long after you leave this Shangri-la, its misty mountains, forest trails and fast-flowing rivers remain etched in your memory.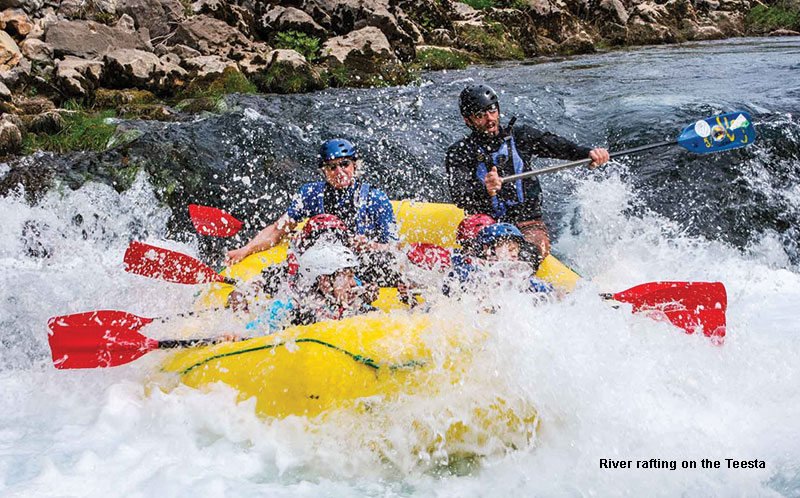 Sikkim Tourism offices. Government of Sikkim, Mahatma Gandhi Marg, Gangtok (Tel: 03592 209 090); Sikkim nationalised transport colony, Hill Cart Road. Siliguri (Tel: 089382 87813); Sikkim Tourist Information Centre, Bagdogra airport (Tel: 95353-2698030).