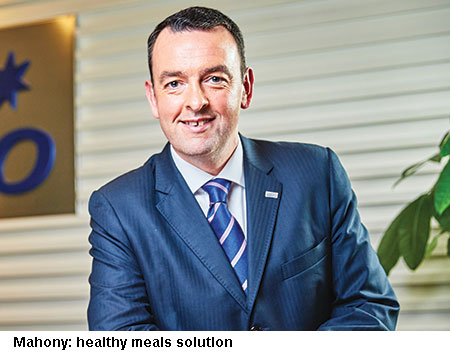 Colm O Mahony is the Hong Kong-based CEO of Sodexo Education Asia Pacific, the education division of the Marseilles (France)-based global services provider Sodexo (estb.1966, annual revenue: €20.4 billion or Rs.163,413 crore), which offers healthy meals and facilities management solutions to education institutions in nine countries including India.
In India the company provides one or more services to 52 schools and colleges including the top-ranked Dhirubhai Ambani International School, Mumbai, Mercedes-Benz International, Pune, BITS-Pilani, and O.P. Jindal Global University, Sonipat among others serving 122,000 meals daily, through its subsidiary Sodexo India On-Site Services.
Newspeg. Colm O Mahony was in Bangalore in October shortly after release of the Sodexo University Trends Report 2018. The report identified trends that will impact universities in the future, the changing role of universities, and what they must do to engage with a new generation of students.
History. An Irish national, Colm O. Mahony studied catering management in Highbury College, Portsmouth (UK) and began his professional career with the Jurys Hotel Group (Ireland). Three years later, he moved to Gardner Merchant, a reputed catering service chain which was acquired by Sodexo in 1995. After serving as director of Open Golf, the annual Henley Royal Regatta and the Chelsea Flower Show among other high profile events, in 2009 Mahony was appointed Sodexo's divisional director for commercial education. In 2011 he moved to Hong Kong.
Meanwhile, Sodexo entered the Indian marketplace with its Benefits and Rewards Services (meal vouchers) offered as incentives to corporate employees to lunch in selected restaurants. The infrastructure management business was introduced in 2001 followed by food management services in 2002.
Direct talk. "It's very rewarding to work with schools and colleges as we are directly enabling children to reach their maximum potential. According to a 2013 Kelloggs India study, 27 percent of Indian students skip meals because of financial constraints. Our Sodexo International University Survey 2018 indicates that 49 percent of students feel universities are unwelcoming and 20 percent think of quitting before completing their study programmes. Our experience in working with top ranked universities abroad enables us to offer solutions to provide healthy meals to Indian children at affordable price. Moreover our range of services in infrastructure and kitchens and food management helps to reduce the administrative burden of school and college managements, freeing them up to focus on improving education delivery," says Mahony adding that the average price of a Sodexo student meal is Rs.40.
Future plans. Mahony has ambitious plans for India given the number of students in Indian higher education is set to touch 27 million by 2020. "We have set an annual growth target of 25 percent for India, adding ten-15 institutions every year. We are also exploring student housing which is currently unstructured in India unlike countries like the UK which have well-defined models. Our surveys indicate that a major concern of students is security in student housing. This will be the prime benefit we will offer," says Mahony.
Sruthy Susan Ullas (Bangalore)