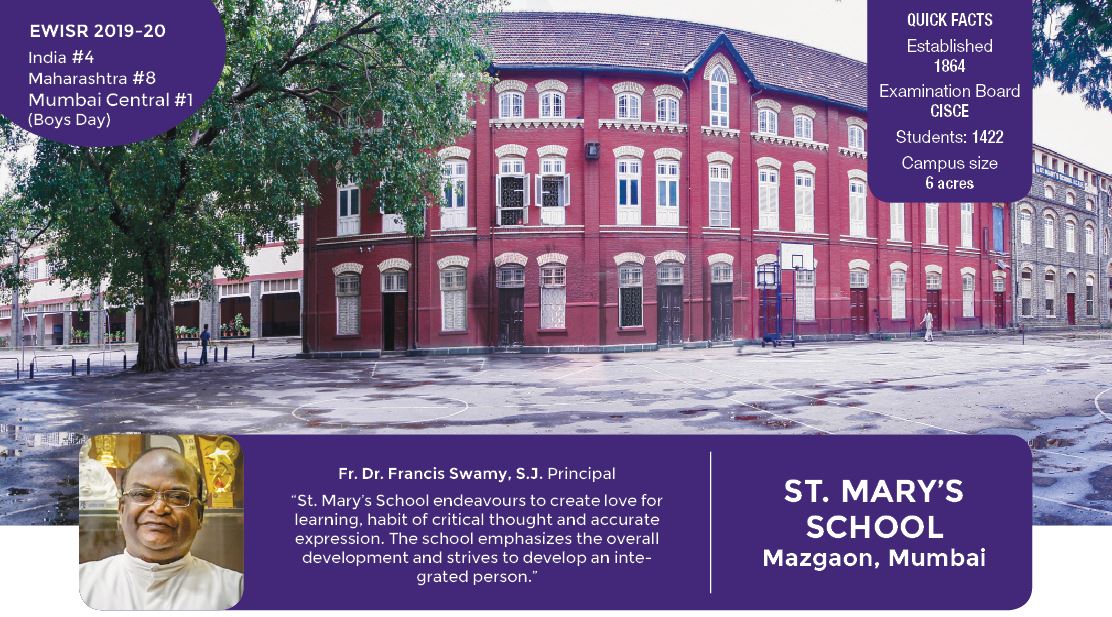 Established in 1864 by members of the Society of Jesus (Jesuits), a Roman Catholic order dating back to the 16th century, the CISCE-affiliated all-boys St. Mary's School, Mazgaon, Mumbai has established an excellent national reputation for providing holistic and values-based education to its 1,422 students mentored by 68 highly qualified teachers on its musters. Unsurprisingly, in the EducationWorld India School Rankings 2019-20, St. Mary's School is among the country's Top 5 (#4) boys day schools, #2 in Maharashtra and #1 in Mumbai Central. The school is also ranked #1 in Mumbai Central in all 14 parameters including competence of faculty, academic reputation, sports education, among others.
Situated in the historic Mazgaon suburb of Central Mumbai, St. Mary's School Mazgaon's six-acre campus houses a quaint St. Anne's church apart from four majestic Gothic-style stone buildings, the oldest of which dates back to the colonial era.
A safe environment ensured by 24/7 CCTV surveillance, the St. Mary's campus offers its 1,422 students globally comparable academic, co-curricular and sports facilities. Academic infrastructure includes 43 wifi-enabled Smart classrooms, a well-stocked library, five well-equipped physics, chemistry, biology and computer science laboratories.
In addition, the school boasts of a 1,400-seat spacious auditorium, a 3D theatre for experiential learning, a unique 'curiosity gym' equipped with 3D designing and printing facilities and a solar power plant in line with the UN's sustainable development goals. It's noteworthy to mention Immaculata – St. Mary's School Mazgaon inter-school extravaganza conceptualised and organised by the students. Driven by their motto "men for others", SMS encourages student exchange programmes with their rural school in Talasari, a three-hour drive away from Mazgaon, among several other outreach programmes.
Fully committed to the development of students' multiple intelligences, the school provides extensive sports (two football grounds, athletics track) and extra-curricular (dance, music and fine arts rooms and separate amphitheatre for speech and drama) facilities with professionally trained coaches. Given the school's focus on pedagogies strongly rooted in learning through exploration and research, St. Mary's School Mazgaon students have routinely excelled in the CISCE board exams. In 2019, 88 percent of the 120 students who wrote the class X ICSE board exam averaged above 90 percent. School toppers Ribhav Mishra and Divya Patel scored 98 percent.
St. Mary's School Mazgaon's impressive alumni include the late Goolam Essaji Vahanvati, former attorney general of India; business tycoon Azim Premji; film producer – Sooraj Barjatya; actors Boman Irani and the late Farooq Shaikh; and Olympic sportspersons Adille J. Sumariwalla (athletics) and Rehan Poncha (swimming), among many others.