Pricilla Haokip joined Kasiga School in the year 2021. She grew up in a mesmerizing landscape of Manipur and spent most of her adolescence learning about compassion for her community in her hometown. She is a conscientious student of Humanities who has made up her mind to make a future in Hospitality Management or Law. She plays a key role in the school community. She is an avid reader and also likes to keep herself motivated by dancing. She is striving harder each day to pursue her plans for education in the United Kingdom or her own motherland.
EducationWorld's series titled Students' Corner, which puts special emphasis on children, features Pricilla Juii Haokip, the Head Girl from Kasiga School, Dehradun, to understand how she is carrying out her studies and council responsibilities simultaneously, her take on social media, NEP 2020, how the post of the Head Girl has given her the opportunity to develop her public speaking and leadership skills, her interests and so on.
A Students Council representative is a coveted position. How are you able to carry out your dual responsibilities of managing your time as a council member and studies?
As the Head Girl, I must confess that I did find it overwhelming to manage my time and the thought did cross my mind whether I had bitten off more than I could chew. I had to learn how to prioritise my leadership tasks and academic work so I spoke with some of the staff members and sought guidance on the same. Through my talks with them I learnt that I need to pay attention to what I was doing at that time and later work on other pending tasks. I also came to understand that I needed to delegate work to other council members to ease my burden. It took time to learn all this but eventually I became better at managing both my responsibilities.
Mention the challenges that come alongside this post.
Leadership calls on one to be just and fair while at the same time remaining calm in all adversities. Leadership isn't as easy as one thinks it is. One suddenly needs to focus on doing what is right at all times in order to be a role model to others, and that certainly is not as simple as it sounds. Making the transition from being led to suddenly leading others can cause much angst. Then one is expected to make compromises which they are not always prepared for, which could feel like travelling on a choppy sea for the first time. Added to this is the challenge of sorting out issues between the girls and having to play judge and jury. How does one suddenly tell their friends to stop doing certain things which a few months ago they were doing the same with them? It makes one seem to be a sort of a hypocrite. Added to this is the fact that one can never be late for anything no matter how busy or tired or in what mood he/she is. The greater the responsibility the lonelier one gets! One has to learn and more importantly to learn fast.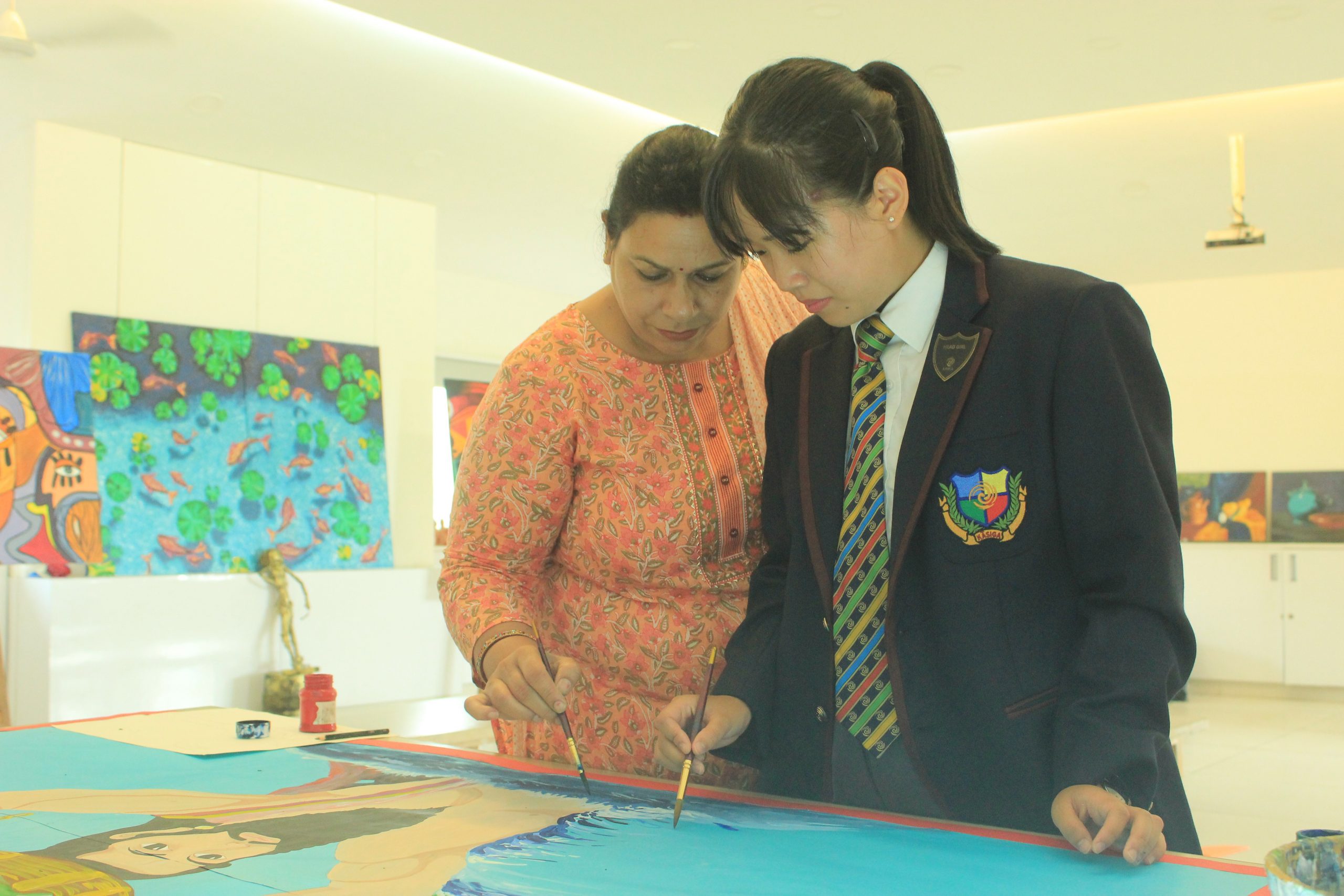 Working as the Head Girl has its own pros and cons. Friends have their umpteen demands on you. How do you maintain the same? How do you deal with your friends?
It is true, it does have pros and cons and that is what makes this role so interesting. It brings with it honour and respect. It teaches one to multi-task, to take decisions, to have the authority to delegate tasks and most importantly to stay grounded. It also provides an opportunity to enhance one's leadership abilities and the experience of overcoming challenges. As mentioned by me earlier having to compromise on friendship is one of the most certainly challenging. If I do not stand by my friends, I begin to ignore me and should I side with them then I'd be doing injustice to the others. Needing to play the role of the Devil's Advocate is certainly asking a lot of a Head Girl. Doing this balancing act was not easy but then I spoke to one of my friends and the advice she gave me was invaluable. She said that a good friend would understand your predicament and stand by me, and that being principled was as important as friendship. I am grateful to her for now I do not feel guilty of having to compromise on my principles. I may have lost a few friends but the ones who I have understand me and stand by me.
How long do you spend on social media? If yes, how does it help you in life or how does it distract you in life? (Whichever is applicable for you)
I do not spend any time on social media at school since the internet access in school is limited and supervised. However, when I am at home, I spend some time chatting with friends and family. I listen to the preaching of God and watch movies that are based on real-life which helps me in staying grounded. I usually reserve a couple of hours a day for all this, which is always at a time when I have finished my home tasks and studies.
Have you understood the National Education Policy 2020's takeaways?
Yes, I have understood the following key takeaways of National Education Policy 2020 which is that the school system has been divided into stages – Foundation, Preparatory, Middle and Secondary and that the mother tongue or regional language will be the medium of instruction till grade 5. Also, that the third-term drop out students will be able to complete the degree after a break. Another feature of this policy is that Vocational Education will be integrated from Grade 6 with 10 days of mandatory internship. The other important takeaways are that report cards are to be more holistic, and there will be ten bagless days curriculum from Grade 6 to 8
Do you think this post of the Head Girl helps you develop your soft skills and makes you industry-ready? Or is this very much related to school activities only, and the industry is way different? Your views.
Yes, I definitely think that post of the Head Girl helps me in developing soft skills and makes me industry ready. The challenges which I face daily test my patience sometimes but I also know that every post comes with an opportunity. An opportunity that not everyone is lucky enough to have. I wake up every day being grateful for this post and the lessons I will learn with each passing day.
Also Read: Students' Corner: Kriti Garg, SAI International School