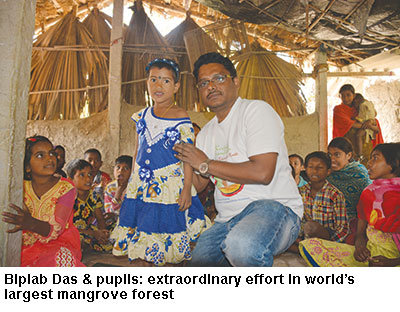 Biplab Das, an engineering graduate of Jadavpur University and business management postgrad of IIM-Bangalore, and Saurabh Kumar, an engineering alum of Benares Hindu University and IIM-Bangalore, are co-founders of the Kolkata-based Kishalay Foundation (estb.2013). This is an education NGO that's making extraordinary efforts to improve the learning outcomes of 3,000 children in 25 government primary schools in remote hamlets deep inside the Sundarbans, the world's largest mangrove forest (pop. 4 million). The foundation also runs 13 Kishalay EduKids 'learning hubs' in 30 Sundarban villages sited on 15 islands, which provide early childhood care and education (ECCE) to 300 children aged 2.5-6 years.
Newspeg. Last October, the foundation launched an adult literacy programme for 50 young mothers residing in the Sundarbans. A month later it set up a Sundarban Changemakers Group to initiate social development projects in this neglected region.
History. Born and schooled in Rangabelia village in the Sunderbans where his father was a government school teacher, Das has witnessed first-hand the region's grinding poverty and elementary education deficit. Subsequently, even after he moved to Kolkata and Bangalore for higher studies, he regularly visited his ancestral home in the Sundarbans to discover that "little has changed".
Therefore, in 2013, while he was working with the consultancy major Accenture in Kolkata, together with college buddies Soumitra Dandapat, Jhilam Nandi, a former IT professional, and IIM batchmate Saurabh Kumar Das, he registered the Kishalay Foundation with the objective of improving public primary education in the Sundarbans. Over the next five years, the four trustees of the foundation took turns to visit the region, launching and supervising several early childhood education projects. In 2017, Das put in his papers at Accenture to work full-time as director of the foundation. Currently, the foundation has 30 employees, including 21 women, and operates on a modest budget of Rs.10 lakh per year, raised from family and friends.
Recently the foundation has introduced three intervention programmes — in sports (weekly sports camps), IT learning (audio-visual programmes) and EDUtoys (abacus, puzzles and other games-based learning) in government primaries supported by it.
Direct talk. "Although initially our intention was to modestly aid the most severely neglected government schools, over the years we developed a close connect with the people here and have gradually expanded our projects. In addition to education improvement programmes, we now offer nutrition awareness and support programmes for malnourished children in our early learning hubs," says Das, who served with Mahindra Satyam for seven years before signing up with Accenture in 2011.
Future plans. Since taking charge as the Kishalay Foundation's full-time director two years ago, Das has worked out an extensive expansion programme. "In the next two years, we plan to reach our programmes to 25 islands of the Sundarbans, and increase the number of learning hubs from the current 13 to 25. To finance these initiatives, we will be stepping up our fund-raising from corporates by spreading awareness about Kishalay's work, track record and future plans," says Das.
Wind beneath your wings!
Baishali Mukherjee (Kolkata)