Dr. B. Ebenezar, Principal & Head, SVKM School, Jadcherla
With decades of rich experience in education right from preschool through higher education, Shri Vile Parle Kelavani Mandal (SVKM), Jadcherla endeavours to bring in an altogether different dimension to school education. Our school aspires to emerge as a centre of excellence that provides a conducive environment for discovering the joy of learning, passion for creativity and exploring the innate potential of the learners. We strongly believe that every child has the ability to blossom into a better global citizen of tomorrow. This is possible only when the child is given an opportunity to explore his full potential through holistic education. Our school environment is designed in such a way that the child gets used to the art of learning, questioning, exploring, expressing, excelling and communicating. We blend co-curricular and extra-curricular activities with academics so that every child is shaped into a self-reliant citizen who is well prepared to face the challenges of an increasingly competitive world. Parents have the strongest influence in moulding the future of children and their consistent support empowers us to invest more effort in making the students more capable with each passing day.
Housed within a sprawling air-conditioned building, our school boasts world class infrastructure with advanced digital technology enabled spacious classrooms, ultramodern laboratories, well-stocked library equipped with an e-library, auditorium, conference halls, dance studio, cafeteria, various indoor and outdoor sporting facilities, among other facilities.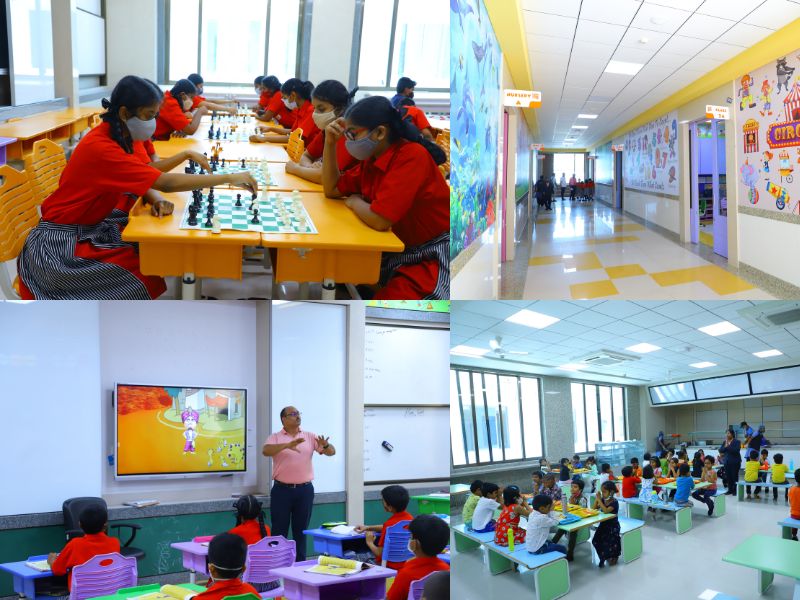 Our carefully handpicked teachers, the pillars of our school, bring with them impressive academic and professional experience and they are empowered with the required tools and facilities and training from time to time. Our tech-savvy teachers are relentless learners, excellent observers, experienced mentors, poised trainers with a strong flair for research, analysis and implementation of best methods, pedagogies and systems at all levels of the teaching-learning process. Apart from being champions of both classroom and online digital learning solutions, our teachers are student-friendly, collaborative and supportive team players who ignite the passion to learn and spread the joy of learning.
Learning beyond the classroom is the mission of our school as we shape the young leaders of tomorrow. The focus is on competency-based learning rather than traditional rote method. Keeping the predefined learning outcomes in mind, we adopt 5Es (Engage – Explore – Explain – Elaborate – Evaluate) methodology in our teaching-learning process. The objective is to develop individual students with strong conceptual clarity, confidence and communication skills, which is the ultimate need of the hour. Across concepts, we encourage students to participate in experiential-learning, peer-learning and research-based learning with paramount importance to STEM and STEAM. Value education, life skills and several elements of transformative leadership form an integral part of our school curriculum.
Students are encouraged to participate in community connect activities such as Clean and Green Programme, Haritha Haaram (massive tree plantation drive), organic farming in the school kitchen garden where they learn the art of cultivation from the expertise of local farmers. On every birthday, students do two important things as part of the celebration — they plant a sapling and take care of it as long as they study in the school and they also donate a book to the local community library. Special occasions like the Children's Day and New Year Day marks the students' visit to orphanages and old-age homes and by spending a full day time with the inmates to share their love and support. The school constantly works on adding new dimension to the student's personality by honing finer skills of their choice, giving them professional training on visual and performing arts, self-defence, yoga, space exploration and school radio.
We understand that the world is constantly evolving and we need to equip the students accordingly to meet the dynamic demands of the future. In doing so, the key stakeholders of our school work in tandem to broaden the horizons of the students and lead them towards the dawn of success.
Also read: SVKM JV Parekh International School, Mumbai