The Madras High Court has passed strictures against the AIADMK-led state government for restraining private schools and colleges from collecting tuition fees from parents, as this has led to non-payment of salaries to teachers and non-teaching staff. A government order issued on April 20 under the Disaster Management Act, 2005, had directed private school and college managements not to compel students/parents to pay fees for the forthcoming academic year 2020-21 or to collect dues for the lockdown period, which began in mid-March and has been extended to July 31.
Admitting a writ petition filed by the Tamil Nadu Association of Private Schools on June 30, Justice R. Mahadevan wondered how unaided institutions prohibited from collecting fees even as most of them are conducting online classes, can be expected to pay salaries to teachers and staff. Adjourning the hearing to July 6, the court directed the petitioner associations to file a detailed report suggesting ways and means by which schools can collect tuition fees without interrupting children's education. The April 20 government order has adversely impacted an estimated 18,000 private unaided schools (including nursery and primary schools) across the state, which are experiencing great financial stress in meeting the salaries of 300,000 teachers and 200,000 support staff.
During the hearing, advocate-general Vijay Narayan informed the court that the state government in the meanwhile had expeditiously cleared payment of a sum of Rs.248.79 crore owing to private schools as reimbursement for admitting poor children in their neighbourhoods under s.12 (1) (c) of the Right of Children to Free & Compulsory Education (RTE) Act, 2009. He suggested this amount could be utilised to pay the pending salaries of teachers and staff.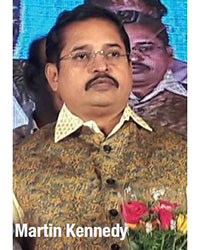 "The amount of Rs.248.79 crore belatedly disbursed by the government is insufficient to pay teachers and staff statewide. The amount pending under the RTE reimbursement for the year 2018- 19 is Rs.280 crore, and the amount pending for 2019-20 is Rs.550 crore. Against this, the government has released only Rs.248.79 crore for 2018-19 and left out private schools in Chennai which have not received s.12 (1) (c) reimbursements for 2018- 19 and 2019-20. How can the government expect the RTE reimbursement amount would be sufficient to meet the expenses of private unaided schools of the entire state?" queries Martin Kennedy, president of the Tamil Nadu Private Schools Association. "Several private school associations will be staging a statewide online protest on July 10 to press demands for permitting schools to collect tuition fees from parents who can afford to pay, immediate release of s.12 (1) (c) reimbursements due for 2018-19, 2019-20 and urgent release of RTE reimbursement for schools in Chennai," adds Kennedy.
The patronising attitude of the AIADMK government towards private independent (unaided) schools is indicated by the allusion that the state government had performed an act of charity in paying the rightful dues (payable under s.12 (2) of the RTE Act) to them for educating poor children in their neighbourhoods. Moreover, the amount disbursed is a fraction of the total amounts due to private schools under s.12 (2).
"The RTE reimbursement amount that the government has provided to almost 10,000 private schools is peanuts. My salary bill for teachers and non-teaching staff is Rs.19 lakh per month, while I received a reimbursement of Rs.3 lakh. My question is, why is the government not willing to do away with fitness certificate charges, license fee, property tax, professional tax, electricity charges, insurance for school buses during this time of crisis? Further, the government needs to take into consideration how teachers are struggling to teach students online. To prepare online study material for three classes with updated technologies such as adding graphics or providing real time learning experience to students requires additional expenditure of Rs.15 lakh," says S. John Xavier Thangaraj, senior vice president of Tamil Nadu Private Schools Association, and also chairman of the Little Flower group of schools, which has an aggregate 2,000 children and 75 teachers on its muster rolls.
With private unaided and budget schools, which enroll 5.7 million children, experiencing severe financial distress, Tamil Nadu's hitherto envied K-12 education system is sliding towards disaster.
Moreover, since the Covid-19 pandemic curve of the state is showing no signs of flattening, schools are unlikely to reopen until September 30. And with the AIADMK government rushing into this imbroglio with contradictory notifications and orders, their future looks grim.
Shivani Chaturvedi (Chennai)
Also read: Delhi: NIRF Rankings 2020