A bouquet comprising magnificent temple architecture, Little England hill stations, long stretches of beach and wildlife sanctuaries awaits the visitor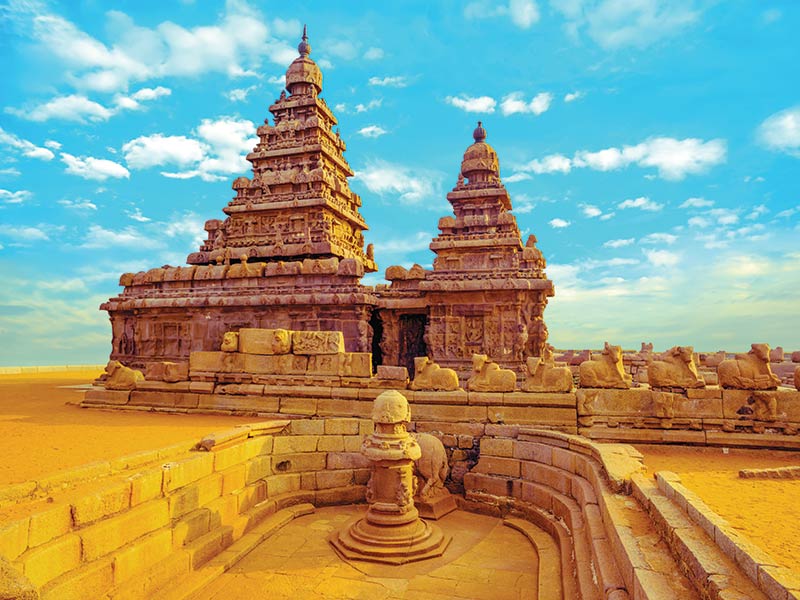 The epicentre of the pre-Aryan 5,000-year-old Dravidian civilisation, Tamil Nadu (pop.70 million) has a history that dates back several millennia. The area which is contemporary Tamil Nadu was ruled by three royal dynasties in 300 BC — the Cholas in the east, Pandyas in the central kingdom and the Cheras in the west. This was the classical period of Tamil literature — the Sangam Age — which continued until 300 AD. The Pallava dynasty was influential particularly in the 7th and 8th centuries during which it constructed the monuments of Mamallapuram (Mahabalipuram). In the 13th century this area was incorporated into the Vijaynagar empire which ruled the entire southern peninsula. From the 17th century the region fell under the sway of British rule.
A major attraction for domestic tourists are the state's renowned pilgrim centres, which not only provide an elevating spiritual experience but showcase magnificent temple architecture and styles which originated in the 7th century and matured into huge temple complexes.
Moreover, the state harbours the 'little England' British-built hill stations of Kodaikanal and Ooty among others, whose breath-taking natural beauty and enchanting mountain views, are a big draw. Tamil Nadu has a 1,000 km coastline and its open stretches of beach offer a sparkling blue invitation. It also has tropical forests and jungles with interesting flora and fauna. The state's colourful and vibrant festivals, its annual music and dance events, beautiful arts and crafts, varied cuisine, and its serene, peaceful pace of life are its other unique attractions.
To give a fillip to tourism, the Tamil Nadu state government has increased its allocation for tourism development from Rs.25 crore in 2002-03 to Rs.173.42 crore in 2018-19. The tourism policy of the government is to encourage government-led private sector participation and since quality accommodation is a prerequisite of tourism promotion, it plans to encourage private entrepreneurs to set up new hotels on private and government land.
Mamallapuram (Mahabalipuram)
Miles of unspoiled beach, rock-cut temples and silver sands make this seaside resort 50 km south of Chennai a major tourist draw. This boulder-strewn little town is world-renowned for its Shore Temple which has been accorded World Heritage site status. A classic example of Dravidian architecture, the unique feature of this temple, which stands alone on the shore, are the shrines of Lord Vishnu and Lord Shiva. Other attractions include the world's largest bas-relief — Arjuna's Penance which depicts animals, deities and semi-divine creatures as well as fables from the Panchatantra; eight magnificent rock-cut temples or caves carved out of the hillside with each temple embellished with bas-reliefs and splendid sculptures from Hindu mythology; and five monolithic Rathas known as the Panch Pandava Rathas with four of them carved out of a single rock. A mere 90-minute run from Chennai, Mamallapuram is serviced by buses, taxis and auto rickshaws.
Residential accommodation. A wide range of accommodation facilities is available in Mamallapuram including a number of privately owned beach resorts, guesthouses and economy hotels to suit almost any budget. Peak season is November-February.
High-end: Radisson Blu Temple Bay Beach Resort (room rates: Rs.7,500 onwards); Golden Sun Beach Resort (Rs.5,000 onwards); Ideal Beach Resort (Rs.9,000 onwards). Mid-range: Mamalla Bhavan Mudumalai Annexe (Rs.1,338-1,972 ); Hotel Sea Breeze (Rs.2,535-3,944 ); Green Woods Beach Resort (Rs.775-1,408). Budget: Hotel Veera's (Rs.300 onwards); RK Lodge (Rs.200 onwards).
Restaurants. This beach resort has a number of restaurants offering seafood and vegetarian fare. Service is usually leisurely. The best restaurants include Sea Shore, Luna Magic and Moonrakers for seafood and Golden Palate and Mamalla Bhavan for vegetarian fare.
Excursions. Other attractions in and around Mamallapuram include the Government School of Sculpture where training is imparted in temple art; Crocodile Bank; Tiger Cave and Covelong Beach Resort which offers facilities for windsurfing and swimming, and the backwaters of Muttukadu which boasts a boat-house with boating and wind-surfing facilities.
A popular pilgrim centre Tirukkalikundram situated 14 km from Mamallapuram has a Shiva temple on the Vedagiri hill where two white kites swoop down just before noon and are fed by the priests before they resume their flight to Rameswaram.
Udhagamandalam (OOTY)
Nestling in the heart of the Nilgiris or Blue Mountains, which get their name from the blue haze which envelopes them, is Ooty, the queen of hill stations situated at an altitude 7.000 ft. above sea level. Ooty offers bracing walks and leisure pursuits – among them golf in nearby Wellington and fishing in the lakes. The main attractions are the exotic botanical garden, a placid artificial lake with boating facilities and the government museum. Peak season is April to June and September to December.
Residential accommodation. High-end hotels: Fern Hill Palace (Rs.9,168-19,889); Taj Savoy Hotel (Rs.7000-18,000); Holiday Inn Gem Park (Rs.4,584-12,413). Mid-range: Merit Inn Southern Star (Rs.5,800- 12,000); Hotel Lake View (Rs.1,904-3,244); Moti Manor (Rs.1,000 onwards); Nahar Nilgiri Hotels (Rs.2,680-4,232). Budget: Hotel P N R (Rs.800-1,000); Arthi Lodge (Rs.828 -928); Hotel Garden View (Rs.1,700 onwards); Hotel Tamil Nadu (Rs.600-1,300.).
Restaurants. Food is generally good and safe. Restaurants like Blue Hills, Chandan Vihar. Tamizhagam, Tandoor Mahal, Pankaj Bhojanalaya, Ooty Coffee House, Raghuram, Chinkos Chinese Restaurant and many others cater to all tastes.
Excursions. For those in search of breathtaking views, wildlife habitats and adventure there are daytime excursions to Doddabetta Peak (10 km), the highest point in the Nilgiri mountains (2.623 metres); Mukurthi Peak and National Park (40 km); Ketty Valley View,,Avalanchi (28 km); Kalhatty Water Falls (13 km); Coonoor hill resort (19 km); and Pykara dam (21 km) in the vicinity of charming Toda tribal settlements.
Mudhumalai Wildlife Sanctuary
Visitors to this 321 sq. km sanctuary with its varied habitat, can — if they are lucky — spot wildlife including elephant, tiger, panther, sambar, spotted deer, barking deer, wild boar and porcupine in their natural environment. The sanctuary is an hour's drive (65 km) from Ooty and situated on the Ooty-Mysore highway. The best time to visit is from September to May.
Mudumalai is connected by road with the Bandipur game sanctuary (14 km), Ooty (65 km), Mysore (94 km) and Coimbatore (152 km). The nearest railhead is Ooty and the nearest airport, Coimbatore.
Residential accommodation. The sanctuary boasts just a few top-end hotels with the majority being in the mid and budget range. High-end range: Casa Deep Woods (room rates: Rs.3,380-6,901); Wild Haven (Rs.4,437-6,338); Monarch Safari Village (Rs.4,507-6,901). Mid-range: Forest Hills Farm and Guesthouse (Rs.1,500-3,200); Blue Valley Resorts (Rs.2,000-Rs.10, 000); Jungle Trails (Rs.2,465-4,648). Budget: Abayaraniam (Rs.1,000-1,500); Sylvan Lodge (Rs.1,000 onwards); Log House (Rs.4,565-4,710); Dream Land (Rs.250); Masinagudi Resthouse (Rs.150).
Restaurants. Many multicuisine restaurants in and around Mudumalai cater to tourists and offer passable fare.
Excursions. There are several picturesque spots within the sanctuary including the cascading Mayyar waterfalls, the Theppakad elephant camp; the chief ministers watch tower and Ombetta swamp.
Madurai
This vibrant commercial city is best known for its famous Sri Meenakshi Temple, a riotously baroque example of Dravidian architecture which attracts 10,000 visitors per day. Known as the Athens of the East; Madurai (pop 1.5 million) is the oldest city of Tamil Nadu with a history dating back over 2,000 years when it was the capital of the Pandyan kings. Its showpiece Meenakshi temple complex extends over an area of six hectares and boasts 12 towers ranging from 45-50 metres in height. Visitors to the temple are certain to be awed by the ayiramkaal mandapam or hall of thousand pillars each of which features bold, life-like sculptures.
Madurai is connected by air from major metros like Chennai and Mumbai, by rail to several important cities in India and by road to all places in south India. It is 480 km from Chennai and 120 km from Kodaikanal. Visiting season is throughout the year.
Residential accommodation. Madurai has a range of hotels. High-end: Gateway Hotel (room rates: Rs.8,500 onwards). Other top-end hotels include Pandian Hotel (Rs.3,803-7,817); Hotel Supreme (Rs.1,620-2,465). Mid-range and budget: Hotel Prem Nivas (Rs.704-1,972); Hotel Park Plaza (Rs.1,622-3,244); Hotel Grand Central (Rs.660-1,100).
Excursions. Madurai offers tourists a variety of excursion options within and around the city. The Thirumalai Nayak Palace (1.5 km) is a marvellous edifice with stucco work on its domes and arches, massive white pillars and sorga vilasam (celestial pavilion). The Gandhi museum, government museum and Sri Aravindar Annai Trust are other tourist attractions. Madurai also hosts annual cultural festivals. Kodaikanal (120 km) and Vaigai dam (69 km) are popular picnic spots.
Kanyakumari
Situated at the southernmost tip of India where the Bay of Bengal, Arabian Sea and the Indian Ocean confluence, Kanyakumari (pop. 1.89 million) is notable for its beautiful beach, spectacular sunrise and sunsets, ancient temples and handicrafts. A deep sense of peace is likely to pervade the visitor to the Vivekananda Rock Memorial dedicated to the saint and savant Swami Vivekananda, with its attached meditation hall and the Gandhi Memorial nearby. The nearest airport is at Thiruvananthapuram (87 km). Kanyakumari is connected by road to Chennai (703 km), Madurai (242 km), and other major towns in south India. The visiting season is throughout the year.
Residential accommodation. There are no five-star hotels here but a few well-maintained upper-end and many mid and budget range hotels offer good fare.
Top-end: Hotel Singara International (room rates: Rs.1,481-3,103). Mid-range: Hotel Samudra (Rs.845-1,338); Hotel Maadhini (Rs.704-2,183); Hotel Tamil Nadu (Rs.800-2,200); Lakshmi Tourist Home (Rs.750-1,950). Budget: Viveka's Tourist Home (Rs.500 onwards).
Excursions. Kanyakumari offers numerous picnic spots and excursion options. Vattakottai Fort (6 km) overlooking the calm sea; Nagercoil (19 km) with its famed Nagaraja temple; Suchindram (13 km) which houses the Thanumalayan temple, a treasure house of art with its 18-foot Hanuman statue; Muttam beach (32 km); and Udhayagiri Fort (34 km) are some options.
Farther afield are the Thiruparappu Water Falls (60 km). Thiruvattar temple (60 km) famed for its splendid architecture and the Pechiparai dam which offers leisure boats; the Padmanabhapuram royal palace (45 km) and the famous Tiruchendur Subramanya temple (91 km). Wildlife enthusiasts can also visit the Kalakkadu and Mundanthurai sanctuaries.